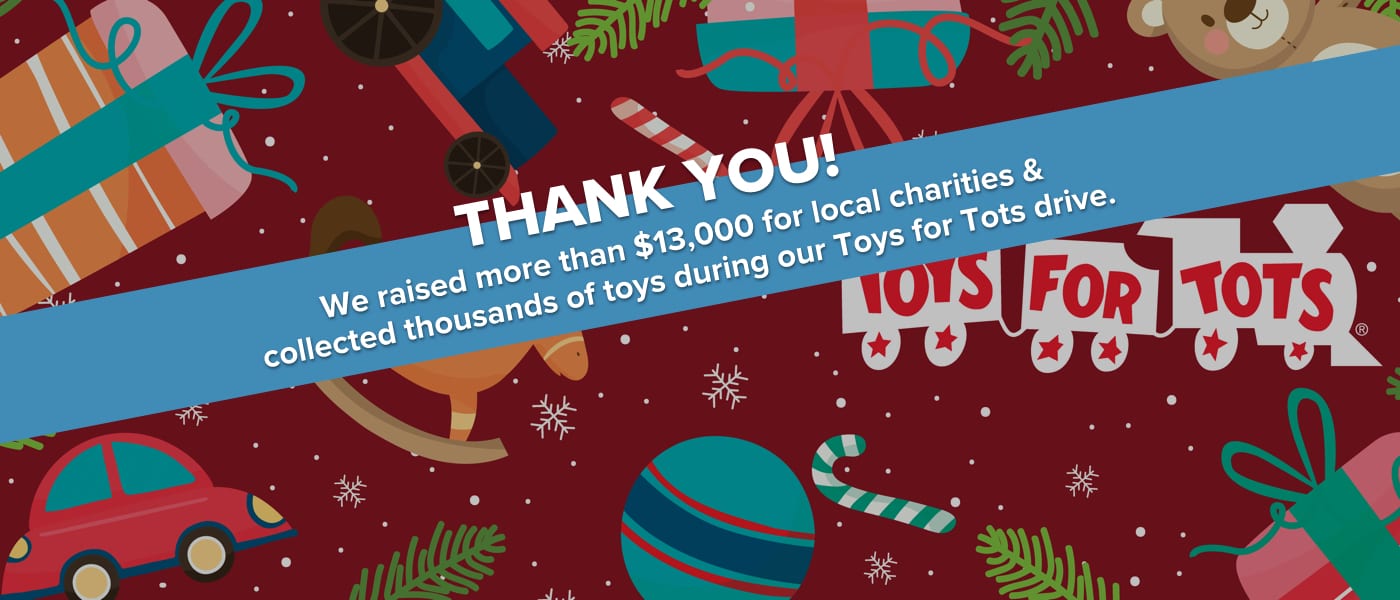 Holiday Fundraisers Total More Than $13,000
While we believe the spirit of giving starts at home, we also believe its effects should reach far beyond your own four walls. That's why this holiday season, we hosted our first annual Toys for Tots drive and donated through our Share-A-Christmas program.
Wayne Homes was able to raise more than $13,000 for local charities on behalf of our employees and collected thousands of toys during our Toys for Tots drive.
Each year, our team members hold fundraisers at the home office to raise money for the Share-A-Christmas fund. Each department works together to raffle off prizes, sell baked goods, host office lunches, initiate penny wars, and hold several other fundraisers to collect money.
For 2019, Wayne Homes adopted 25 children through the Doylestown, Ohio Share-A-Christmas program. The remaining amount was donated to several Akron area charities, including the Ronald McDonald House, Akron-Canton Regional Foodbank, Haven of Rest, Stark County Humane Society, Open M, and the Akron Rotary Camp.
"Knowing that Wayne Homes and my fellow co-workers are responsible for giving so much back to the community is amazing to me," Sherry Schaadt, executive assistant, said. "It warms my heart."
In the 10 years we have participated in the Share-A-Christmas program, Wayne Homes employees have raised and donated more than $100,000 to charities in the Akron area.
In addition to the money raised and donated, we also hosted our first annual Toys for Tots drive on Saturday, December 7 at the home office in Uniontown, Ohio.
Leading up to the event, we encouraged our customers and the public to stop by our model centers to donate unwrapped toys, culminating in the toy drive event. Those who brought a toy to donate at the fun event enjoyed a free lunch from the Smash Time Food Truck.
"It was great to see so many of our teammates come together for such a great cause," Maurie Jones, Senior Vice President of Marketing, said. The Toys for Tots drive and Share-A-Christmas program are two of the many community involvement programs Wayne Homes carries out every year. Through the programs, it is our greatest hope that we can make a meaningful difference to those less fortunate during the holiday season. From our homes to theirs, we know that is what the holidays are all about.
Would you like to learn more about all the ways Wayne Homes gives back? Contact us–we'd love to hear from you!
About Wayne Homes
Wayne Homes is a custom homebuilder in Ohio, Pennsylvania, Michigan, and West Virginia (see all Model Home Centers). We offer over 50 fully customizable floor plans and a team dedicated to providing the best experience in the home building industry. For more information, Ask Julie by Live Chat or call us at (866) 253-6807.