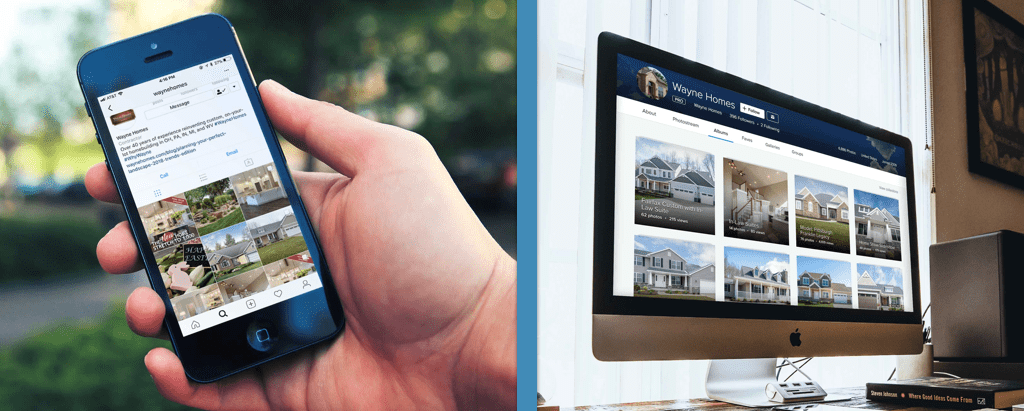 Let's get social! Wayne Homes, online
We often talk about the value of coming by a model home or Muddy Boots event, to see first hand, with your own eyes, what the building and buying process is like with Wayne. And it's true — there is no substitute for an in-person visit to get a feel for a space.
That said, sometimes perusing around the internet is an easier and more efficient way to explore your home possibilities. And, with social media, it's easier than ever to engage with homebuilders like Wayne online, not just for homebuilding, but for community engagement as well.
Wayne is all over social media, because we love getting to know our customers and Wayne Homes family! Here are the ways you can engage with us online, and what you'll get on each channel. We can't wait to connect with you!
Facebook — If you like photos of, well, just about anything related to the Wayne Homes building process, Facebook is the place for you. You'll find images of our open houses, finished homes, models, events, and lots more. You'll also find a whole slew of surveys and polls on Facebook, as we work to learn more about what our customers want most. We like to post our contests, like the Landscaping Contest, on Facebook too, and you'll also find occasional updates about what's happening with Wayne as a business.
Instagram — Similar to Facebook, you'll find images of our beautiful homes and Wayne Homes families on Instagram, but you'll also find opportunities to engage in our regular contests there as well! Use hashtags to branch out your exploration, though we can't be held accountable for any rabbit holes in home design you might fall down!
Twitter — Twitter is often used for informational purposes, and Wayne is no different. Want to keep up with what's happening at Wayne, from new partnerships to business news to new offerings and much more? Twitter is a one-stop-shop for all news related to our company.
Flickr — Flickr is solely for photos, and that's what you'll find on our Flickr account. Literally, every image we take ends up here, so if you are looking for ideas and inspiration for your future home or want to see how a build is going from start to finish, you should hop on Flickr and start clicking around.
Pinterest — Pinning is a ton of fun, and we aim to make it even more fun for you and your family by providing photos and tutorials for home building and home design inspiration there. Want to start exploring the possibilities for your future fireplace? Or perhaps you want to design a boy's bedroom, or an in-law suite. Check out our Pinterest account for all the inspiration you'll ever need!
We want to connect with you on our social media channels! Click around and follow us on the platforms you prefer; see you on the internet
Ready to get social in person? Give us a shout and set up a time to chat!
About Wayne Homes
Wayne Homes is a custom homebuilder in Ohio, Pennsylvania, Indiana, Michigan, and West Virginia (see all Model Home Centers). We offer nearly 50 fully customizable floorplans and a team dedicated to providing the best experience in the home building industry. For more information, Ask Julie by Live Chat or call us at (866) 253-6807.