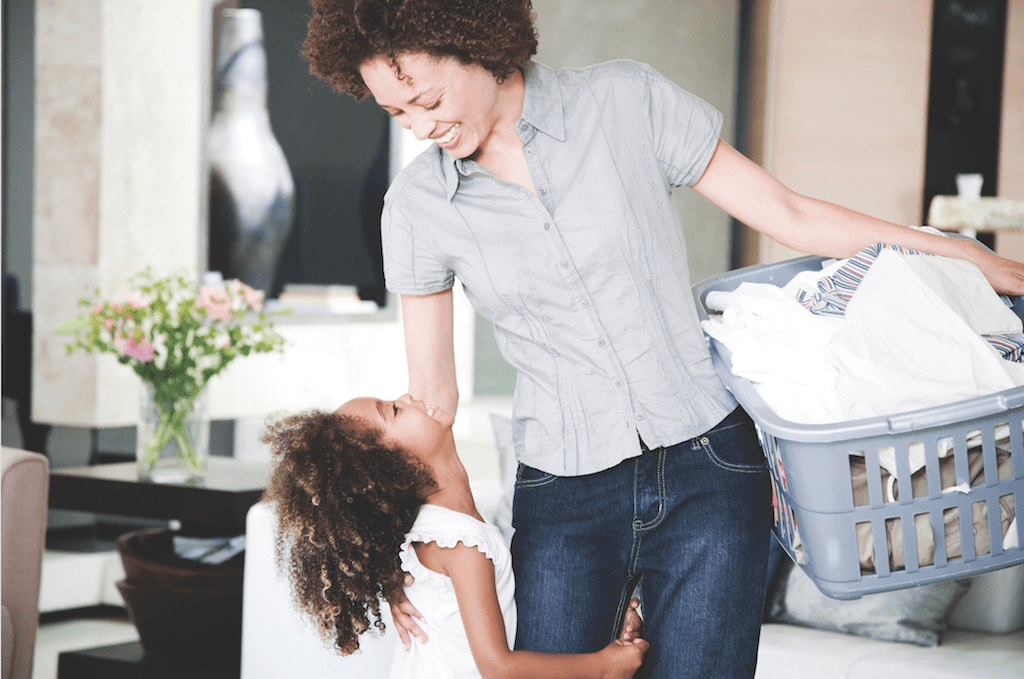 Let's hear it for the Moms out there, who work hard day in and day out to make sure their kids—and yes, even their spouses—are well taken care of. Mother's Day is the one day of the year that we take the time to say, "Thanks, Mom, for everything you do for me!" Instead of going out and searching for a store-bought gift, why not consider rearranging or enhancing a room in your home to make your Mom's life easier? It could be as simple as finding the perfect place to put a flat-screen TV in the kitchen or adding a sink to the laundry room. We've got a few suggestions that could make Mom's every day a little bit better.
A Media-Friendly Kitchen
If your Mom enjoys spending time in the kitchen, why not make her time a little more enjoyable? A kitchen TV would let Mom watch her shows while she's cutting off sandwich crusts for school lunches or whipping up dinner in the kitchen. If she owns a tablet already, you could opt for an adjustable stand and some Bluetooth speakers, so she could stream shows or listen to music.
Laundry Room Face Lift
Moms are good for making sure their kids always have fresh, clean clothes to wear. Sure, the laundry room might not be her favorite room to hang out in, but she does spend a lot of time washing, drying, folding and ironing clothes. Make her job a little bit easier by making a few laundry room upgrades. With a new sink, Mom can soak shirts with extra tough stains and have a better place to clean up everyday messes. A few shelves and other storage accessories could really help her get organized. Or add some countertop space for a folding station.
Build a Book Nook
Many Moms will agree that one of the best ways to unwind and escape their daily routine is curling up with a good book. Give the gift of personal space this Mother's Day by creating a book nook and sectioning off part of a room that's reserved for Mom. It could be anywhere. Maybe a chaise lounge and a bookcase in the sunroom. Or, perhaps, a cozy chair in front of the fireplace in the family room. If Mom prefers to read from an eReader, make sure there's an outlet within reach, so it always has a charge.
Make the most of Mother's Day this year by letting your Mom know how thankful you are for everything she does for you. Don't just tell her. Show her! This year, you might be making the modifications to your current home. But we encourage you to keep Mom's needs in mind when you're ready to build your new home. When the time comes to build your dream home with us, we'll make sure she is well taken care of. To get started on your custom home design, come in to the Model Home Center nearest you, and we'll help you every step of the way.
About Wayne Homes
Wayne Homes is a custom homebuilder in Ohio, Pennsylvania, Indiana, Michigan, and West Virginia (see all Model Home Centers). We offer more than 40 fully customizable floorplans and a team dedicated to providing the best experience in the home building industry. For more information, Ask Julie by Live Chat or call us at (866) 253-6807.