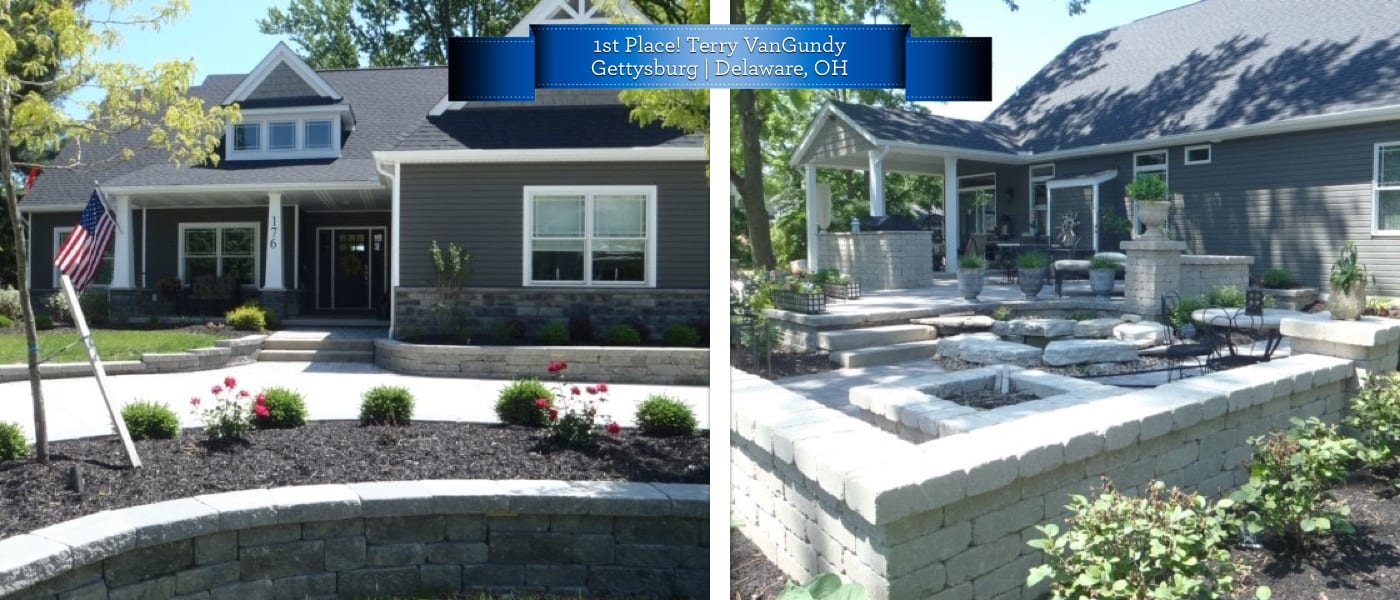 The 2019 Landscape Contest Winners Revealed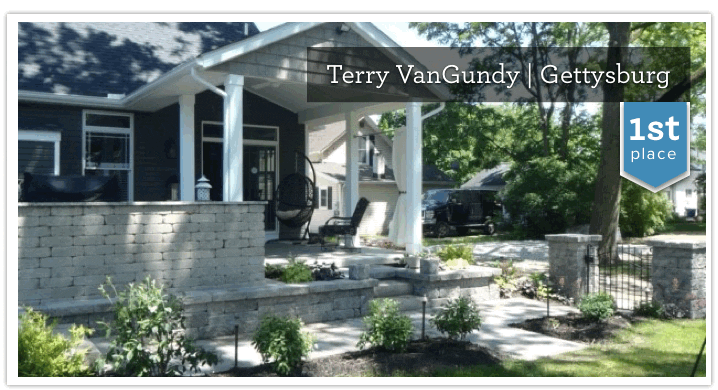 Every year, we host the annual Wayne Homes Landscape Contest, and we are excited to share the winners of this year's contest. The competition was stiff with so many gorgeous entries coming in, but after reviewing all of the submissions, the winners have been chosen.
First Place
First place goes to Terry VanGundy and his family from Delaware, Ohio. Their Gettysburg home features an amazing courtyard-style back yard with a multi-tiered patio. This stunning patio has a water feature, dining area, and conversation area. Large potted plants and surrounding hostas soften the patio area, making this an inviting and private getaway. The VanGundy family home also features a beautiful, curved driveway framed on either side with built-up stone beds. The front flower beds feature evergreens, boxwoods and knock out roses for a timeless look.
Second Place
Second place goes to Sharon Karlheim and her family from Patton, Pennsylvania. Their Providence home features a back patio that rivals any four-star resort with a built-in oven and three separate sitting areas. This private sanctuary has a combination of stone beds and mulch and overlooks a wooded area, making you feel worlds away. Surrounded by weigelas, grasses and daylilies, this beautiful retreat is a homeowner's paradise.
Third Place
Third place goes to Joshua Sells and his family from Marshallville, Ohio. Their Montgomery home has classic curb appeal with stately brickwork and landscaping that will only get more beautiful over time. Their gorgeous front entry expands from the home's Craftsman elevation, featuring stone pavers with half walls and seating areas. Hostas and ornamental trees invite you into the home, lined with tiered front flower beds to add a pop of color.
People's Choice
The People's Choice vote went to Kim Fadeley and her family from Hopedale, Ohio. Their Montgomery home features thoughtfully planned out landscaping that perfectly accents their gorgeous front entry.
Congratulations to all the winners! We know you will do wonderful things with your Lowe's gift cards.
We look forward to this contest every year, not just because our homeowners have beautiful landscaping, but also because we love keeping in touch with our Wayne families. We provide a builder relationship that doesn't stop at closing. We're committed to maintaining ongoing relationships with our homeowners, so you always feel supported during and after the building process.
Thank you to all who entered for sharing your landscape love with us. Your pride of ownership is clear, and it makes all of us at Wayne Homes so very proud to do what we do.
Are you looking for a builder you can partner with to create your custom home? Contact us with any questions. We'd love to welcome you into our Wayne family of homeowners.
About Wayne Homes
Wayne Homes is a custom homebuilder in Ohio, Pennsylvania, Indiana, Michigan, and West Virginia (see all Model Home Centers). We offer 50 fully customizable floor plans and a team dedicated to providing the best experience in the home building industry. For more information, Ask Julie by Live Chat or call us at (866) 253-6807.