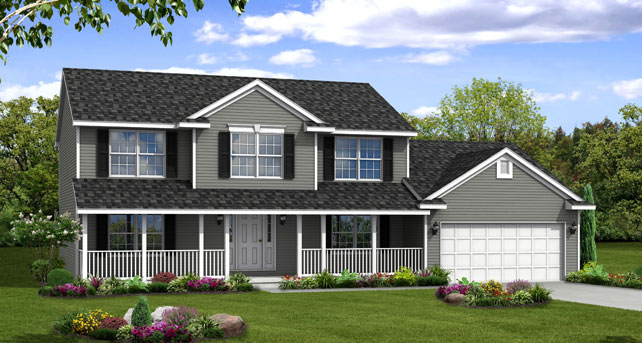 Wayne Gives Back: Project Homeless Connect
Wayne Homes is committed to making a difference in the communities we serve. Throughout the year, Wayne employees dedicate their time to philanthropic endeavors to benefit our communities. Most recently, nine Wayne Homes team members volunteered at Project Homeless Connect, a one-day event to benefit those in need in Stark County.
"There is obviously a big need to reach out to those less fortunate. I could tell so many people involved were incredibly grateful and really needed the services Project Homeless Connect offers," said Amanda Young, Draftsperson for Wayne Homes.
Project Homeless Connect's mission is to strengthen and utilize existing collaborations, volunteers, city organizations and agencies as well as technology to create a comprehensive network of services for those who are at risk of becoming homeless, are currently homeless or have recently transitioned into housing after being homeless and needs assistance.
"This was my 4th time at the event, and it's always amazing to see how important the 'connect' part of this event is. Many people wouldn't take the time to talk to a homeless person about their needs. The one-on-one connections made through Project Homeless Connect are so meaningful," said Keith Drollinger, Wayne Homes' Vice President of Construction Services.
Each year, Project Homeless Connect hosts an event designed to connect those who are in danger of becoming homeless, are homeless or are just getting re-established after being homeless with agencies and services that can lend a helping hand.
Volunteers from Wayne Homes helped candidates through the intake process, helping them fill out questionnaires to gain more information about their living situation. Guides escorted those in need through the stations that local agencies to help them prioritize the three most important needs that must be met. Stations included healthcare information, drug counseling, haircutting services and more. Once the participants completed their time at each station, the other half of Wayne Homes teammates conducted a feedback survey to help Project Homeless Connect continue to grow and improve.
Before participants left the event, they received a kit of essentials, such as socks, deodorant and toothbrushes. They also received a nourishing lunch, compliments of Project Homeless Connect. "I was happy to see participants getting a good, healthy lunch as well as some hygiene items that are typically hard for them to come by," said Dave Whipkey, Field Manager for Wayne Homes. "There were a lot of good resources available at this event."
Employees of Wayne Homes volunteered during work hours as part of the company's Random Acts of Kindness program. Through the Random Acts of Kindness program employees are encouraged to contribute in the community where they live and work. When you are considering how to choose a builder, see if they are involved in the community. Giving back to thecommunities we serve is just another way Wayne Homes stays connected to the surrounding areas.
About Wayne Homes
Wayne Homes is a custom homebuilder in Ohio, Pennsylvania, Indiana, Michigan, and West Virginia (see all Model Home Centers). We offer 40 fully customizable floorplans and a team dedicated to providing the best experience in the home building industry. For more information, Ask Julie by Live Chat or call us at (866) 253-6807.