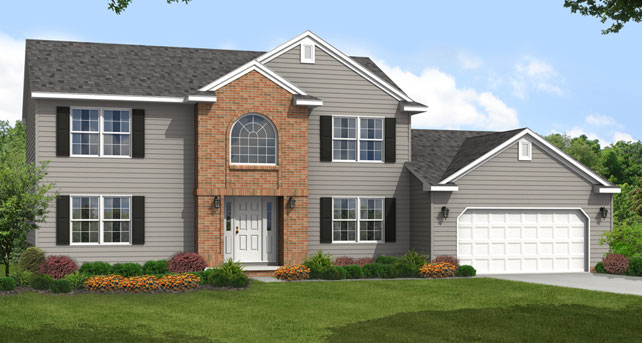 Wayne Homes' 2nd Annual Partner Expo Keeps Employees on Cutting Edge
Wayne Homes is known for creating beautiful custom homes that are affordable, high quality and on the cutting edge of trends and innovations. So, it makes sense that our company would want to keep employees up to date on the latest and greatest in the industry to maintain our status as an industry leader. That's exactly why we created the Partner Expo, which was held for the second consecutive year on October 15-16, 2014.
What Is the Expo?
The Wayne Homes Partner Expo was designed to showcase the many facets of quality home construction and create a collaborative environment for Wayne employees to learn from our trade partners and vice versa. We know that it's not only the products that make a great home; it's the people, too. So, the Partner Expo brings together the people, the products and the know-how to keep everyone up to date on the newest tools, tricks and trends. This helps us ensure that every facet of quality home construction is efficiently and expertly executed.
Back by Popular Demand
It's no accident this has become a regular occurrence. Both employees and trade partners alike found the event to be a success. This is due, in part, to the novel idea of bringing all parties together to learn from one another, regardless of rank, title or job role. That interdepartmental communication and knowledge share is what makes the Partner Expo unique. With 159 Wayne Homes employees in attendance at the Partner Expo, our team showed up ready to learn from each other, our trade partners and suppliers.
Knowledge Is Power
It makes sense that someone in construction would need to know the ins and outs of weatherproofing or energy efficient windows, but doesn't it also stand to reason that our sales staff should know just as much about these important components of a new home? We think so. That's why every piece of the Wayne Homes homebuilding process is shared with our entire team, as well as our partners. We believe knowledge is power, and that's how you become (and remain!) a leader in your industry.
A Custom Expo for a Custom Builder
While national and regional builder trade shows are helpful, there's nothing quite like having all of our trade partners in one place during the Partner Expo. George Murphy, president of Wayne Homes said, "All supplier brochures, product displays and presentations are directly applicable to each home we build." This year, we had 39 companies represented. Attending an expo where 100% of the information presented impacts the job you do makes for a compelling few days. As Erin Collins, Sales Manager for Wayne Homes in Newark said, " The Partner Expo is an event our teams look forward to every year. It opens the lines of communication so we all feel confident working together to exceed our customers' expectations." We're looking forward to hosting this important event for years to come.
Who We Partner With
If you've ever wondered who our valued partners are, we keep a complete list for you to review. You'll probably recognize at least a few of the names on this list. We partner with best-in-class companies providing outstanding products that will keep your Wayne Home as beautiful (and efficient) as the day you move in. If you ever have any questions about the companies we partner with and why, feel free to contact us…we've got the knowledge, and we love sharing it!
A Winning Formula
As an added incentive, expo participants were invited to complete a survey about the Partner Expo and in exchange for a chance to win great prizes. A big congratulations to Gabe Petit, Pittsburgh Field Manager, and Jessica Dandino, Bowling Green Field Manager, who both won iPad minis supplied by Wayne Homes! These lucky employees now have a great tablet to store all the valuable information they learned from the Partner Expo.
About Wayne Homes
Wayne Homes is a custom homebuilder in Ohio, Pennsylvania, Indiana, Michigan, and West Virginia (see all Model Home Centers). We offer 40 fully customizable floorplans and a team dedicated to providing the best experience in the home building industry. For more information, Ask Julie by Live Chat or call us at (866) 253-6807.