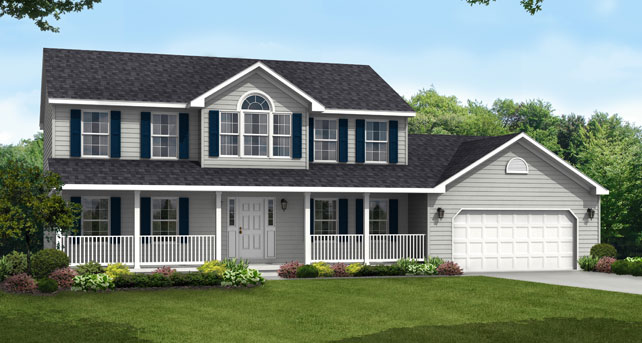 Wayne Homes Employee Receives Patriot Award
At Wayne Homes, we like to think we are unlike any other custom homebuilder. Besides our commitment to quality, industry-leading customer service and flexibility to truly customize any home, we are passionate about creating a company culture that's second to none. A huge part of that has to do with our impressive team. So, we couldn't be more pleased to share that one of our employees, Dave Whipkey, recently received the Patriot Award from Colonel Chaker Fadel of Employer Support of The Guard and Reserve (ESGR).
What Is the Patriot Award?
The National Committee for Employer Support of the Guard honors nominated employers who qualify for recognition when they practice leadership and personnel policies that support employee participation in the Guard and Reserve. The EGSR's mission is to foster a culture in which all employees value team members who serve in the National Guard and Reserve in the United States. These civilian soldiers protect us at home and abroad with the promise of continuing employment opportunities from supportive companies, such as Wayne Homes.
Nominated by Fellow Employee
The prized Patriot Award is not given lightly. A member of the National Guard or Reserve must nominate recipients of this honor. Dave Whipkey was nominated by Brian Phillips, a member of the Air Force Reserves for over 16 years. A direct report to Dave Whipkey at Wayne Homes, he came to respect and appreciate Dave's support and guidance. "I nominated Dave Whipkey of Wayne Homes for his support and understanding prior to my deployment. As my direct boss, Dave could have made it stressful for me to do what I needed to do. There are a lot of pressures and challenges for a team when someone has to leave for an extended period of time. But Dave was understanding and took away my worries. He reassured me that everything was going to work out," said serviceman Brian Phillips. Brian spent five months this year deployed overseas and away from his family. "As long as I can mentor, train and develop the next generation to have our core values of Integrity First, Service Before Self, and Excellence In All That We Do, we will be safer here at home," Brian explained, speaking of his dedication to service.
Honored by His Country, Congratulated by His Team
Dave Whipkey was greatly honored to receive the Patriot Award. The Wayne Homes team gathered on September 19, 2014, at the Home Office to witness Colonel Chaker Fadel of the ESGR present the Patriot Award to Dave. "Our company culture has always centered on serving others," said George Murphy, President of Wayne Homes. "The commendation Dave Whipkey received from ESGR is a great encouragement to the entire Wayne Homes team for the ongoing commitment we have to build relationships within our company and within the communities we serve. We are proud to work alongside such esteemed citizens and glad to call them friends."
About Wayne Homes
Wayne Homes is a custom homebuilder in Ohio, Pennsylvania, Indiana, Michigan, and West Virginia (see all Model Home Centers). We offer 40 fully customizable floorplans and a team dedicated to providing the best experience in the home building industry. For more information, Ask Julie by Live Chat or call us at (866) 253-6807.