Wayne Homes Promotion: May Birthday Incentive
May is a beautiful month for a Wayne Homes promotion. Especially because it's our birthday month and we're celebrating a big one – 50 years in business!
We're inviting you to join in on the fun with an incredible May Birthday Incentive. Let us shed some light on the matter…in May, all newly signed homeowners will receive an electrical package!
Yes, this Wayne Homes promotion gives new Wayne homeowners:
15 recessed lights added in locations of homeowners' choice
AND
5 ceiling fans added in locations of homeowners' choice

homeowners will get to select the ceiling fan styles/finishes they would like
We know how important it is to have good lighting in a home, and this Wayne Homes promotion is making it easier than ever for homeowners to light it up!
If you want to see some examples of how homeowners have used lighting to transform their Wayne homes, check out our Photo Gallery.
This image gallery also has some great examples of stylish ceiling fans and how they can change the look and feel of your home, while providing air flow and functionality. Not to mention the energy savings!
According to Energy.gov, ceiling fans are considered the most effective type of fans because they effectively circulate the air in a room to create a draft throughout the room.
Ceiling fans can help improve comfort year round.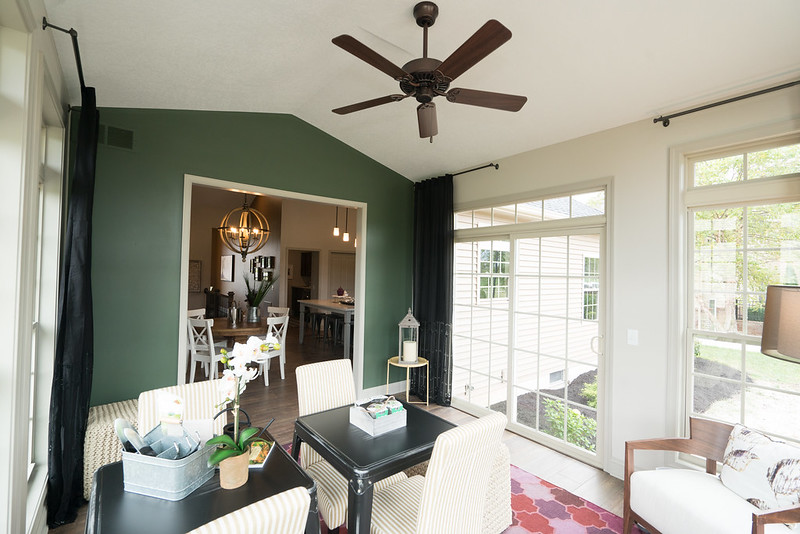 In the summer, operate the ceiling fan in a counterclockwise direction. In the winter, reverse the direction of the ceiling fan to operate clockwise and set on a low speed to move warm air from the ceiling to the living levels of the space. And be certain to turn off ceiling fans when you leave a room.
Did you know if you use air conditioning to cool your home, a ceiling fan will allow you to raise the thermostat setting about 4°F with no reduction in comfort? In temperate climates, or during moderately hot weather, ceiling fans may allow you to avoid using your air conditioner altogether. Brilliant!
All Wayne homeowners have an electrical walk-through with their electrician trade partner during construction.
Additional electrical customizations can be done at this time. During the walk-through, our electricians are able to provide feedback and suggestions to help each homeowner determine the electrical changes and customizations needed for their home and family. This is a great time to discuss electrical changes because you can more easily visualize your home and the final product.
One common customization we see during this walk-through is to add more recessed lights. The spacing of the lights can make a huge difference in the way your home looks.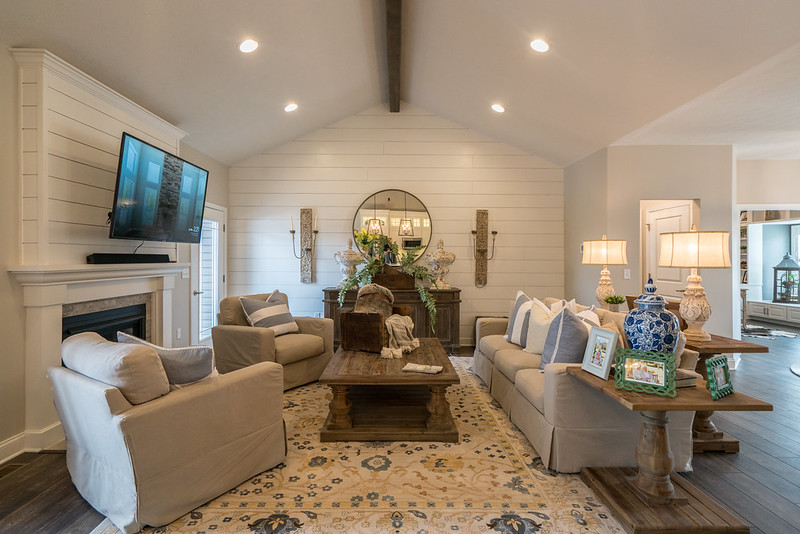 Follow these simple guidelines:
Start with downlights no less than 2 feet away from your walls. Then space your downlights evenly across the room.
How far apart you space your lights generally depends on the size of your space. A good rule is to divide your ceiling height by 2 to give you the space between each light, but don't go more than 6 feet apart, or you'll lose the impact.
Mini downlights are great for perimeter lighting and in the nooks and corners of large rooms.
Always remember to bring in any visual inspiration you have! The Wayne Homes team can't wait to take your ideas and make them a reality in your new home. Don't sleep on this Wayne Homes promotion! Contact us today to get the ball rolling and make the most of the May Birthday Incentive.
Contact us to hear more Wayne Homes promotion details!
---
About Wayne Homes
Wayne Homes is a custom homebuilder in Ohio, Pennsylvania, Michigan, and West Virginia (see all Model Home Centers). We offer more than 50 fully customizable floorplans and a team dedicated to providing the best experience in the home building industry. For more information, Ask Julie by Live Chat or call us at (866) 253-6807.
Disclaimer: The details of this blog are accurate as of the publish date, but are subject to change.