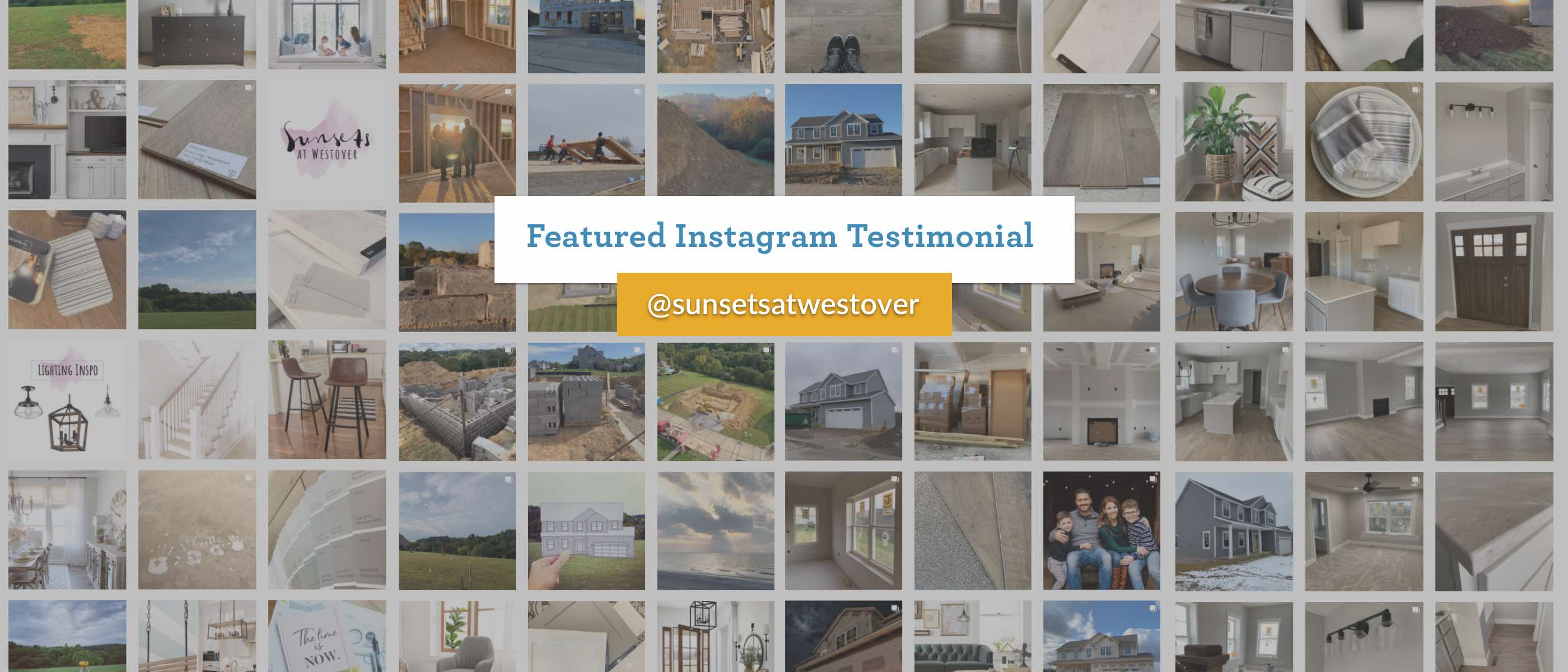 Featured Instagram Testimonial: Meet the Stephens
At Wayne Homes, we love getting a behind-the-scenes look on Instagram at our homeowners' building journeys, and this month we're excited to share the Stephens family's story @SunsetAtWestover.
They worked with our Belmont office to build their Jamestown Classic. Anne Fowkes was their New Home Consultant and Matt Weddle was their Field Manager. Here are some of our favorite posts about their beautiful new home and how they built it.

Simple, clean, and classic is what the Stephens family was going for when they picked out their colors for their hall and owner bathrooms.
Using a paper mock-up of their home, Katrina held it up on their lot and you can really imagine the home there! Wayne Homes allows you to completely customize your home, and the Stephens family took that and ran with it, totally transforming their home. Significant customizations included a wider garage, steeper roof pitch and a complete redesign of the first floor.
The Stephens family gives you a bird's-eye view of what dig day looks like. This is where the fun really begins!
With the exterior walls up, the Stephens family admired a beautiful sunset framed by a future window. Their home is positioned on a lot with amazing sunset views, so they wanted to take full advantage! With that in mind, they added several large windows and strategically designed their Jameston plan to maximize those views.
View this post on Instagram
Drywall and concrete sure bring things to life. Katrina takes a home tour with a whole new perspective now that the walls are in. They're in the home stretch now!
New siding means a whole new look for the Stephens family's Jamestown. The beautiful Sterling Gray siding with Moonrock shake siding and Anchor Bay brick looks stunning.
Katrina can't wait to move in and enjoy slow afternoons relaxing while listening to their favorite records as a family. One week left to go!
Katrina shares some of her decor choices that bring her joy in the midst of moving-in chaos. She has boho chic down with the meaningful items in their great room.
When asked about their custom Jamestown, Katrina shared, "We completely customized almost every square foot of our home's footprint. From the foyer and great room to the expanded kitchen space and extended garage, to our completely customized second level, every aspect of our floorplan was created with what we had in mind for our family. Most people are shocked to hear that we started out with a Jamestown Classic when they see our home. This was one of the greatest benefits of working with Wayne Homes. They have a great selection of resources to get you started, and if you're up for the challenge, they will work to help bring your vision to life."
To achieve a more welcoming foyer, a larger great room, and a larger kitchen, the Stephens family made some key customizations to the first floor to rearrange it the way they wanted.
These customizations included:
Removed the wall that separated the living room and flex room and located a fireplace on the left exterior wall, giving them a 26' wide great room surrounded by windows. The great room is open to the kitchen and dining areas as well as the 2-story foyer.
They wanted a statement staircase so they created a custom staircase with solid oak and poplar finishes along with craftsman touches. This change also bumped out the foyer by 2 feet.
They removed the closet, bathroom, and walls that created a hallway in the original plan's foyer.
They added 2' to the kitchen space by shifting the garage 2'. This allowed the Stephens family to add an entire wall of cabinetry and put the refrigerator and pantry on this wall in the kitchen. This also allowed them to include an island rather than a peninsula, which added to the welcoming feel that they were after.
Thank you Katrina and Josh for sharing your story with us! We are glad you chose us to build your beautiful new home with us. Keep following them on Instagram for more updates on life in their Jamestown.
---
About Wayne Homes
Wayne Homes is a custom homebuilder in Ohio, Pennsylvania, Michigan, and West Virginia (see all Model Home Centers). We offer more than 50 fully customizable floorplans and a team dedicated to providing the best experience in the home building industry. For more information, Ask Julie by Live Chat or call us at (866) 253-6807.