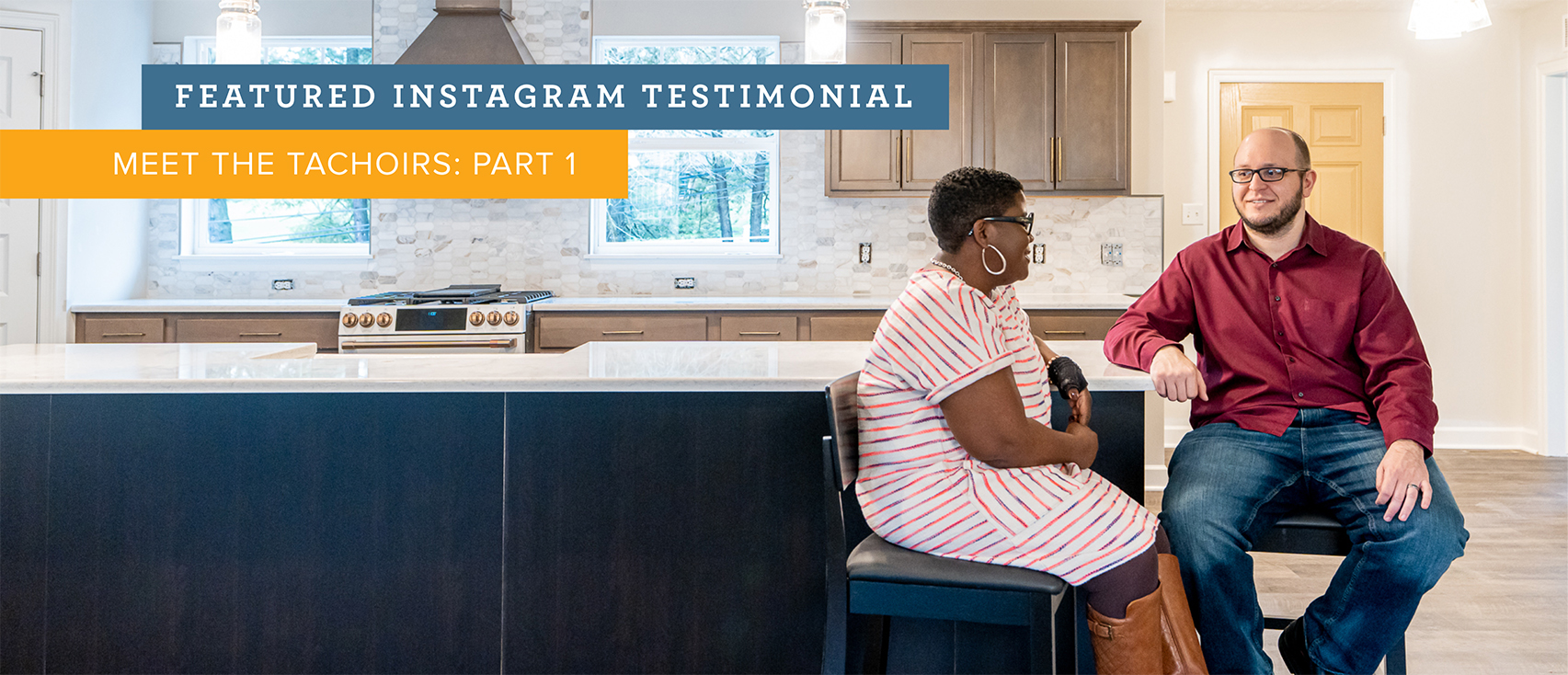 Featured Instagram Wayne Homes Testimonial: The Tachoirs
We are thrilled to share the Tachoirs' Wayne Homes testimonial. This is Part 1 of a two-part feature we are sharing about the Tachoirs' build journey with Wayne Homes. Erica and Evan Tachoir weren't originally planning to build a home, but when they started looking, they realized it was the right choice for them.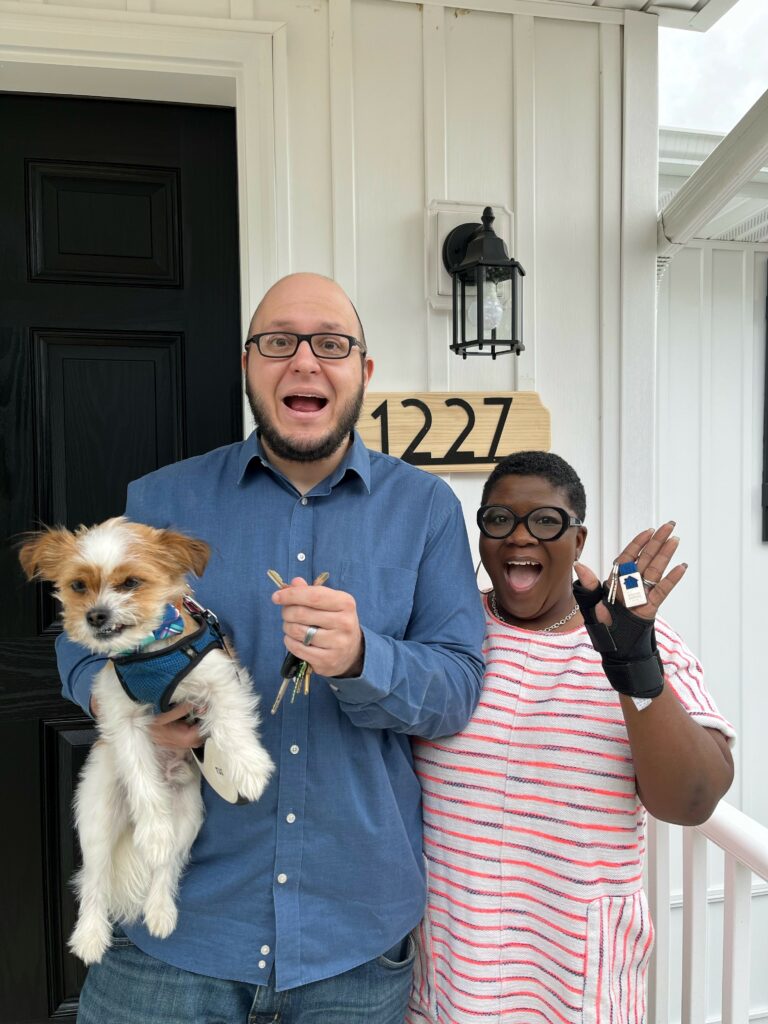 We are delighted they chose Wayne Homes as their builder to bring their vision for their forever home, a customized Providence II Classic, to life.
Let's get to know them and their story a bit better.
"Evan and I have been together now for almost 10 years. When we first got engaged, we started on a journey to pay off debt. We did a course called Financial Peace University," Erica shared. "As a result, we paid off a little over $200,000 in consumer debt, which included student loans, with the goal of upgrading our living situation." They didn't originally set out to build a house. But after having a negative experience with a neighbor in the apartment complex they were living in, "we decided we needed to stop living like this – we need to do something different – we deserve to do something different," Erica shared.
One of the reasons the Tachoirs started to consider building, instead of buying an existing home, is because Erica has cerebral palsy.
So, they really had to be considerate of what was needed in their future home during the years to come. "We wanted something that would really work for us long term, not just for the short term," Erica said. When looking at homes that already existed, the Tachoirs realized they would have to put so much into them to turn them into what they really needed.
The Tachoirs started researching builders, and they found Wayne Homes online.
"We discovered Wayne Homes, and we realized that we could build with Wayne and stay within the budget we were comfortable with," Erica said. Something that Evan found is different when building with Wayne is that the land prep is separate versus some other builders where it's "all inclusive" but more expensive. "Something I probably would have done differently was ask more questions at the very beginning about utilities, municipalities, etc. which we've learned a lot about throughout this process," Evan said. As a result of their experience, Erica is currently working toward becoming a real estate agent! "The knowledge we have acquired during this process is so valuable," Evan said.
Another recommendation the Tachoirs have for other homeowners is to take out the full amount of the loan you're approved for.
Evan explained, "Build a home that's maybe $100,000 under what you're approved for, but still take out the full loan amount to have more of a cushion for the land prep and homesite costs that may arise throughout the build."
The Tachoirs built a Providence II Classic with Farmhouse elements in western Pennsylvania.
"The main reason we chose this floor plan is because the kitchen is huge. Ours ended up being even larger because of the changes we made when we relocated our garage to the basement," Erica explained. "With the larger kitchen, we were able to add space in the 'cooking triangle' so that eventually if I'm using a walker or a wheelchair, I'll still be able to open things and get around everything."
Erica and Evan incorporated universal design features throughout their home.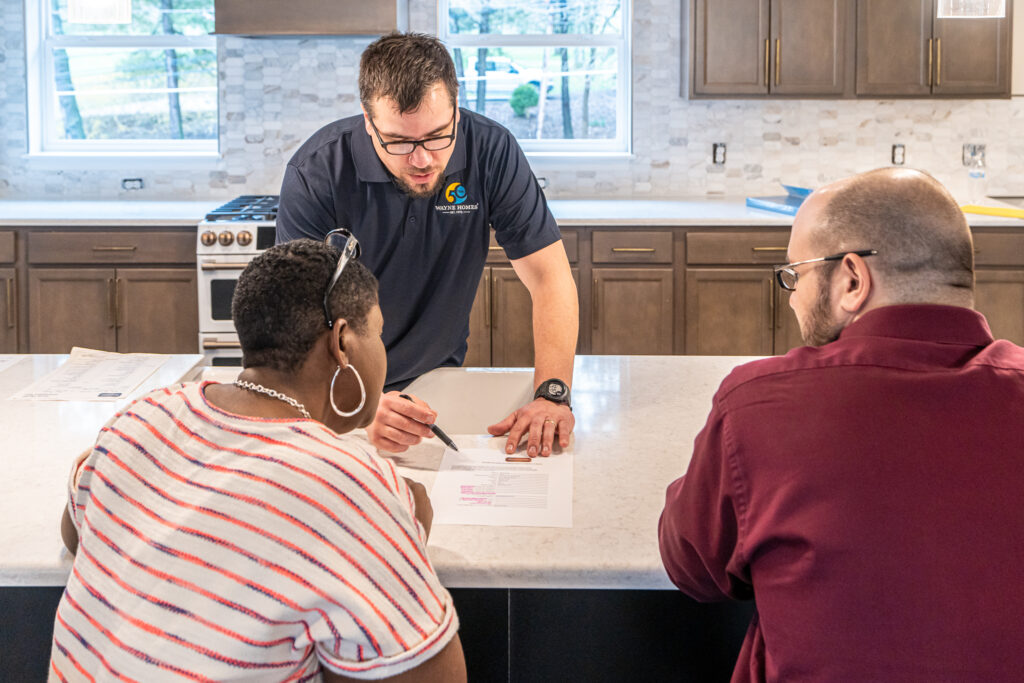 In the owner bathroom, the Tachoirs added a zero clearance shower. "If I'm ever in a position where I need to push a walker or a wheelchair into the shower, I can do that and there's no lip – no tripping hazards – to get into the shower. We also widened the doorways throughout the home. Those are things that were really important to us – non-negotiables – and we realized early on that we weren't going to get those things in any home that was prebuilt," Erica said. The Tachoirs recommend really thinking about what you need in a new home so that you can build exactly that – a home you can enjoy for the long term.
Evan said that navigating these changes proved how easy it is to customize a home with Wayne.
"During this process I saw how Wayne Homes as a company is very easy to work with as far as it relates to customizations. With some other builders, they say 'we can do this or we can do this' – and those are the only options. Wayne Homes said, 'Tell us what you want and then we'll figure out how to make it work.'"
Flexibility is the name of the game at Wayne!
(Say that 10 times fast.) The Tachoirs saw that in action when they found out they needed to integrate the garage into the basement. "The Wayne Homes team came up with a variety of options for how to accomplish that. One of the remaining questions was where to relocate the laundry. Our design consultant was actually the one to come up with the idea of moving the laundry hookups to the owner walk in closet. And we LOVED that idea. We didn't have to come up with any of the solutions to make our house work on our property. They never once threw up their hands and said it can't be done. They took the approach of 'let's make this house what you need it to be.' They were so helpful every step of the way," Evan shared. That makes us so happy to hear! With Wayne, your dream home is possible, and we are determined to make it so.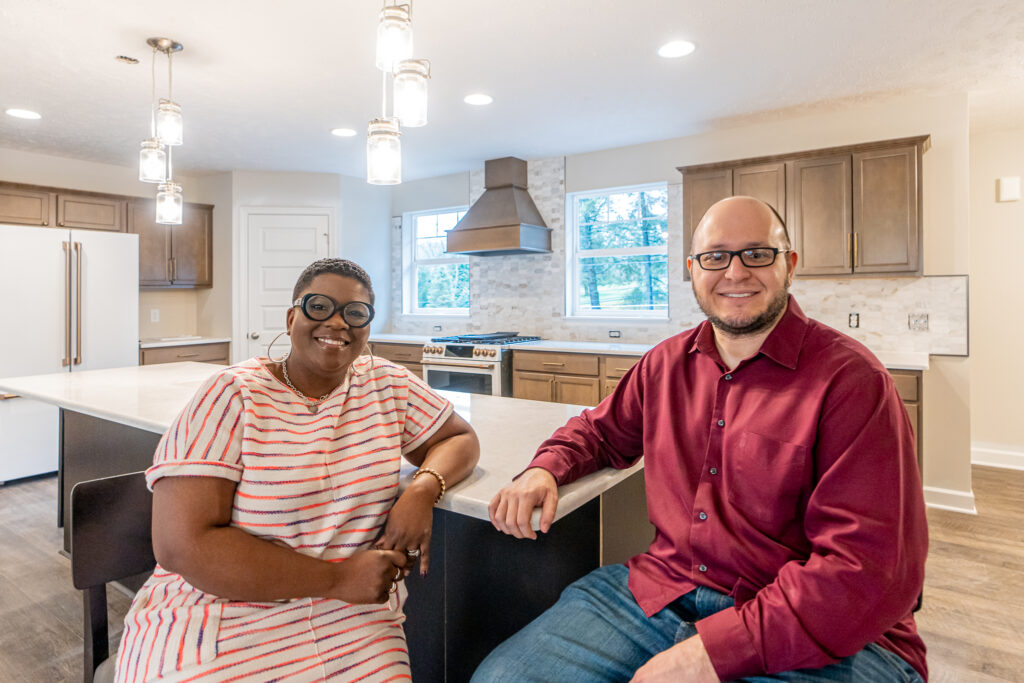 Here are some of our favorite Instagram posts of the Tachoirs' build journey with Wayne:
Dig Day: Nothing says "this is real!" like dig day.
Thank you to Evan and Erica for sharing their story with us!
And congratulations are in order because they recently closed on their beautiful new home! Keep an eye out for another blog in a few months where we'll revisit the Tachoirs after they've settled into their forever home. You'll love seeing what they've done to make their Providence II their own.
Are you ready to start your build journey with Wayne? Contact us!
---
About Wayne Homes
Wayne Homes is a custom homebuilder in Ohio, Pennsylvania, Michigan, and West Virginia (see all Model Home Centers). We offer more than 50 fully customizable floorplans and a team dedicated to providing the best experience in the home building industry. For more information, Ask Julie by Live Chat or call us at (866) 253-6807.
Disclaimer: The details of this blog are accurate as of the publish date, but are subject to change.