Wayne Homes Testimonial Follow-up: The Freemans
We were so happy to do our Wayne Homes testimonial follow-up with the Freemans. We love catching up with our Wayne Homes families because after being a part of each others' lives for so long during construction, it's honestly tough not seeing each other every day! It's also great to see how their Wayne home is serving them. It's great to hear homeowner stories about how their home is growing with them. The Freeman family is one of our favorites. We checked in with them back in June, but now we're back to pick up where we left off.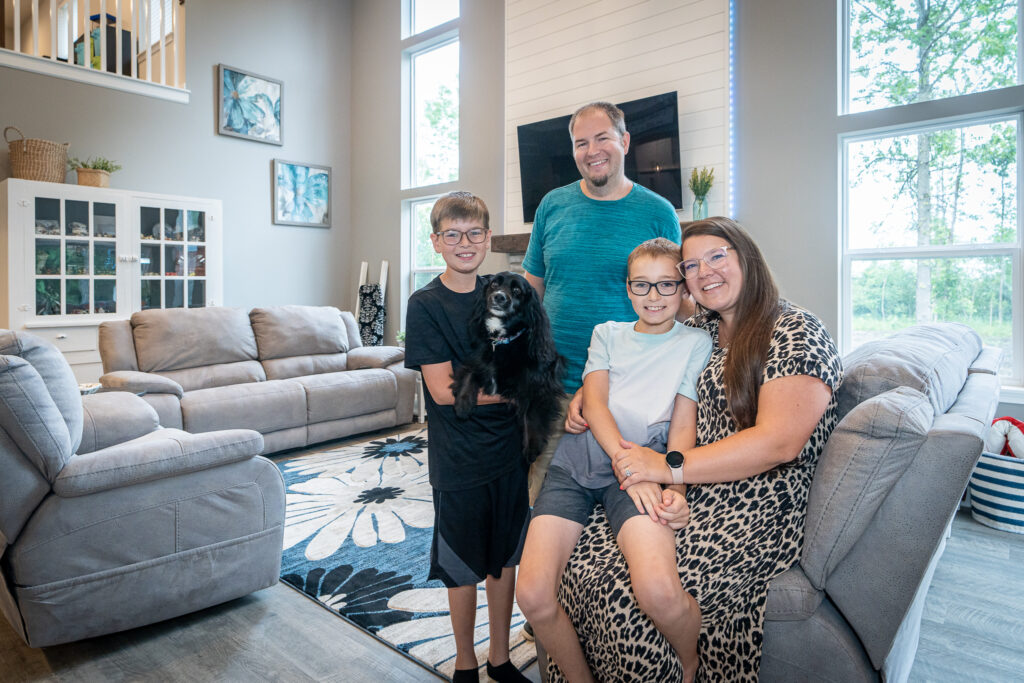 The Freemans can be found on Instagram @TheFreemansForeverHome. This is their corner of the Internet where they have shared their homebuilding journey every step of the way – the best kind of Wayne Homes testimonial.
The Freemans worked with the Delaware Model Home Sales Center to build their Columbia Tradition. They closed on their new home on June 13th, 2022, and we're here to see what they've been up to since they got the keys to their Wayne home.
The joy of closing day is the culmination of the Freemans' homebuilding journey with Wayne. They said, "We seriously have the best builder! We're going to miss getting to hang out with Tenacious D and Ken and all the crews from @waynehomes. But we're ready to be HOME!"
What a beautiful day it was. For their first evening in their Wayne home, the Freemans were greeted with the most gorgeous sunset out front and deer watching out back.
The Freemans' Columbia Tradition is about as welcoming as they come. Ashlee said, "As I stand in complete awe of this masterpiece, I do so with a humble heart. Knowing we will always have a safe place to call home in such a beautiful location… it leaves me speechless." Though she joked that there were times during the build process when she never thought they'd actually be living here, the Freemans were beyond glad to come home.
Once the Freemans were in, Ashlee had some time to make the home her own. From entryway decor to laundry room style, Ashlee's personal touch made this house a home.
The kitchen is the heart of the home, and while the Freemans' kitchen was beautifully designed, it was again Ashlee's decor that really made it feel like their own. "It has been one of the biggest highlights of the build process, getting to put my touches on each space to make it feel like home."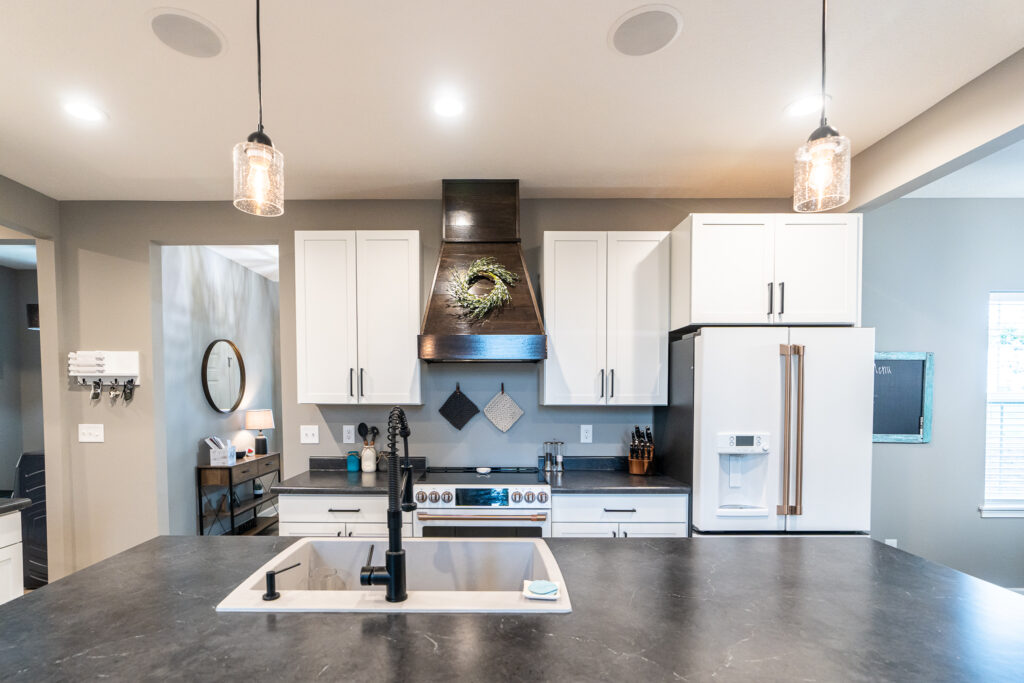 From the shiplap feature above the fireplace to the floor-to-ceiling windows, this great room is pretty fantastic. We know the Freemans will spend lots of time here making memories.
The Freemans' home has it all. There's room for a home office, loft space, and a walk-in pantry. The boys have room for all their gaming needs, and everyone is happy.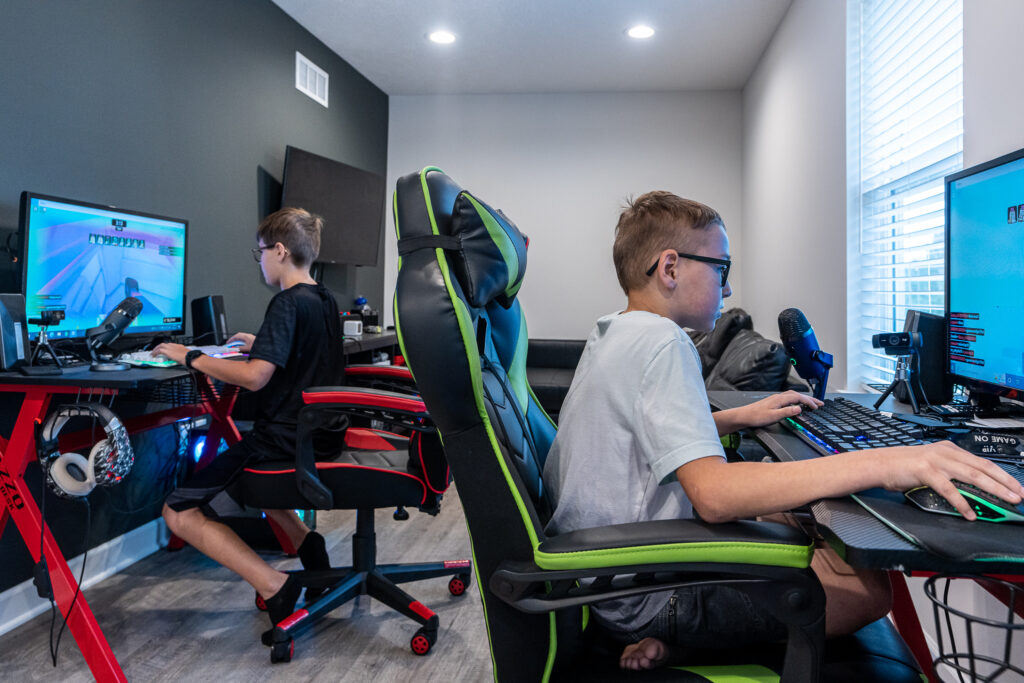 Now that the Freeman family is all settled in, here's what they had to say about their homebuilding experience in this Wayne Homes testimonial:
"We would build a home with Wayne again in a heartbeat," Ashlee said. Aiden and Austin said their favorite part was customizing their rooms. "I really like that we got to decide what we want our house to look like," Aiden said. "Yeah, the splatter paint we did was really cool. It was one of our favorite things when the house was being built," Austin added. The Freemans' New Home Consultant, Julie Hurtt, helped them develop one of their most beloved home features. "I love the sunsets we see in our home," Jeff said. "We were originally planning a Classic exterior with no front porch, but after discussing it, Julie pushed us to consider the Family or Tradition exteriors which both have the front porch. It made a huge difference," Ashlee said.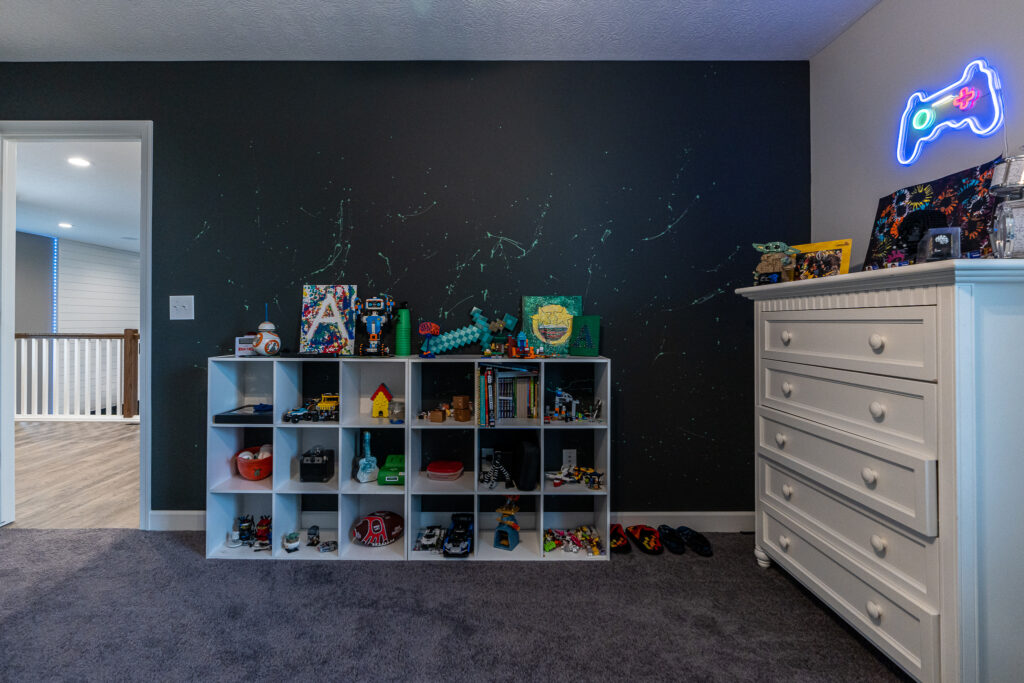 We love seeing the Freemans settled into their new Wayne home, happier than ever. Thank you, Ashlee and Jeff, for choosing Wayne Homes to help bring your vision to life. If you enjoyed the Freemans' story, then stay tuned because the Freemans' beautiful new home will be featured during this week's Flickr Friday.
Do you love the Freemans' home and wonder if you could build something similar? We can help! It only takes a few steps to get started with zero pressure or strings attached.
---
About Wayne Homes
Wayne Homes is a custom homebuilder in Ohio, Pennsylvania, Michigan, and West Virginia (see all Model Home Centers). We offer more than 50 fully customizable floorplans and a team dedicated to providing the best experience in the home building industry. For more information, Ask Julie by Live Chat or call us at (866) 253-6807.
Disclaimer: The details of this blog are accurate as of the publish date, but are subject to change.