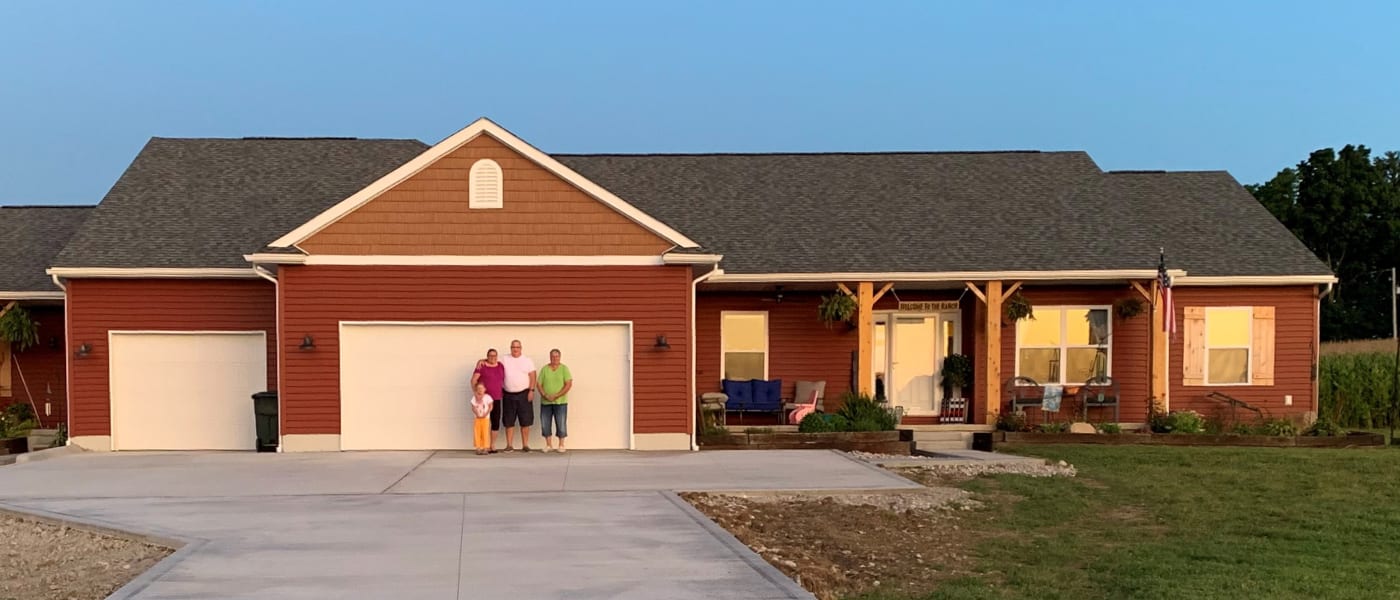 Raving Fan of the Month: The Kosch Family
Our featured Raving Fan of the month is the Kosch family from Thornville, Ohio. Trista and Rob Kosch built their custom Montgomery Family home with our Newark location in 2018. Sue Crow was their New Home Consultant and Zach Ring was their Field Manager (he's now a Construction Manager at our Belmont location). Let's hear about their journey with Wayne Homes.
Why did you choose Wayne Homes as your builder?
We looked around at a lot of companies, but what brought us back each time was our New Home Consultant, Sue Crow. She was so great. We posted on our Facebook page, asking about Wayne Homes. We heard so many wonderful things that it sealed the deal for us.
Which Wayne Homes floor plan did you choose?
We chose the Montgomery floor plan customized with the Alexandria kitchen and a mother-in-law suite with extra square footage.
What's your favorite custom feature?
Our kitchen…I can't say enough times that a kitchen should be the heart of a home. In our case the kitchen is exactly that, and it is the one place everyone wants to go to no matter the season!
How do you and your family spend time in and around your home?
Our mother-in-law suite allows NeNe to come and go without getting wet or cold, plus everyone gathers in the main living room each night to catch up on what happened during our days. In the spring and summer, we spend time on our porches (yep, that is two full porches!) where we can sit with a drink and watch the sunset.
What was the best part of your Wayne homebuilding experience?
Our Field Manager, Zach! When you can't always be there, but you want it to be perfect, you have to count on him to make your dreams come true as its being built. We explained our dreams, what we wanted it to be like, and Superman (yep, his nickname) made sure to walk us through each step. More than once I would ask, "Would you do that in your home?" He was always positive, always on the button, and, if he thought we wouldn't like something, he would call, take a picture, or even text us until we had a plan.
What would you tell your friends about Wayne Homes?
When you want to build a home…not a house, go see Wayne Homes! Don't go to one model…go look at them ALL! Don't limit yourself to one look, one plan, one layout! There is a reason Wayne Homes is the company they are. They allow you to build your ultimate dream HOME! So move a wall, move a bathroom, add that home office you always wanted! Create something beautiful that you never want to leave!
How many kids in your family and what are their ages?
We have one daughter, Kenna. She is 5…going on 20! She is the reason Sue talked us into moving a wall out so when she is a teenager, the door closes on the side and we don't have to see the mess.
Do you have pets, and if so, what are their names?
NeNe has a cat, Trixie. She is an indoor cat, which NeNe adopted from Fairfield Animal Shelter.
Do you or anyone in your family have any special talents or hobbies?
My husband is a fireman but cooks like a chef. That kitchen was his creation. It's where we all laugh and create happy memories!
What a wonderful story! Thank you to the Kosch family for sharing their Wayne Homes building experience.
Are you ready to build a home that's more than just a house? You deserve to get exactly what you want. Contact us today to get started.
About Wayne Homes
Wayne Homes is a custom homebuilder in Ohio, Pennsylvania, Indiana, Michigan, and West Virginia (see all Model Home Centers). We offer 50 fully customizable floor plans and a team dedicated to providing the best experience in the home building industry. For more information, Ask Julie by Live Chat or call us at (866) 253-6807.