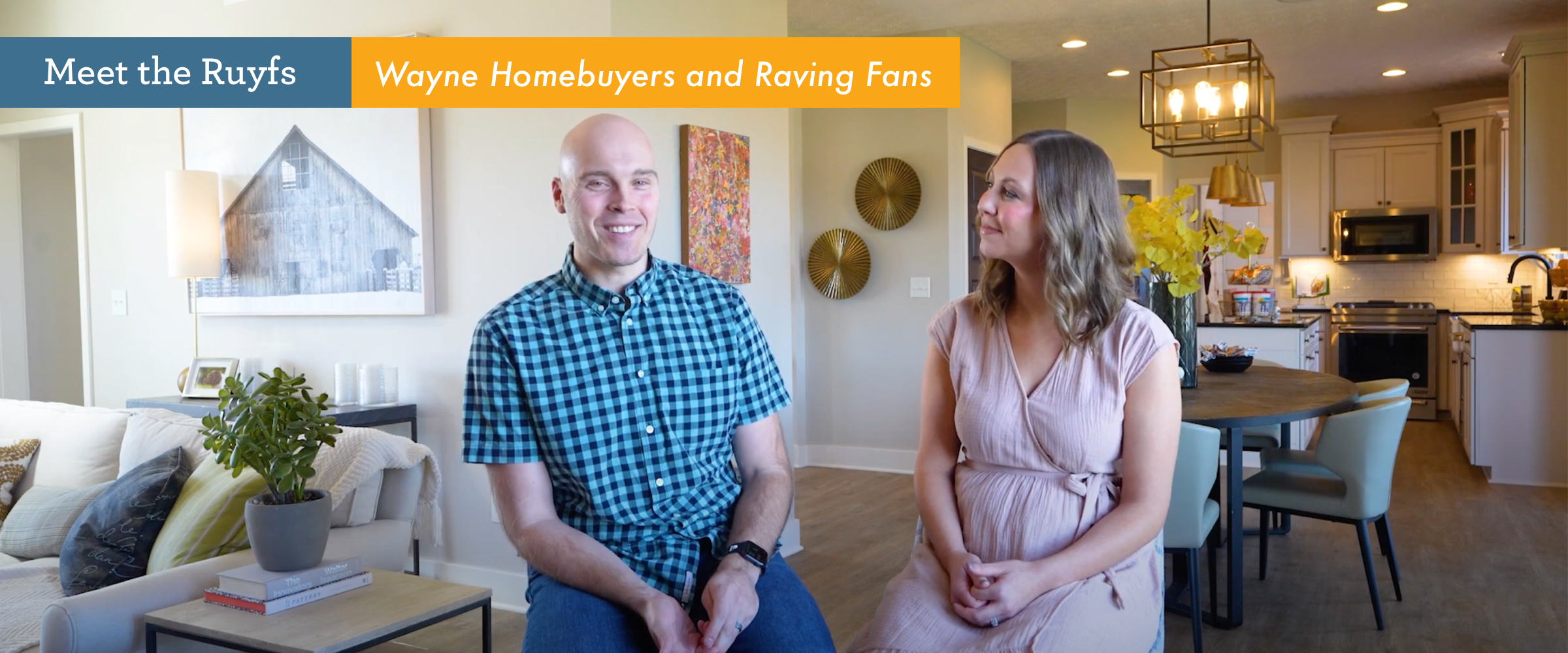 Wayne Homes Raving Fans: The Ruyf Family Video
The best reviews come from our Wayne Homes Raving Fans. One of the hallmarks of the Wayne Homes experience is our commitment to our customers. That means our relationships with our homeowners don't stop after closing. They continue well after you get the keys to your Wayne home. That is part of how we earn and keep our Wayne Homes Raving Fans.
What's a Wayne Homes Raving Fan? A customer who is so overwhelmed and pleased by the customer service they've received that they want to share it with family, friends, and coworkers.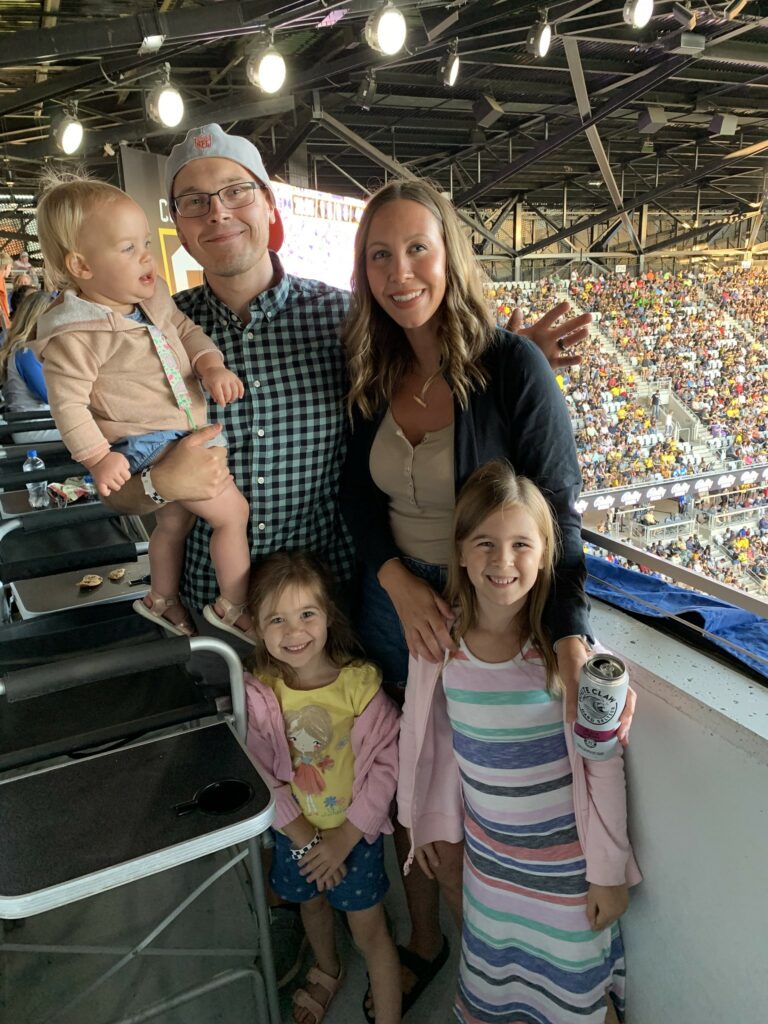 Wayne Homes Raving Fans have built their homes with Wayne Homes and enjoyed their experience so much that they want to share that experience with others. A Raving Fan isn't just someone who gave us a 10 on a survey. A Raving Fan is a part of our Wayne Homes family. These are customers who have formed a friendship and relationships with the Wayne Homes team. They typically refer 4-5 other families to us and we end up building homes for their friends. This is how our extended Wayne family just keeps on growing.
Now we'd like to invite you to meet the Ruyfs. Learn firsthand from John and Megan about what worked, tips from their build, and how to navigate your homebuilding journey.
John and Megan Ruyf have three daughters and built a home on John's family farm. The Ruyf family chose to move back home to be near family after living near Cleveland for several years. The Ruyfs built a Jamestown and are now in the process of finishing their basement. It's been much easier to finish that space and add the basement bathroom since they planned ahead to add the rough bathroom plumbing during construction.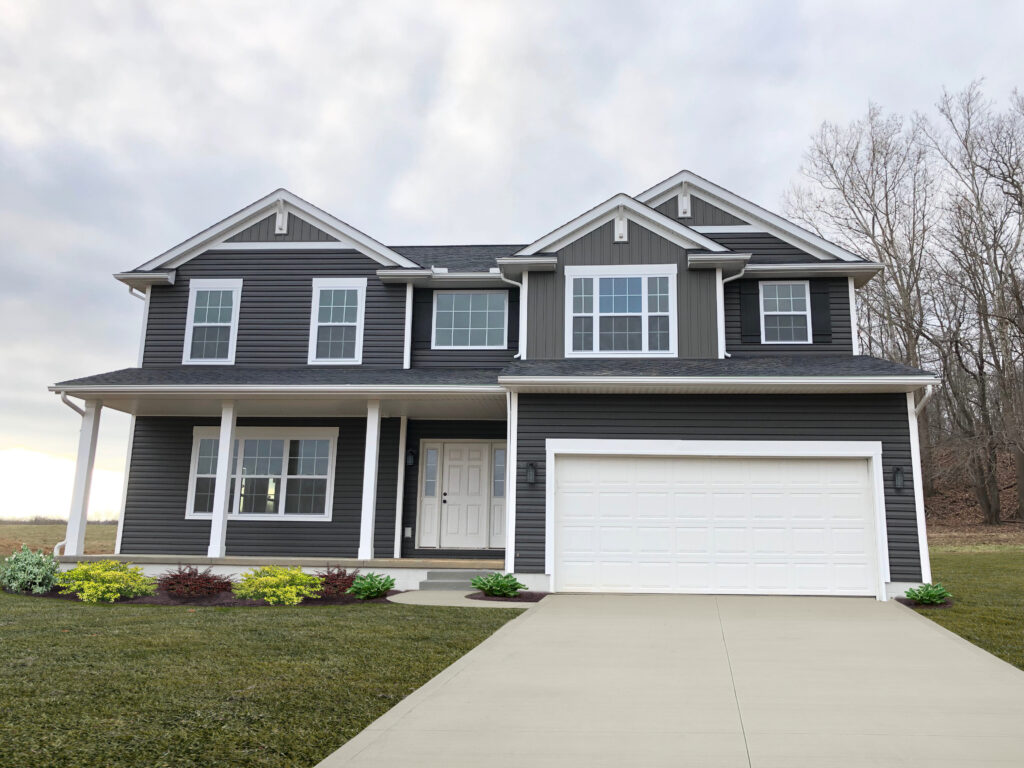 The Ruyfs' Jamestown Family home has 4 bedrooms, 2.5 bathrooms, 2,234 square feet of living space, and a 2-car garage. Like all of our homes, the Jamestown can be customized however you like it. The Ruyfs chose to make some customizations of their own, including adding board and batten siding to the gables on the front of the home. There are 9′ ceilings on the first floor of the home, removed a wall between the great room and den to open up the space, and modified the kitchen to make it exactly what they wanted.
The Ruyfs had a long history of Wayne homes in the family, so they knew they wanted to start their builder interviews with Wayne. What they didn't realize was that it would be the only builder they'd talk to. The Ruyfs said they didn't expect their experience to be so personal and tailored to them. "We knew from that meeting we were going to build with Wayne…it was pretty immediate."
John and Megan looked at a few floor plans and thought the Jamestown would best fit their needs, but they knew for sure when one of Megan's mom's neighbors had a Jamestown and let them look around. "It just felt right…it felt like it was meant to be."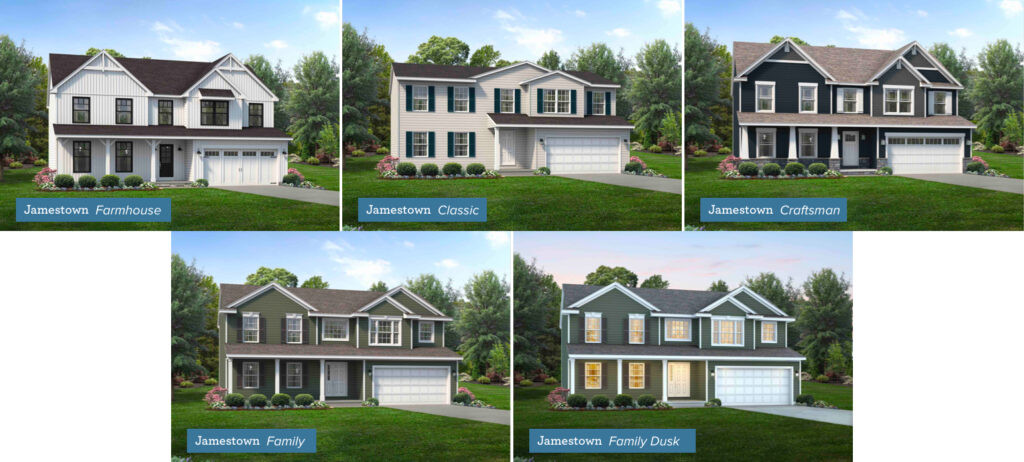 One of the most important customizations the Ruyfs made was to put roughed-in plumbing in the unfinished basement. "We plumbed the basement for future needs. Wayne Homes said you never want to cut concrete later on, so even though it wasn't in the budget to finish the basement at the time, we knew we wanted to in the future. We are in the process of finishing our basement now, so it's important we added the rough in plumbing so we didn't have to cut into the concrete later."
According to John, this was the highlight of the whole building journey. The Newark team created a wonderful experience for the Ruyfs with their great personalities and they were wonderful cheerleaders for the Ruyfs. "It felt like everyone was a part of your family. They made it really enjoyable," said Megan.
John said their previous homes never truly felt like their own. This home, however, is their forever home, and they designed their Jamestown to be able to live in it forever. That feeling, Megan says, is so very comforting.
John's best advice to potential Wayne homeowners is to be upfront with your budget. "This helped us stay on target very well." Megan's advice is to "be open during those initial meetings. There is a floor plan for everyone and something that will fit your needs."
Thank you John and Megan for sharing your story and telling the world how much you love Wayne Homes. Hearing these stories really makes us appreciate our Wayne Homes Raving Fans even more. We know that their personal accounts are so powerful in helping others get started on their journey to their new home.
Are you ready to start your journey to your new home? Why wait? Call today.
---
About Wayne Homes
Wayne Homes is a custom homebuilder in Ohio, Pennsylvania, Michigan, and West Virginia (see all Model Home Centers). We offer more than 50 fully customizable floorplans and a team dedicated to providing the best experience in the home building industry. For more information, Ask Julie by Live Chat or call us at (866) 253-6807.
Disclaimer: The details of this blog are accurate as of the publish date, but are subject to change.