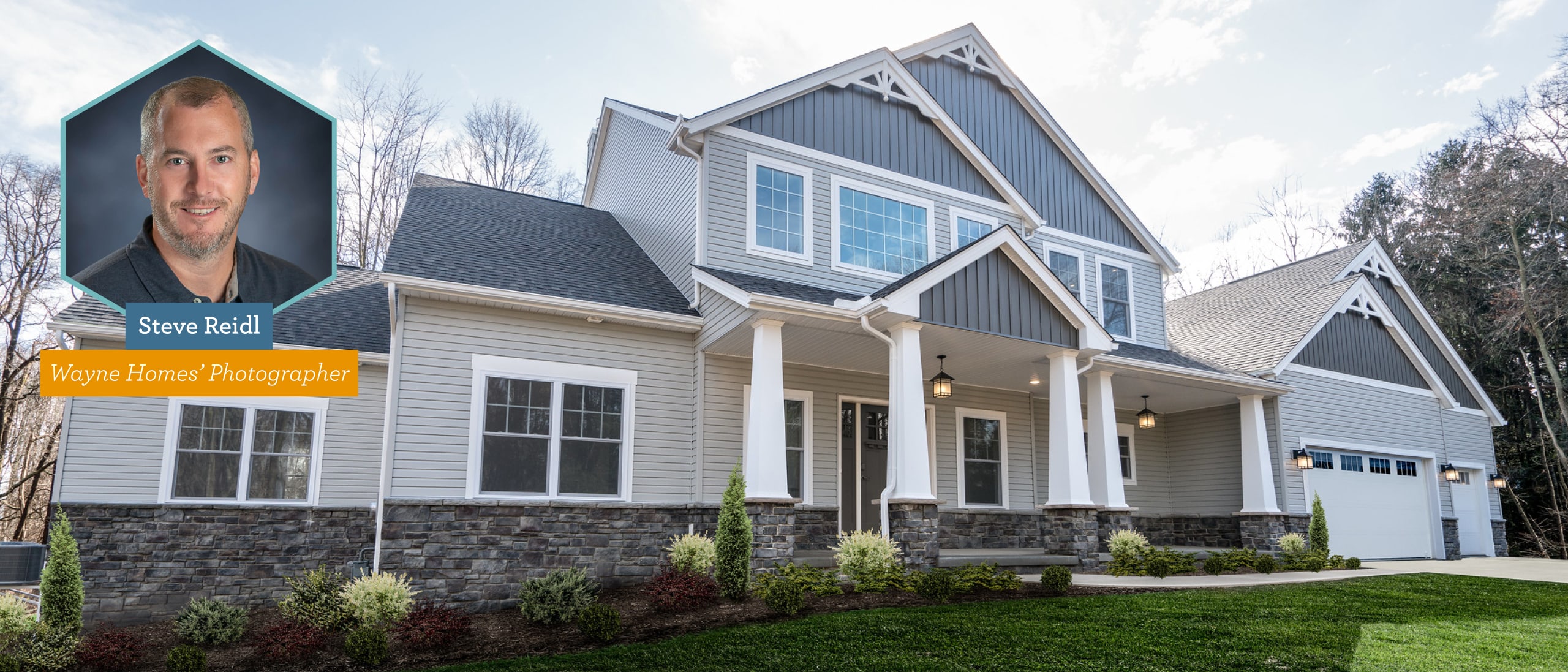 Meet the Team: Steve Reidl
Steve Reidl is the Wayne Homes photographer and videographer.
He photographs homes under construction, model homes, team members for the website, and more. He is also the person behind the under-construction open house videos. He travels everywhere in the areas Wayne Homes builds to take photos and videos of the homes we've built. He's the behind-the-scenes guy who brings our homes to life. If you see a picture or a video of a home we've built, Steve is most likely the guy behind the camera capturing it all.
August 2022 will be Steve's 8th year with Wayne Homes. He has had the privilege of photographing about 700-800 homes in those 8 years he's been with Wayne! According to Steve, here are the standouts, "Some that stand out are the Fairfax, the Washington, and the Auburn."
Here's what made each of these homes special:

"The house was huge, one of the largest that I have ever been to, yet only had two bedrooms! It had so many unique features including a completely open staircase from the basement to the second floor. There was a butler pantry that rivaled a lot of kitchens I have seen. A mudroom complete with a very nice dog shower. Topped off with an amazing in-law suite that would fit several of our smaller floor plans!" Steve said this home is number one on his list because it is over the top in the best possible way.
Toss-up between 2 Washington homes
The Washington is a great floor plan with so many features in an ideal-sized home. From the laundry room to the eat-in kitchen, this home delivers the American dream. It's no wonder the number two spot on Steve's list is a tie between two Washington homes.
Washington Craftsman in Van Buren, OH–"This house had an open kitchen, sunroom, great room that was filled with windows, and a coffered ceiling mixed in. The kitchen was decked out in the latest greatest appliances, with a massive granite island, and awesome cabinets. An open staircase to the second floor, with a bunch more windows and sunlight coming in."
Dana Rider's Washington in Bloomdale (Dana is our Bowling Green Sales Manager)"Dana's 2-story kitchen concept was fantastic. I will always remember walking into it thinking this is what I want. She had what seemed like rooms everywhere, but in reality, it was just a hallway taking you to each room and making the house feel really large."
Auburn in West Virginia

The Auburn has now been updated, much like the Washington, but what makes this Auburn special, says Steve, is the location. "There was a lot to like about this house. Walkout basement, patio doors leading out to a deck off the owner suite (which wasn't completed yet). But this house sat at the top of a hill overlooking the Ohio river in WV, but you could see Shadyside, OH to the south and Bellaire to the north. Not to mention some of the best views of the river." The location plus the house was the perfect combination!
Thank you Steve, for all you do for Wayne Homes! Next time you watch an open house video, you'll know who's behind it.
If you'd like to learn more about one of these favorite floor plans, give us a call! We'd love to chat about how to perfectly customize your ideal Wayne home.
---
About Wayne Homes
Wayne Homes is a custom homebuilder in Ohio, Pennsylvania, Michigan, and West Virginia (see all Model Home Centers). We offer over 50 fully customizable floorplans and a team dedicated to providing the best experience in the home building industry. For more information, Ask Julie by Live Chat or call us at (866) 253-6807.