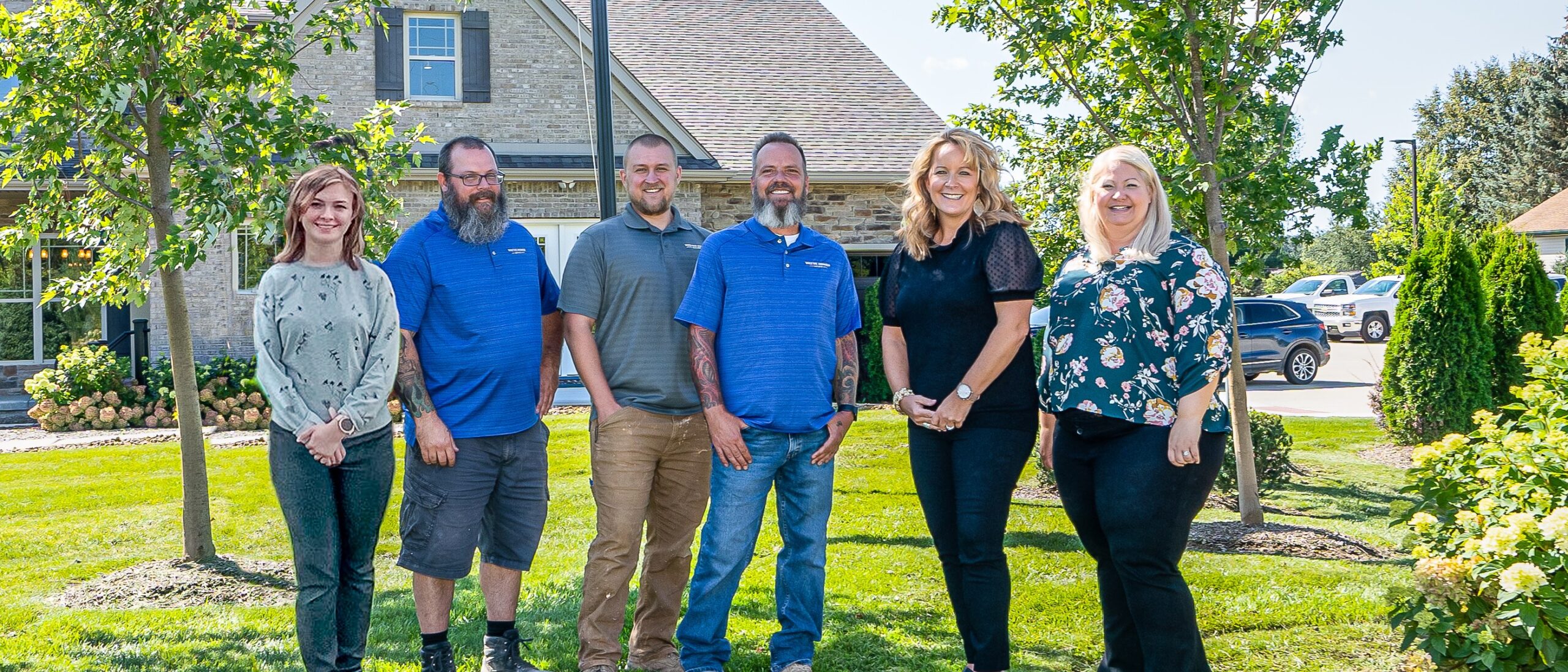 Meet the Wayne Homes Team in Hartland Michigan
Our Hartland team, which you can find at 11600 Highland Road in Hartland, Michigan, is a talented group of professionals with decades of combined experience in home building and selling.
At Wayne Homes, our team is like a family, and like any other family, we want you to get to know how great they are. Today, we are introducing you to the Michigan team, in case you're ever in the area and want to stop by and say hello!
Our Hartland Team:
Dave Richmond – Construction Manager
Ann Winkelmann – Sales Manager
Julia Hendrick – New Home Consultant
Crystal Elkins – New Home Consultant
Brandon Larkins – Field Manager
Patrick Paul – Field Manager
Dave Richmond, Hartland Construction Manager
His job includes trade acquisition, job inspection, managing the field managers, approving contracts, homeowner relations, and model maintenance. When you have a construction question, Dave is your guy. "I'm always available for the homeowners to answer any questions or concerns they encounter under construction or pre-construction." It's a huge relief knowing you have an expert in your corner, ready to explain every step of the process.
Ann Winkelmann, Hartland Sales Manager
According to Ann, "The people at Wayne Homes are like a family. We are all committed to helping each other be successful and that shows up in the quality homes we build and our customer experiences." She has a contagious enthusiasm the rest of her team loves and is a natural leader.
Julia Hendrick, Hartland New Home Consultant
She helps our customers find the perfect floor plan to match their home needs. "On a day-to-day basis, I conduct meetings with both new and existing clients of Wayne Homes to help guide them throughout the build process. I work on quotes to help people understand the cost associated with the build and focus on staying within their budget."
Crystal Elkins, Hartland New Home Consultant
Crystal is always ready to help current and future Wayne homeowners. Her best piece of advice is, "Just take the first step and get out there and get the information so you can make an informed decision. Most of the time when I meet people and answer their questions, they find out that building a home with Wayne is much more possible than they thought and that if they had all of the info they would have built sooner and probably would have saved a lot of money in the process. Most people think you need 20% to build when we can get a homeowner started for as little as 5%!" Talk about bang for your buck!
Brandon Larkins, Hartland Field Manager
Brandon agrees that knowledge is power. "My best advice is to do your research of the property before building, take as many notes as possible when it comes to your responsibilities as the homeowner, and know that you can always ask me questions about the build. Most importantly, enjoy the process!"
Patrick Paul, Hartland Field Manager
Patrick loves that the Hartland team works to make each other better every day. "Working with a team that preaches, teaches, and helps each other get better is an awesome experience."
Want the insider scoop? Here are the Hartland team's favorite floor plans:
Well, there you have it. Expert advice straight from the source. When you put all of these hard-working, knowledgeable folks together, you get a dream team ready to create your ideal Wayne home. Next time you're in the neighborhood, swing by and say hello to this wonderful team of pros. We know you'll enjoy their company!
Stop by and meet the team at Hartland, or get in touch today to find a sales center closest to you!
---
About Wayne Homes
Wayne Homes is a custom homebuilder in Ohio, Pennsylvania, Michigan, and West Virginia (see all Model Home Centers). We offer more than 50 fully customizable floorplans and a team dedicated to providing the best experience in the home building industry. For more information, Ask Julie by Live Chat or call us at (866) 253-6807.
Disclaimer: The details of this blog are accurate as of the publish date, but are subject to change.