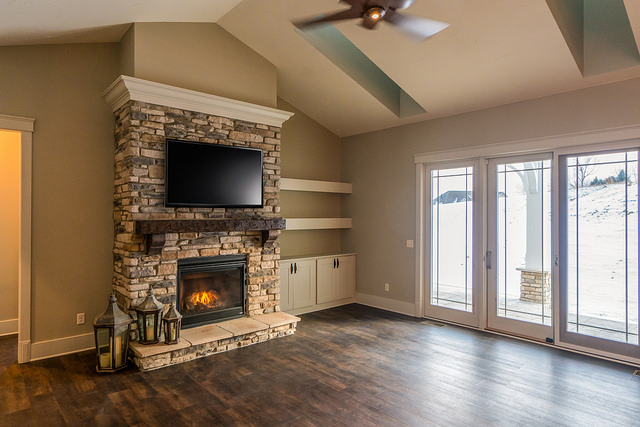 Baby, it's still cold outside! Fireplaces with Wayne
We're well into the new year, and for many of us, that triggers daydreaming about warmer months ahead. Unfortunately, though, the reality is, those warmer months are still quite a ways away, and it's probably best to focus, for now at least, on keeping warm as winter wears on.
We've talked a lot on our blog about how to heat your home efficiently, and stay warm during the chilliest months of the year. A lot of that starts with a high-quality home, made with quality "ingredients," and built by a team that knows what best practices in energy efficiency to incorporate. That's Wayne Homes' team, for sure!
There are other ways, though, to stay warm and cozy all winter long, and today we're focusing on a stylish one: fireplaces!
To get your wheels turning, take a look at our Flickr album of fireplace inspiration, and in the meantime, let's dive into some of the things to think about as you consider a fireplace for your future home.
The right look for you
There are quite a few different styles to choose from when it comes to your fireplace, and within those broad categories, there's lots of variation. It can be helpful to think of your fireplace as a focal point for your home — a true work of art that the rest of the room and even the home in general revolves around — to give a better idea of how you want to style it.
Some might prefer a more traditional look in fitting with a more traditional home. You can't really go wrong there. A more modern style brings a fresh and contemporary touch to your home, though a pure onyx mantle is a much different look as compared to a granite or pure white one. Craftsman style is clean, simple, and classic, or you could incorporate a more intricate details for a more ornate look.
Gas vs. woodburning
When it comes to a sensory experience, it's hard to beat wood burning fireplaces. The smell and sound of a woodburning fire is a delight for many, plus you get to roast marshmallows!
Gas fireplaces, though, are gaining ground in the character department. The wood and flames are increasingly realistic, and they offer a far more energy efficient — and clean — experience. If air quality and energy efficiency are your top concerns, go for gas.
Whatever style and structure you choose, a fireplace is an excellent investment; not only does it provide warmth, it's a grounding point for your home, and a place for family and friends to gather.
Curious if your desired floorplan has space for a fireplace? We can help! Give us a call to work out the details.
About Wayne Homes
Wayne Homes is a custom homebuilder in Ohio, Pennsylvania, Indiana, Michigan, and West Virginia (see all Model Home Centers). We offer more than 40 fully customizable floorplans and a team dedicated to providing the best experience in the home building industry. For more information, Ask Julie by Live Chat or call us at (866) 253-6807.