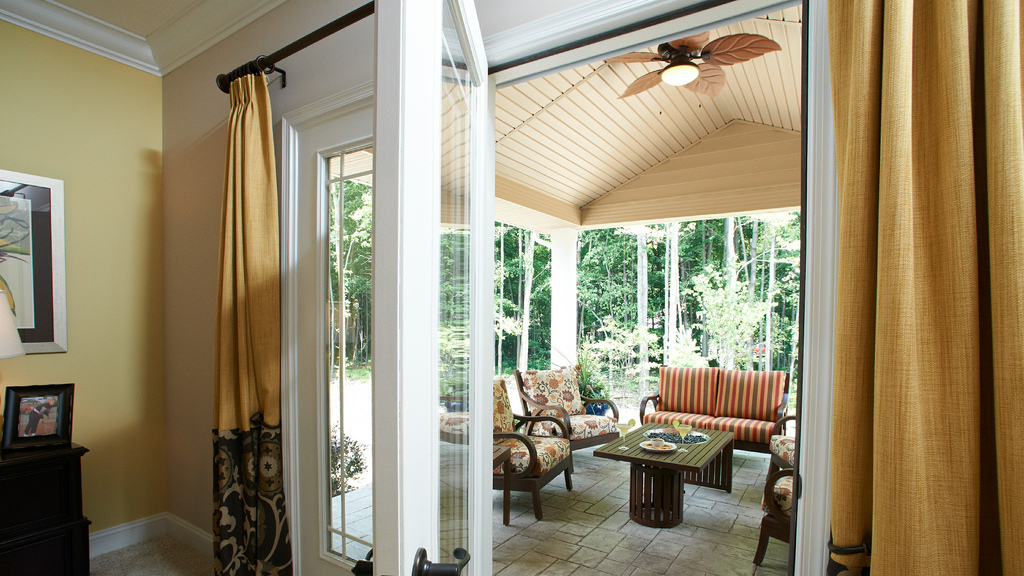 Brightening up your home for summer
Summer is prime season for putting your home's best foot forward. The days are long, the sun is shining, and there's nothing quite like a well-appointed porch to make your home feel more inviting and seasonal.
Whether your porch is big or small, or perhaps you'd like to focus on the deck out back, there's lots of inspiration out there to help spur ideas for brightening up a home. Let's take a look at some easy ways to accomplish this.
Go green with colorful flowers and hanging plants. Planters on your porch, whether on the bannister or stairs, adds a fresh, lively note to the front of your home, and makes your home appear more compatible with nature. They're not tough to plant or maintain either; get the family in on it as a weekend DIY project, and make sure to water them a few times a week – preferably with a decorative tin watering can positioned on your porch! Not interested in getting your hands dirty? Just grab a few hanging planters from your local home and garden store and voila.
Bring the inside out. Choose porch and patio furniture that blends with the look and feel of your home – for example, a simple, modern wood table and chairs would pair nicely with a Craftsman style home. Just as you would inside, avoid overcluttering the space, and instead focus on using outdoor-appropriate pillows, cushions and throws to bring color and personality to your outdoor furniture.
Add a touch of whimsy. You can accomplish this a few ways. A porch swing is a fun and lighthearted addition to the home, so long as space allows. A hanging hammock chair also adds a bit of flavor. Or, use smaller and more decorative items, like the tin watering can we mentioned, a vintage fan, an old-school bar table or vintage gardening tools to add some character.
Be prepared to entertain. Drink carts and trays serve double duty as both decorative items and functional entertaining items. Choose pieces that blend with the look you're already going for, and be prepared when neighbors come to say hello.
For many, summertime is their favorite part of the year. Enjoy it fully with a beautifully decorated outdoor space, and create a look that welcomes your friends and neighbors. Check out our Pinterest Board for more inspiration.
Dreaming of a home that lets you decorate outdoors to your heart's delight? Give us a call to explore your options.
About Wayne Homes
Wayne Homes is a custom homebuilder in Ohio, Pennsylvania, Indiana, Michigan, and West Virginia (see all Model Home Centers). We offer more than 40 fully customizable floorplans and a team dedicated to providing the best experience in the home building industry. For more information, Ask Julie by Live Chat or call us at (866) 253-6807.