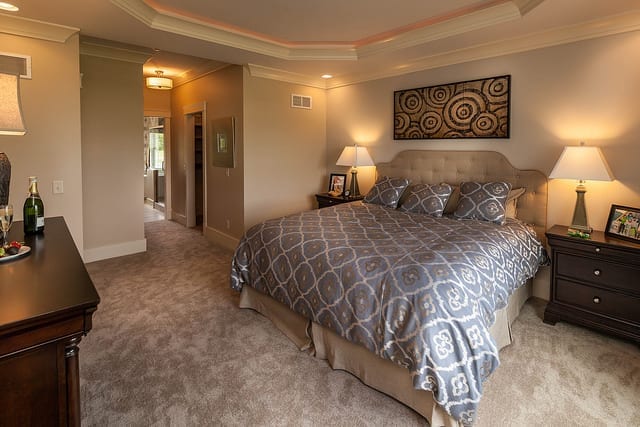 Designing the Perfect Master Suite
Over the last few months, we've shared posts with tips and suggestions for designing the perfect girl's room, crafting a boy's room your son would love, and designing a guest room to delight and relax your guests. We haven't overlooked the heads of the household though, so we're going to spend some time sharing our ideas and inspiration for crafting the perfect master suite.
A master suite should be an escape: a space for relaxation and a restful night's sleep for the busiest and hardest working people in the home. Many of the Wayne Homes custom floorplans are designed to specifically make the master suite separate from the rest of the home, but once you step inside, you should really feel like you've escaped to your own oasis. Let's take a look at some ideas for creating an ideal master suite that's all your own.
Country Classic
If you're a fan of the country style of design, consider a country classic bedroom theme. Earth tone colors, like sand or taupe, will work well on the walls as a neutral backdrop. A wood framed bed made cozy and comfortable with natural, undyed linens and window treatments in a checked or plaid pattern will complete the look.
Nautical Oasis
Nautical is a popular theme; it's both whimsical and comforting because it often feels open, airy and spacious. White furniture is your best bet, with soothing blue walls and gauzy window treatments. Keep the nautical touches – a seashell picture frame, rope-knot art or boat-themed decorations – to a tasteful level to ensure the space doesn't become gaudy.
Luxe Retreat
A lot of our customers tell us they like feeling as though they have stepped into a luxurious hotel when they step into their master suite. You can accomplish this look by starting with a bold accent wall with a metallic or ornate wallpaper. Stick to one wall so the space isn't overwhelmed. Dark wood furniture feels a bit more formal, while satin and plush, soft fabrics and pillows on the bed will create the look you're aiming for. A gold or silver lamp and similarly hued picture frames can add to the look.
Contemporary Craftsman
Craftsman is a great look because of its simplicity. It creates a simple backdrop for just one or two accent pieces to really stand out. Keep it craftsman by using classic colors on the wall, simple white or light wood furniture, and by focusing on clean lines throughout. Then, create some unexpected delight with a brightly colored accent piece, contemporary and colorful bedding or a standout rug.
We've put together some visual inspiration at our Flickr Gallery and on Pinterest; we hope you find some great ideas there!
The Wayne Homes team loves pairing up with our homeowners to craft the master suite of their dreams. The options for customization within the master suite are virtually endless, from carpeting and molding to granite countertops and mirror treatments. Get in touch today to start planning!
About Wayne Homes
Wayne Homes is a custom homebuilder in Ohio, Pennsylvania, Indiana, Michigan, and West Virginia (see all Model Home Centers). We offer more than 40 fully customizable floorplans and a team dedicated to providing the best experience in the home building industry. For more information, Ask Julie by Live Chat or call us at (866) 253-6807.