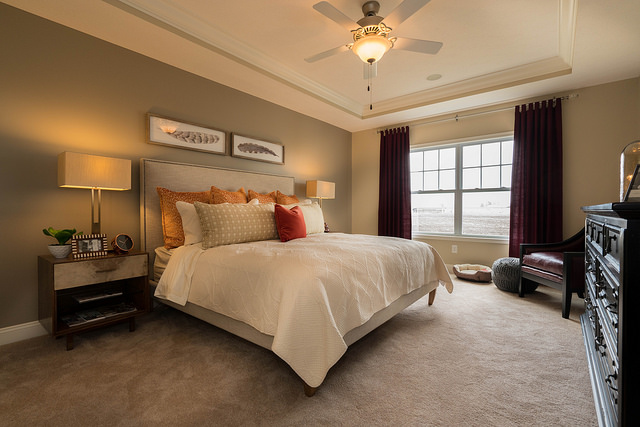 Paint: It matters more than you think!
It's no secret that there are certain things about a home that will make it more or less attractive to prospective buyers. High-end touches, luxury kitchens, and spa-like bathrooms are high on the list of big ticket items than can draw a big ticket asking price.
DId you know, though, that smaller ticket items – including the paint colors the seller chooses for the interior walls – can also make a pretty significant impact on the amount a home will sell for?
It's true! More favorable colors such as warm, neutral, calming tones tend to draw more money than darker colors, according to analysis done by Zillow Digs. Their major takeaway? Colors with mass appeal, like creamy colored kitchens, light sage or khaki bedrooms, lavender dining rooms and light grey living rooms command higher price tags than darker, less inviting colors of all types.
That said, color choices are highly personal. We spoke with a trusted design partner, Eric Mandil of Mandil, Inc. in Denver, about his style and color recommendations on paint so that we might share them with you.
In general, Eric told us that paint is one of the most powerful and economical design elements to customize your space. For example, trims and doors are usually white, but you can change this – there's no rule! – to create a vastly different look. And, if cleanliness is a concern, darker trims will hide dust and fingerprints far better than light ones.
Eric also said that to bring more personality into a space, consider adding a pop of color or even a texture to your ceiling, or use a distinctive shade or unique wallpaper on a single bedroom wall for a touch of pizazz. Powder rooms are a limited opportunity to play with color quite a bit, he added, and can even be a chance to put color literally everywhere – walls AND ceiling! His last smart design tip? Never cut a change of color on an outside corner; inside corner is always best.
Hopefully Eric's insights and the analysis we shared of smart color choices for a sale will help you bring both personality to your home while also positioning it for a lucrative sale, should you decide to go that route. Check out our Pinterest board for more inspiration!
If you do, we want to help you move on to your next home in as smart a way as possible. Get in touch today so we can talk through the logistics of selling your existing home in order to build your dream one!
About Wayne Homes
Wayne Homes is a custom homebuilder in Ohio, Pennsylvania, Indiana, Michigan, and West Virginia (see all Model Home Centers). We offer more than 40 fully customizable floorplans and a team dedicated to providing the best experience in the home building industry. For more information, Ask Julie by Live Chat or call us at (866) 253-6807.