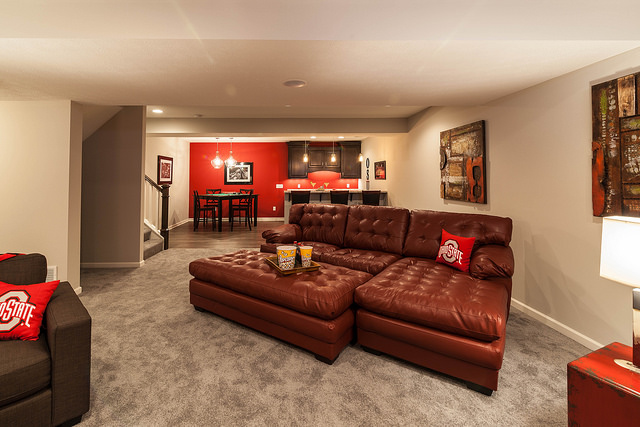 The Benefits of a Custom Finished Basement
An often overlooked but extremely useful space within the home is the basement. Unfortunately, some families never get a chance to enjoy this space, leaving it unfinished and basically a storage space for seasonal items, hand-me-downs, and more.
At Wayne Homes, every single one of the homes we build includes a basement, and it's your choice if you'd like to finish it or leave it unfinished. We encourage finishing it, and at our various model homes – the Bowling Green Covington, Ashland Charleston and the brand new Newark Montgomery to be precise – you can see why. With just a little extra effort, these finished basement spaces can be ideal for adding square footage for a growing family!
Join us for our new Newark Montgomery Model Grand Opening Saturday April 30th and Sunday May 1st! We will be featuring a Buckeye themed man cave in the finished basement, so we'd love if you stop by one of these three models to take a look at the possibilities. In the meantime, though, we've put together a Pinterest board for visual inspiration, and want to share some ideas with you for your own finished basement space to get your wheels turning!
Entertaining space for friends
Sometimes, a grand living space, kitchen or dining area isn't the best space for entertaining. A finished basement can be an ideal spot for a more casual, laid back affair, perhaps to watch a game or movie, enjoy a relaxing drink, or have a casual meal and conversation. A finished basement is more relaxed and less formal, making it the perfect place for a low-key get together with friends.
Media room
Have a movie buff or sports fanatic in the family? Better yet, does the whole family like to get in on the fun? A finished basement is the perfect spot for a media center. Its wide-open layout makes it possible to outfit it with a larger television than may be practical in your main living space, as well as a state of the art speaker system. You might prefer to have more formal or contemporary furniture in your main living area, but the basement can be more relaxed, perfect for lounge-style couches and chairs.
Game space
Where better than a finished basement to put a pool table, air hockey set-up, foosball table or other fun group game? It probably doesn't fit in with the decor in your upstairs living space, but the more low-key basement can be the ideal location for these games. It can also be a perfect game and play space for your younger children, and help to confine the messy madness to an easier-to-clean area that's out of sight.
Whatever your vision is for your finished basement, know that it is a flexible space that can morph to your family's needs over time!
Come stop by one of our model homes for more inspiration in-person, or give us a call to talk in depth about what possibilities we can come up with together!
About Wayne Homes
Wayne Homes is a custom homebuilder in Ohio, Pennsylvania, Indiana, Michigan, and West Virginia (see all Model Home Centers). We offer more than 40 fully customizable floorplans and a team dedicated to providing the best experience in the home building industry. For more information, Ask Julie by Live Chat or call us at (866) 253-6807.