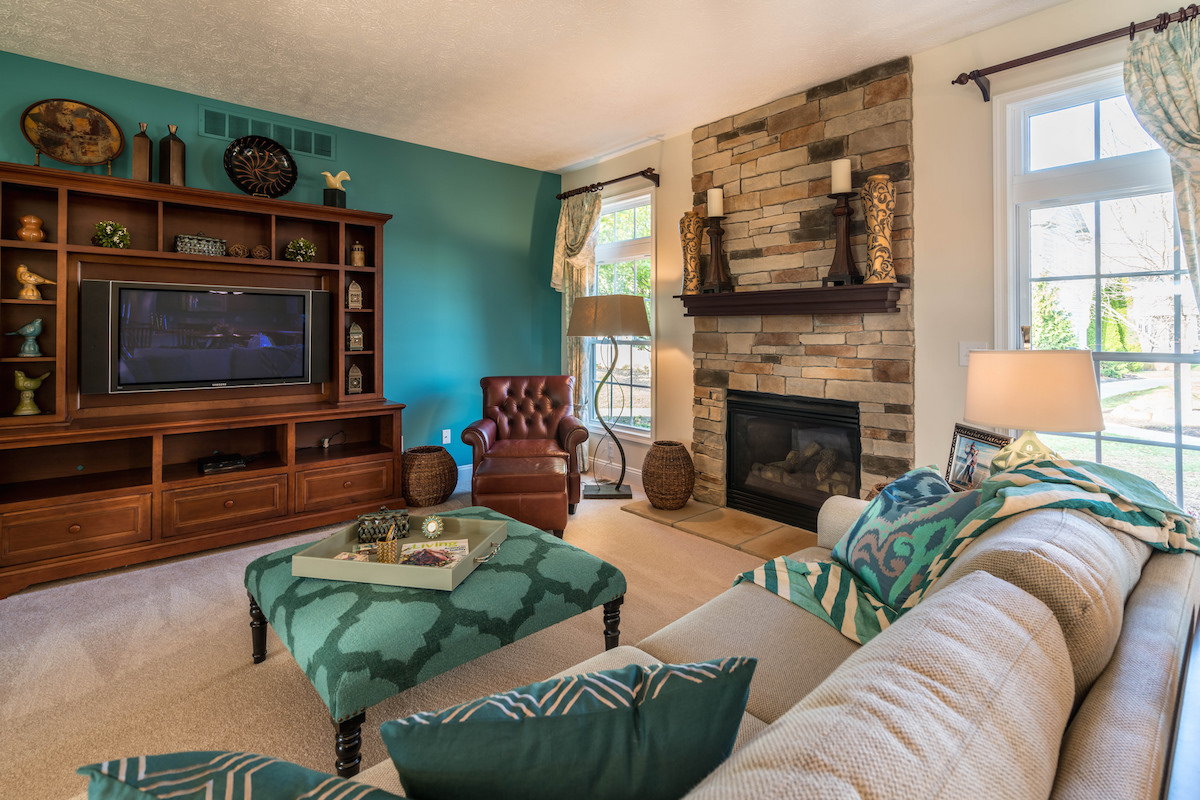 Warming Trends: Creating your perfect fireplace
It seems like winter has been going on for quite a while, so it's only natural to start anticipating the arrival of spring as soon as logic allows. Unfortunately for those awaiting warmer weather, though, winter still has some strength left, and that means several more weeks and months of chilly temps and the potential for snow.
Luckily, there's nothing quite like curling up in front of a fireplace while the cold wind blows outside. So, we want to take this opportunity to look at the options you and your family have for a fireplace focal point in your home. Wayne Homes' custom approach means you have a lot of options depending on your style, energy and location preferences!
Woodburning vs. Gas
In terms of a pure sensory experience, it's hard to beat wood burning fireplaces. They snap, crackle and pop, emitting the smell of fresh burning wood, and generate quite a bit of heat. Plus, you can roast marshmallows!
Gas fireplaces, though, are gaining some character. The flames and wood are more realistic than ever, though you won't get the same sounds as you would with a wood burning fireplace. When it comes to efficiency, though, gas stoves take the cake. They boast around a 75 percent efficiency rating, compared to just 15 percent for wood burning. They also create less particles to be carried in the air, so if air quality is a top concern, a gas fireplace feature is probably best.
Style
Whether you choose modern, traditional, contemporary, craftsman, or any other of the copious amount of styles available in both gas and wood burning fireplaces, you're going to be creating a true focal point for your home, so being mindful about its styling is important. Many prefer a more traditional look because fireplaces are, well, more traditional features! They're "nice to have," not necessary like they were years and years ago, but a more traditional styling creates a homier, old-world feel.
A more modern, contemporary styling, however, can bring a serious touch of class and elegance to your space. Granite is an excellent choice, and in a stark, clean white or bold obsidian, your fireplace becomes more of a piece of art than anything else!
Safety first
No matter what you choose, safety is paramount when it comes to having and keeping a well functioning fireplace. Wood burning fireplaces require regular cleaning, and while gas fireplaces are a bit less high maintenance, they should still be cleaned and adjusted by a professional at regular intervals, depending on how often you use it. A carbon monoxide monitor is an absolute must, as well, and the space around your fireplace should be kept clear and free of hazards.
There are a lot of options when it comes to creating your perfect fireplace. It is a reflection of your own personal style, your preference with regards to energy efficiency and ambiance, and much more. Check out our Flickr gallery for some inspiration!
Interested in seeing how the perfect fireplace could be the focal point your custom home needs? Get in touch soon to talk about your options.
About Wayne Homes
Wayne Homes is a custom homebuilder in Ohio, Pennsylvania, Indiana, Michigan, and West Virginia (see all Model Home Centers). We offer more than 40 fully customizable floorplans and a team dedicated to providing the best experience in the home building industry. For more information, Ask Julie by Live Chat or call us at (866) 253-6807.