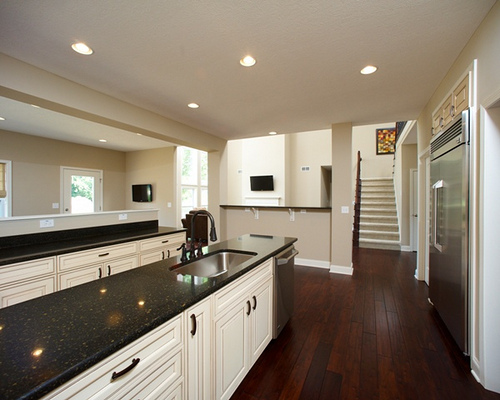 15 Custom Homes Design Resources to Inspire You
Ok, so you already know that at Wayne Homes there's almost nothing we won't build. With more than 40 custom home floor plans to choose from and a team of experts that are ready to say, "Yes!" to almost any demand that you have for your custom home design, you might be wondering, "Where do I start?"
That's why we've compiled this list of 15 resources to help you envision every room of your house. (Warning: the following resources can be highly addicting!)
1. Pinterest
Pins are like potato chips – you can never stop at just one. Pinterest is loaded with home design ideas from all over the world. Simply type "home design" (or kitchen design, or bath design) in the search box and get instant access to awe-inspiring ideas for your custom home. (Tip: create a board for each room of you dream home and fill it with design ideas you love.)
2. Houzz
If you haven't visited Houzz yet, you could be missing out on some of the most jaw-dropping home design photos anywhere on the web. Mix and match ideas (kitchen appliances from one photo, deep rich hardwood floors from another) to create the perfect look for your new home.
3. The Wayne Homes Flickr Page
Speaking of stunning photos, we happen to think our very own Wayne Homes customers are the best designers we know! Our Flickr page features more than 3,000 photos of homes designed by actual Wayne Homes customers. See them all >
4. Reality Design TV
Want a great way to spend a snow day? Catch up on episodes of your favorite design shows such as Love It or List It or Property Brothers to get ideas about how to design a kitchen, great room, or master suite that you love.
5. Interactive Floor Plans
At Wayne Homes, we feature more than 40 custom home floor plans and a nearly unlimited number of ways that you can customize each one. Try our interactive floor plans to see just a few of the countless number of ways you can personalize each plan to make it your own.
6. Wayne Homes Open House Event
Researching design ideas on the web is fun, but there's nothing that compares to the feeling of walking in to a custom home. That's why our Wayne Homes Open House events are so popular. You can tour a home that's currently under construction for an actual Wayne Homes customer and see how each plan can be reimagined. View all upcoming Open House events.
7. Google Image Search
Building the home of your dreams isn't just about floor plans. Finishes such as lighting, cabinets, flooring, windows, and exterior architectural detail can make a big difference without a big budget. Do a Google image search for lighting ideas, flooring ideas, or custom cabinets for instant inspiration.
8. Real Estate Listing Websites
Is your idea of a dream home a charming Cape Cod cottage? Log on to Realtor.com for photos of actual cottages on Cape Cod for inspiration.
9. Celebrity Homes
Want to get ideas from stunning celebrity homes? Visit Hooked on Houses to find a look you like, and then visit a Model Home Center to find out how we can help you create it for less.
10. Your Current Home
The best ideas for your new home may come from what drives you crazy about your current home. For example, how would you answer the question, "My kitchen would be perfect if it only had __________," or "Busy mornings would be so much easier if our home had __________," (a Jack and Jill bath, his and her closets, a kitchen island with eat ledge for quick breakfasts). Learn about creating your Personal Value List.
11. Virtual Kitchen Design Tool
Want to preview what your kitchen can look like before you build? With our Virtual Kitchen Design Tool, you can preview paint colors, cabinets, countertops, flooring and even appliances all with the click of a mouse! Try it now >
12. Renovation Websites
Who doesn't love a good before and after photo? Visit websites of bathroom and kitchen remodeling companies to see the latest in home design trends and products. (Tip: making a list of what you don't like can be just as helpful as what you do want.)
13. Home Design Blogs
Spend a few minutes (or more likely, hours) browsing through some of the best home design blogs for loads of inspiration to create your dream home.
14. Virtual Tours
Many of our custom home floor plans feature virtual tours so you can experience each home online. Love the kitchen of one plan, but prefer the downstairs master suite of another? Tell us! We can help you mix and match elements from different plans to create a home that's uniquely your own.
15. A Wayne Homes Model Home Center
Once you've gathered all of your ideas, bring them into a Model Home Center. One of our friendly, experienced New Home Consultants can help you turn ideas and inspiration into a plan for your new dream home. See all Model Home Center locations >
Have a question about what's possible for your new home? Simply Ask Julie by Live Chat.
Happy planning!
About Wayne Homes
Wayne Homes is a custom home builder in Ohio, Pennsylvania, Indiana, Michigan, and West Virginia (see all Model Home Centers). We offer over 40 fully customizable floor plans and a team dedicated to providing the best experience in the home building industry. For more information, Ask Julie by Live Chat or call us at (866) 253-6807.