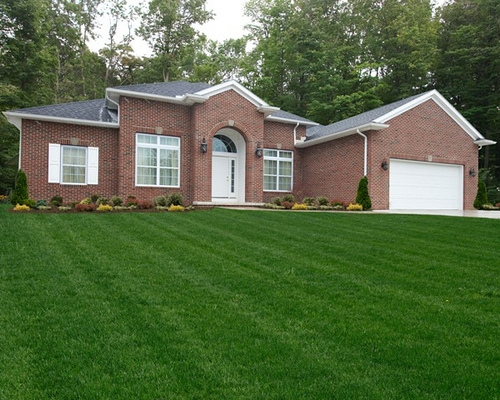 4 Simple Ways to Build Your Custom Dream Home for Less
Think building a custom home is too expensive for your family? At Wayne Homes, we build custom homes for families with almost any budget. After 40 years of building homes we've learned a thing or two to make the process easy, affordable, and fun for you. In fact, we'll build nearly 500 homes this year for families just like yours, and each home is completely unique.
Here are 4 ways that we help families build their custom dream home for less:
1. Start with a Floor Plan
Building a custom home from scratch can be expensive and time consuming: architects, engineers, contractors and more can quickly add up. At Wayne Homes, we've done all the hard work for you. We offer 40 custom home floor plans for you to choose from as a starting point for your new home. Each floor plan includes many of the features that busy families are looking for today including open concept kitchens, deluxe master suites and more. Simply choose a floor plan, and then select only the customizations you want to pay for. Easy peasy. See interactive floor plans >
2. Prioritize Customizations
And speaking of customizations, when you build with Wayne Homes you have an entire team to help you choose which customizations are right for your family and your budget. This means that you'll never have to worry about spending money for rooms and features that you're not likely to use. We begin by working with you to complete a Personal Value List, a planning tool that's only available at Wayne Homes. Visit a Model Home Center for more details. See all Model Home Center locations >
3. Choose the Right Location
Did you know that the homesite that you select can have a big impact on the cost of your home? Grading, tree removal, and other unforeseen expenses can add thousands of dollars to your final cost. Fortunately, we can help you save money with our Complimentary Homesite Evaluation. Once you've selected a floor plan, a member of our team will walk a homesite with you (even before you buy) and talk you through possible challenges of building your dream home. This expertise – which is completely free – can save you thousands of dollars. Read more about the Personal Value List >
4. Take Advantage of Today's Pricing and Interest Rates
As home prices and interest rates continue to rise, building your custom home today can mean big savings over the life of your loan. Members of our preferred lender team at Home Savings are here to help you find a financing option that's as customized to your needs and your budget as your new home. Schedule a complimentary consultation with a member of the Home Savings team today to find out more about the affordable financing options for your custom dream home. Request a consultation >
Find out for yourself how affordable building your home, your way can be. Visit one of our Model Home Centers to tour model homes, speak with a New Home Consultant, and find out more about what's possible for your new home. Have a question? Simply Ask Julie by Live Chat or call (866) 253-6807.
About Wayne Homes
Wayne Homes is a custom home builder in Ohio, Pennsylvania, Indiana, Michigan, and West Virginia (see all Model Home Centers). We offer more than 40 fully customizable floor plans and a team dedicated to providing the best experience in the home building industry. For more information, Ask Julie by Live Chat or call us at (866) 253-6807.