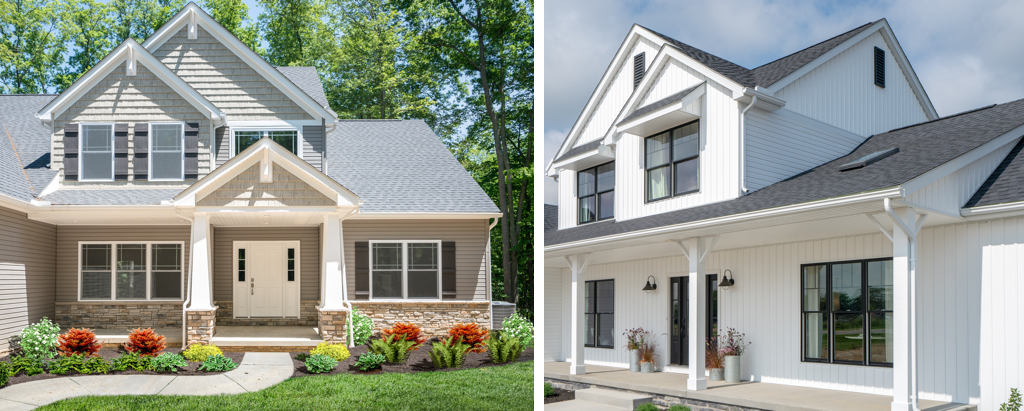 All about siding: Which is right for your home?
Some people might say, siding is just siding. To those people, we say, you don't build with Wayne Homes! Our company offers homebuyers a number of options for the siding on the future Wayne Homes home, from the classic to the more ornate to shaker style and beyond. Today, we're taking a look at some of the options you have available for the siding on your Wayne Homes home, and the unique differentiators each offers. At Wayne, we work with Alside and Foundry for all our siding needs; they're trusted and well-loved vendors of ours and we're proud to offer their materials to our customers.
Dutch Lap Style
Dutch lap provides a standard horizontal siding in a classic American look that resembles shiplap. When you think of siding, you probably think of something a lot like this tried and true style. Within this category, we offer Coventry style, Coventry Premium in a host of special premium colors, and Charter Oak premium vinyl siding, which provides the authentic look of wood siding with the added durability and long-lasting strength of vinyl.
Clapboard Siding
Our clapboard siding category includes a variety of options that you can use to customize the look of your home. Cypress Creek provides a traditional vinyl siding that is multi-colored, which creates a really interesting hand-brushed, stained cedar look that a lot of our customers adore. We also offer Prodigy clapboard siding in a cedar grain panel. With this option, the 1.5 inch-thick insulation wraps your home in a cozy thermal blanket that not only provides warmth during the winter months; it also keeps your energy costs low! Who doesn't love that?
Vertical Board & Batten Siding
Our customers love using this vertical siding option on homes that come in our farmhouse elevation like our brand new Brentwood model does. The farmhouse look is a particular style, and vertical board and batten captures that look and feel perfectly. That said, you can use this type of siding on plenty of other homes and elevations; in fact, our Cedar Hill Homestead and Brentwood Farmhouse models show this in their beautiful gables.
Shake Siding by Foundry
Shake siding is made from molds made of cedar, giving it a warm, authentic texture. Foundry uses a whole host of molds to achieve a hand-split appearance with random grooves and grain. A deep texture creates a captivating contrast between light and shadow. Within this category, we offer split shake standard with some elevations such as the Craftsman elevation, and weathered shake in premium color options for those who want something a bit more unique.
Whatever siding you land on — traditional, vertical, shake, or other — we're here to make sure your choice fits your home perfectly.
Get in touch with one of our New Home Consultants today to start thinking about what kind of siding makes the most sense for your future home!
About Wayne Homes
Wayne Homes is a custom homebuilder in Ohio, Pennsylvania, Indiana, Michigan, and West Virginia (see all Model Home Centers). We offer nearly 50 fully customizable floorplans and a team dedicated to providing the best experience in the home building industry. For more information, Ask Julie by Live Chat or call us at (866) 253-6807.