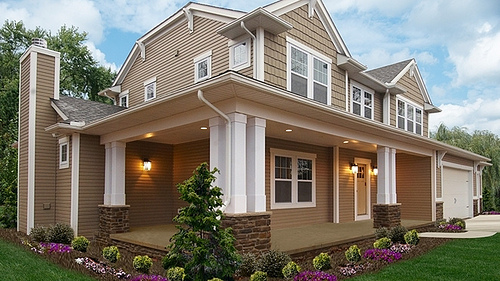 Financing Your Custom Home
If home is where the heart is, then you're sure to fall in love with a custom designed home that is built exactly the way that you want it: every feature, every finish, every detail designed by you.
At Wayne Homes, we make building a custom dream home affordable with floor plans and prices for almost any budget, but for many families the idea of financing a custom home can be overwhelming.
Questions that families typically ask include:
How does land financing work?
How does a construction loan work?
Do I make payments while my home is under construction?
Can I use FHA or VA financing?
What is the minimum down payment that I need?
Do I need a construction loan and a conventional loan?
Will I qualify for a construction loan?
Is the interest rate higher for a construction loan?
Can I finance my customizations and optional upgrades?
The truth is that many of these answers will vary based on your specific situation. Just as your home is custom designed for your family, your financing will be too.
If you're thinking about building a custom home but are overwhelmed by what may seem like a complicated process, take heart. At Wayne Homes, we think building a custom home should be easy, affordable, and fun. That's why we've partnered with the team at Home Savings to deliver simplified solutions that can make financing your home almost as easy as designing it.
Some of the solutions that are offered by Home Savings include:
Construction loans that automatically convert to your permanent mortgage once your home is completed
A variety of innovative loan programs to choose from including construction loans and end loans
A dedicated Mortgage Loan Specialist who can walk you through each step of the process
Low down payment programs for qualified buyers (see details)
Find out more about how easy it is to make your dream of designing, building, and owning your dream home a reality. Getting started is simple: just Ask Julie by Live Chat to get connected to resources for designing your home, financing your home, finding land for your home, and more.
You can also stop by a Model Home Center or visit one of our Open House events for more information.
Wayne Homes is a custom home builder in Ohio, Pennsylvania, Indiana, Michigan, and West Virginia (see all Model Home Centers). We offer more than 40 fully customizable floor plans and a team dedicated to providing the best experience in the home building industry. For more information, Ask Julie by Live Chat or call us at (866) 253-6807.