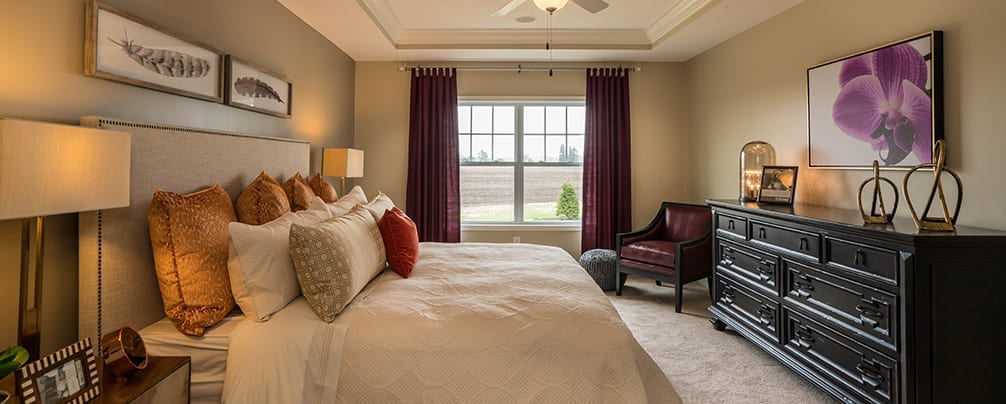 Creating a cozy bedroom for winter
Groundhog Day has come and gone, and unfortunately, it looks like we're in for at least 6 more weeks of winter. For those lucky few for whom winter is their favorite season, this is great news! For the rest of us though, it means buckling down for more cold temperatures and tough weather.
One place in the home to focus on when hoping to create a cozy getaway is the bedroom. Cozy bedrooms offer a much-needed respite from a challenging winter, and can make weathering the cold much easier. Here are our ideas for creating a cozy getaway, and be sure to check out our flickr album for even more inspiration.
Focus on the lighting. Harsh, fluorescent lighting can turn a beautiful space into an unwelcoming one. It's hard to overstate the power of soft, warm lighting on a room, so if your goal is to create a comforting space, pay attention to how you utilize light. Lamps with shades create softer light, but if you need an overhead light as well, a cover and dimmer can help you create a more pleasant atmosphere.
Don't be afraid of dark colors. Light hues can make a room appear larger, but dark colors can create a cave-like atmosphere that envelops you. Using a dark color on an accent wall or for your bedding can automatically make a room feel more cozy.
Think about what's underfoot. Hardwoods are great for warmer weather, but rugs add softness and warmth to a space. Layering different styles of rugs can amp up the cozy factor while also projecting a shabby chic look.
Bring on the blankets. If your goal is to create a comforting space, you really can't have too many blankets and throws. Different colors add variety, while different textures create even more visual, sensory interest.
Make it personal. Austere can be a great look, but there's nothing like a few personal knick knacks and heirloom pieces to add personality and a sense of warm to a space. This is especially true in guest rooms, which can often come across as impersonal and cold without this added consideration.
Be generous with pillows. Much like blankets, pillows add softness, color, and texture to a space. Don't overwhelm every surface with them — instead, make a few strategic decisions about where you'd like to add an extra touch of softness, then add pillows of varying sizes to create interest.
Winter may be here for a while, but that doesn't mean we have to suffer in our own homes! Use these tricks for creating bedrooms that you'll be reticent to leave come springtime!
Excited to try your hand at some winter home decorating? Explore the opportunities with a Wayne Homes team member today!
About Wayne Homes
Wayne Homes is a custom homebuilder in Ohio, Pennsylvania, Indiana, Michigan, and West Virginia (see all Model Home Centers). We offer more than 40 fully customizable floorplans and a team dedicated to providing the best experience in the home building industry. For more information, Ask Julie by Live Chat or call us at (866) 253-6807.