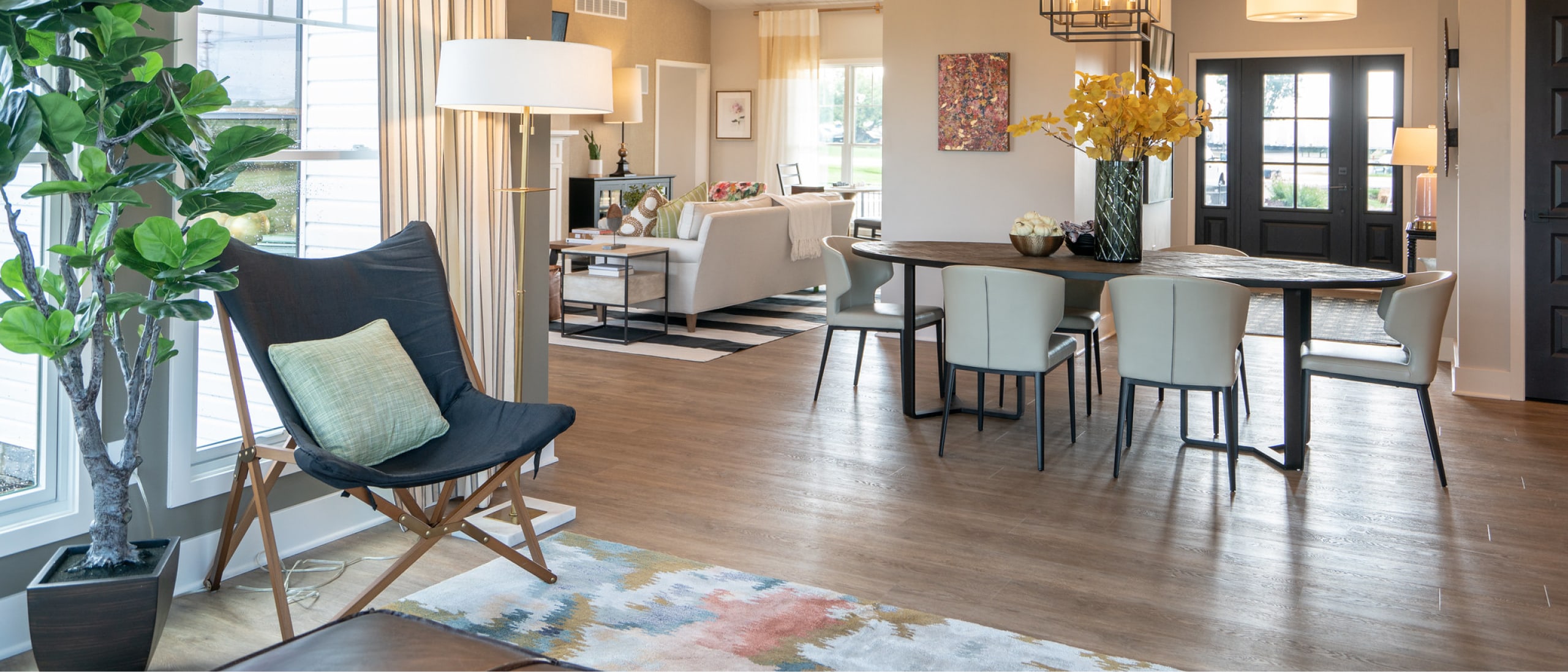 Creating Separation in an Open Concept Floor Plan
Open concept floor plans have reigned supreme for quite some time now.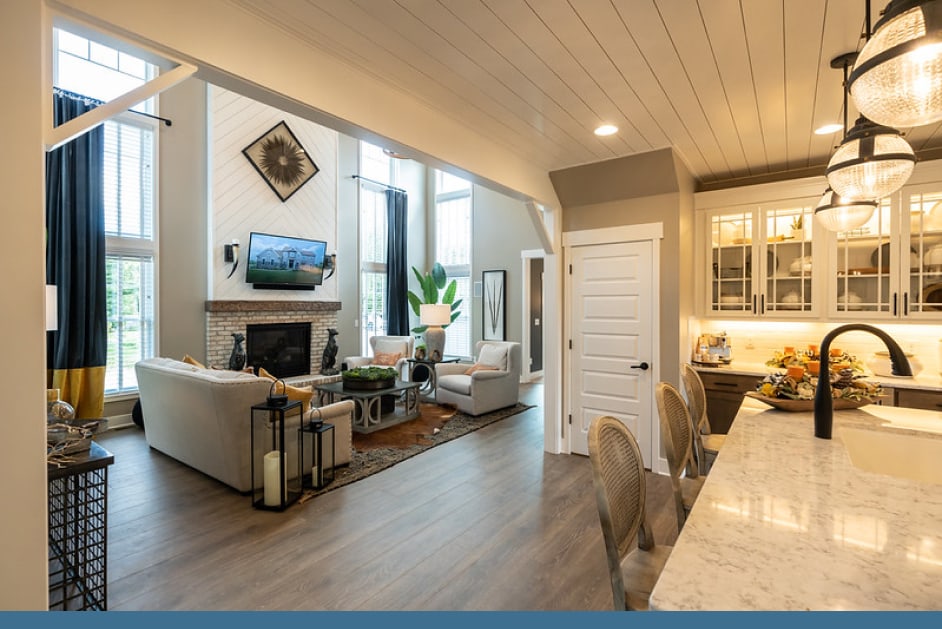 With many people growing up with formal dining rooms and rooms that are separated from one another, the open concept floor plan has the opposite appeal–wide, open spaces that invite in light and open up lines of sight.
These days, we are starting to see a trend towards some middle ground. A floor plan that is still open yet offers some separation. If you have an open concept home or love an open concept floor plan, but would like some separation, here are some fresh ideas on how to achieve just that.
There are some simple ways to create separate spaces in open concept homes just with decor. You can try:
Rugs–an area rug can anchor a room or space within an open concept layout
Furniture Arrangements–grouping furniture together can give structure to a space
Ceiling changes from room to room–try painting one room's ceiling a different color than white
Accent changes from room to room–paint colors can make a big impact in a room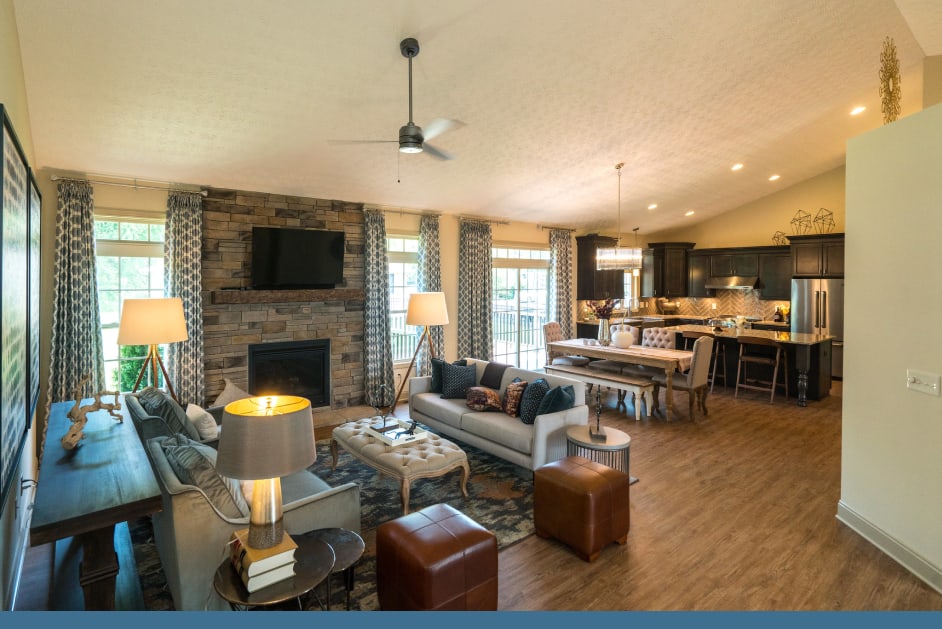 Brittany from the Wayne Homes Product Development team says, "Wall treatments like board and batten trim wainscoting or shiplap can really define a space. For example, a dining space that is open to other parts of the house (like the McAllister) could have wainscoting just in the dining space which would visually define or separate that space."
Other ways to create separation are more architectural in nature. Here are some architectural ways to create separation in an open concept home:
Columns–Installing columns in between that space and another could help with separation.
Accent wall–For example, in a great room, an accent wall of shiplap or other trim treatment could be the focal point that all great room furniture is arranged around, providing that visual anchor.
Fireplace–A fireplace can provide an anchor without building a wall in between rooms. Get ideas for your own fireplace in our Get Cozy blog.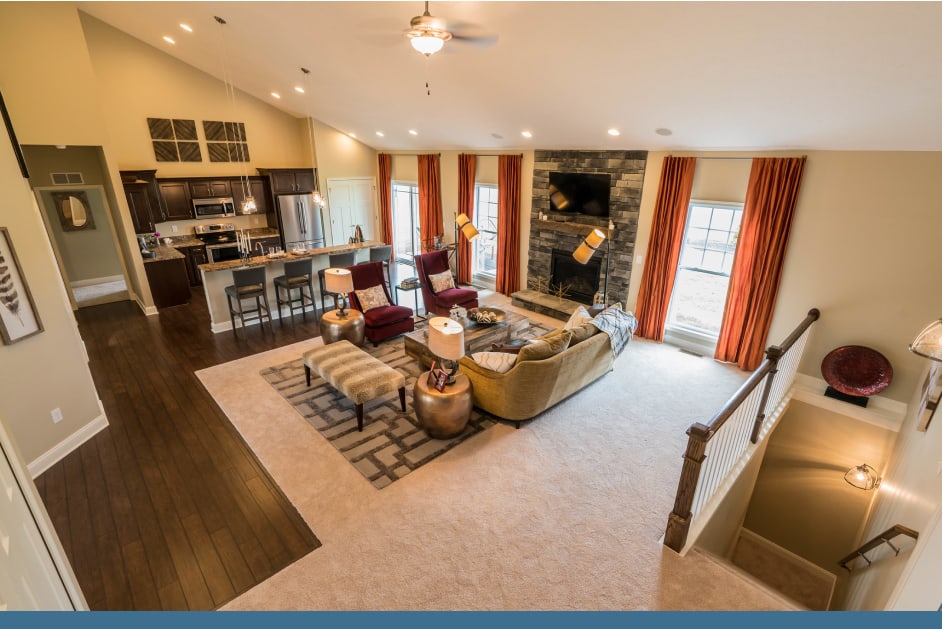 However you choose to add some separation, Wayne can help! Open concept floor plans are wonderful for giving you that light, airy feel in a home. But planning some subtle separation can be helpful to provide some structure, so you don't feel like you've got a totally blank canvas to work with. The Wayne Homes design team is always informed of the latest home trends and solutions to make your home exactly what you want.
If you want to see a fully-decorated, open-concept home, be sure to tour our Model Homes – virtually or in person. Here are a few that are sure to get you inspired:
Browse all of our floor plans, then tell us which one you love. We can't wait to brainstorm how to perfectly customize your space.
---
About Wayne Homes
Wayne Homes is a custom homebuilder in Ohio, Pennsylvania, Michigan, and West Virginia (see all Model Home Centers). We offer over 50 fully customizable floorplans and a team dedicated to providing the best experience in the home building industry. For more information, Ask Julie by Live Chat or call us at (866) 253-6807.
*The details of this blog are accurate as of the publish date, but are subject to change.