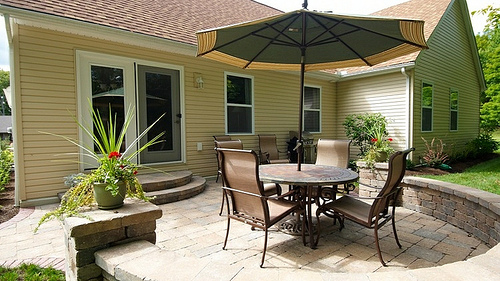 6 Outdoor Room Ideas that Are Perfect for Summer
Ah, summer. The time to lounge in your shorts and flip flops and watch the fireflies as you sip iced tea under the stars.
At Wayne Homes, we believe that designing outdoor rooms is just as important as indoor spaces when it comes to building your family's dream home. That's why we offer a complimentary Homesite Evaluation once you've selected your Wayne Homes custom home floor plan. Whether you already own a homesite or are considering one for purchase, a Wayne Homes team member can walk your lot with you and offer ideas about how to create outdoor rooms that maximize views, privacy, energy efficiency, and more.
From porches to patios, outdoor rooms are the perfect place to spend your summer. Here are six outdoor room ideas that you can add to almost any Wayne Homes floor plan to enjoy family fun in the summer sun.
Front Porch
Front porches are one of the most popular features of our Craftsman style homes, but you can add a porch to any floor plan. Porches add to the curb appeal of your home and give you an ideal spot to enjoy a glass of lemonade as you wave to your neighbors (or just enjoy a wide open and unobstructed view). Choose from a simple design or a large wrap around porch that's ideal for summer entertaining.
Backyard Patio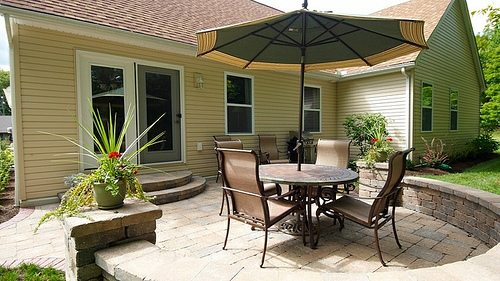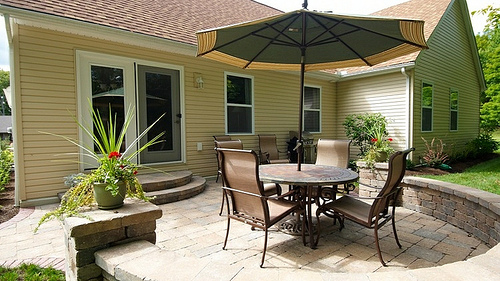 Love to garden? A patio is the perfect vantage point to enjoy all the fruits of your labor. Patios are becoming a design element that is as important to the enjoyment of your outdoor space as your prize-worthy rose garden. Stamped concrete and other patio styles make it possible to turn an everyday outdoor space into an extraordinary oasis.
Covered Patio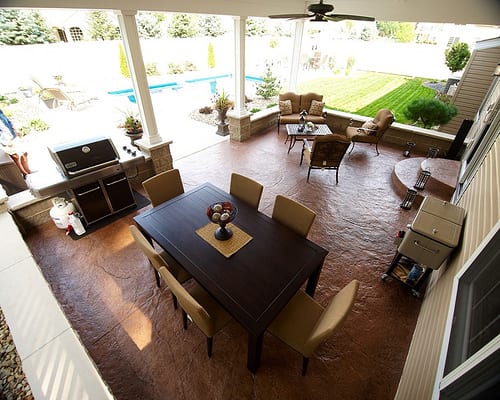 Keep your cool all summer long with a covered patio that's the perfect place to dine al fresco or have a few friends over for an afternoon game of cards. Add an outdoor kitchen for easy entertaining or a in-ground pool and your home will quickly become the favorite neighborhood hangout.
Deck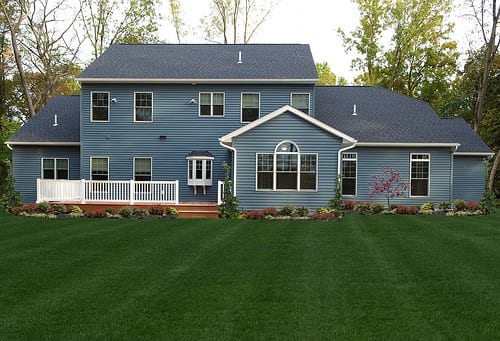 It's not just a deck, it's your family's outdoor dining room all summer long. Customize it any way you like based on your family's lifestyle. Do you prefer direct access from the kitchen so you can easily bring in burgers from the grill? Do you prefer a single french door or a large slider? Would you like access from the master bedroom or other living areas? When you build with Wayne Homes almost anything is possible.
2-Story Deck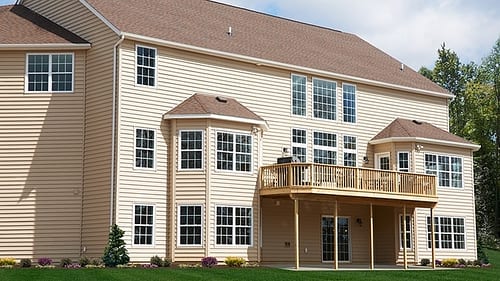 Two-story decks can add space and usability to an upstairs loft area or bonus room. They are also a great way to expand a Master Suite. When you plan your custom home design consider the placement of your home on your lot to take advantage of views, create added privacy, and minimize direct sun during summer months.
Sunroom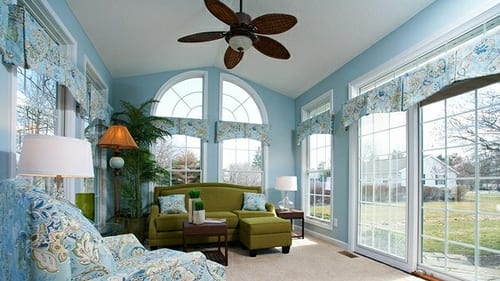 When the days grow shorter and temperatures dip you can make the most of winter glimpses of sunshine with a sunroom that brightens up your home, even on the coldest of winter days. It's the perfect place to curl up with a good book, add a casual breakfast area, convert into a picturesque home office, or anything you choose.
Want to know more about our team can help you build a dream home that you and your family will love inside and out? Simply visit one of our Model Home Centers or Ask Julie by Live Chat.
About Wayne Homes
Wayne Homes is a custom home builder in Ohio, Pennsylvania, Indiana, Michigan, and West Virginia (see all Model Home Centers). We offer more than 40 fully customizable floor plans and a team dedicated to providing the best experience in the home building industry. For more information, Ask Julie by Live Chat or call us at (866) 253-6807.