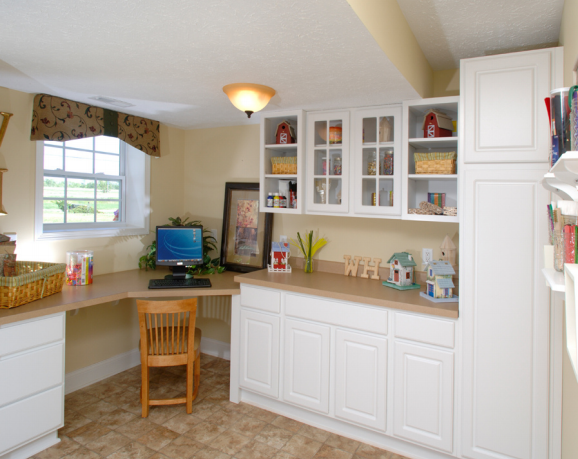 Mother's Day: How to Design a "Mom Cave"
Have you heard of the fun phrase "Mom Cave"? A mom cave is similar to a man cave.It's a private getaway, located somewhere in the house, where a mom can literally get away. Now that you have the opportunity to build a dream home, think of an official way to honor mom. And, what better way than to design a room specifically for her?
In custom designed homes, you can create any type of room for mom that you can think of. From sunrooms to steam rooms and any room in between, the options are endless. We've come up with some in-demand choices we're sure that any mom would love.
1. Spacious Walk-in Closet
Yes, closets can still be an official getaway, especially one that's designed to look like a mini-boutique. When you're designing your master suite, give extra consideration to the master closet. You may even choose to do a his and her closet, which provides extra exclusivity for mom's closet. If you're using the walk-in closet with the dual purpose of mom cave, here are a few features you may want to include:
A built-in island for displaying jewelry and storing folded clothes
Full length mirrors
Great lighting
An area to display shoes
A makeup vanity, facing a window for optimum natural lighting
2. Luxurious Master Bath
Since we're in the master suite, let's continue to the bathroom. A bathroom is the ultimate retreat for many moms. Make it spa-like and relaxing. Here are some ideas to consider including:
Huge soaking tub
Rainfall shower
Fireplace
Special tiled floor that resembles hardwood
Sunlight for extra light while maintaining privacy
3. Creative Craft Studio
Many moms love crafts. Whether it's scrapbooking or oil painting, a craft studio is a perfect addition to any home. Although the contents of the craft studio will vary by interest, here are a few ideas to incorporate into your design:
Built-in shelving
Lots of windows overlooking a pleasant area
A built-in, counter height island with long work surface
Task lighting
Cabinets to hide any creative clutter
4. Super Sewing Room
Similar to the craft studio, a sewing room is a great getaway for many moms. Include all of the same things in a sewing room as you would in the craft studio. Instead of facing the wall, position the sewing table next to the window.
5. Amazing Kitchen
For most moms, kitchens get a lot of use. It's a good idea to make this space not only functional but beautiful, and a place where mom will want to go. We have some ideas of how to create an awesome kitchen:
Open floor plan between kitchen and family room so that mom can be part of the conversation
Ample counter space
Well lit, especially under the cabinets
Large windows
High-end flooring
Whatever room you choose, we hope these custom home design ideas will help you create the perfect home for the mom in your life.
Use the free interactive floor plan tool to design a home she'll love. If you have any questions, Ask Julie, our online sales team, by Live Chat or call us at (866) 253-6807.
About Wayne Homes
Wayne Homes is a custom home builder in Ohio, Pennsylvania, Indiana, Michigan, and West Virginia (see all Model Home Centers). We offer nearly 40 fully customizable floor plans and a team dedicated to providing the best experience in the home building industry. For more information, Ask Julie, our online sales team, by Live Chat or call us at (866) 253-6807.