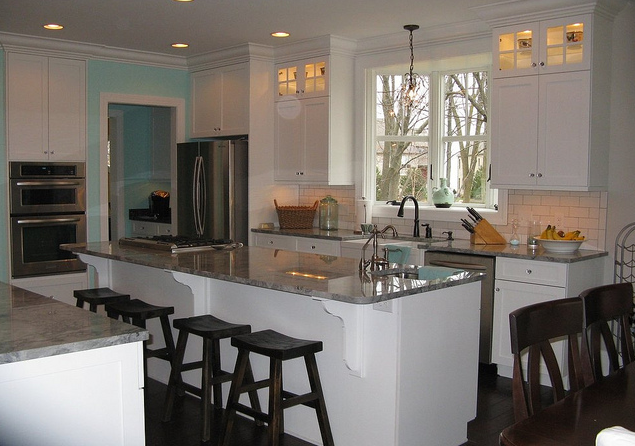 Custom Homes Ohio: 3 Reasons Why Buyers Love Wayne Homes
When it comes to custom home builders in Ohio, we know that finding the right fit is one of the most important decisions you will make. It's a decision that impacts your costs, your peace of mind during the process, and your enjoyment of your home for years to come.
We're proud to say that nearly half of all new Wayne Homes buyers are referrals from friends and family. Why is Wayne Homes such a trusted source for custom homes in Ohio? Just ask some of our homeowners!
Here's three reasons why buyers love Wayne Homes:
1.  Easily Manage Costs
Imagine building your own custom home with all of your costs outlined upfront in your contract. That's just what Kim and Jim Springer experienced when they chose Wayne Homes to build the Winchester floor plan on their lakeside property next to a private beach.
The Springers estimate that they saved about $100,000 by choosing Wayne Homes.
"It was so great working with Wayne [Homes] because I had a bottom line number and I could manage the whole process to hit that number, " says Kim.
Laura Buck agrees. When Laura and her husband Gary chose Wayne Homes to build the Montgomery floor plan in a neighborhood of million-dollar homes, Laura estimates that she saved $80,000 with our team's upfront approach. Laura explains, "They didn't try to sell me what they had – they gave me what I wanted. At the price I wanted."
2.  Build to Your Tastes, Not Ours

At Wayne Homes, we know that no two buyers are created the same. That's why we developed The Personal Value List, a tool that helps us find out what matters most to you in your new home.
For John and Judy Allison, for example, they wanted a hands-on approach. John, a teacher who enjoys summers off, wanted to do much of the work himself. John created the wainscoting in his library, a mantle for his fireplace, and installed his own Brazilian walnut flooring.
We also worked with the Allisons to make several custom changes to their kitchen and modified the home to take advantage of the panoramic lake views from their home. By working with The Allisons, our team was able to create a custom home without compromising the reasons that John and Judy originally chose the Alexandria floor plan. "We loved the openness," says Judy.
 3.  "Yes!" (A Unique Partnership Approach)
When it comes to our customers, we're proud to be yes men (and women). We believe in creating a partnership that expands your view of what your dream home can be, and then we work hard to make it happen.

Just ask Kim Springer, who compiled a 13-page list of changes and upgrades that was no match for our hard-working, customer-focused team. "I don't think Wayne Homes said 'no' during the entire process," Kim says.
Discover for yourself how easy and affordable it can be to build your own custom home. Ask Julie now to chat live with one of our representatives or call us at (866) 253-6807.