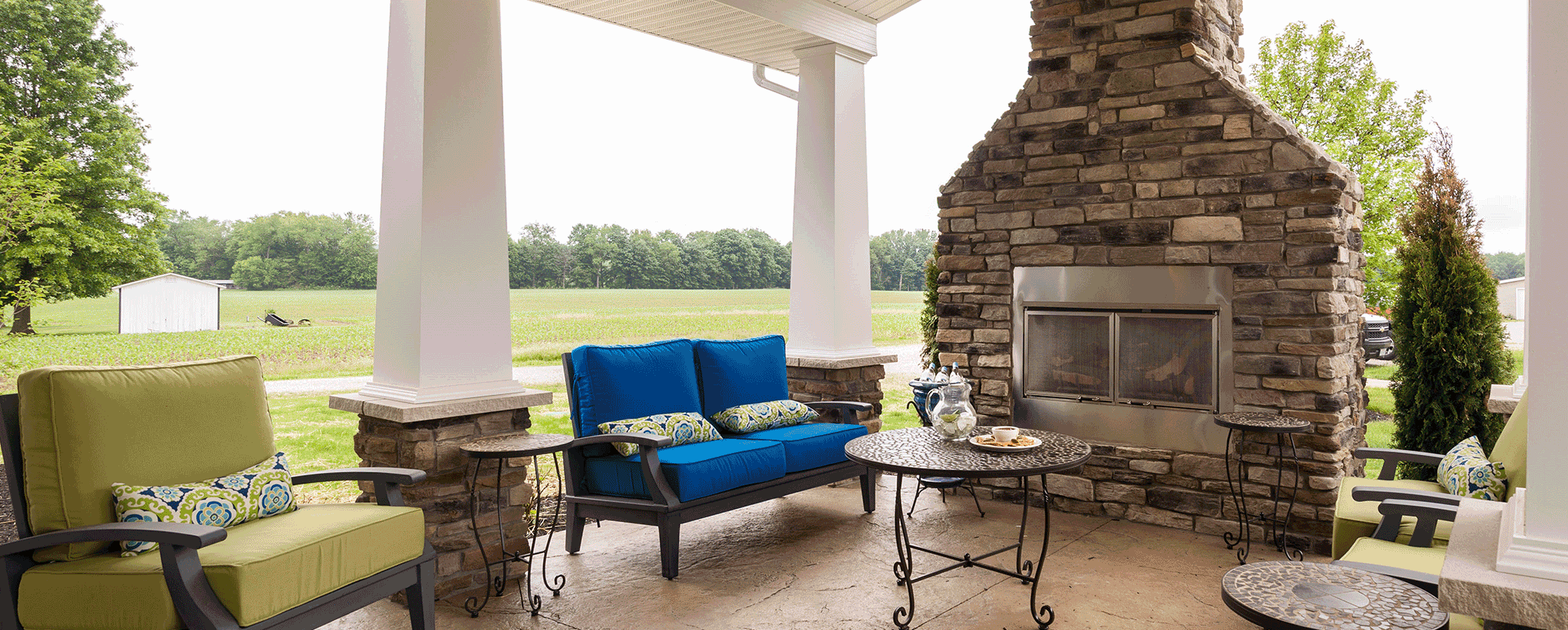 Get cozy this fall with fireplaces, sunrooms, and more!
The temperature is dropping, the days are getting shorter, and chances are, you're feeling less like spending the day outside and more interested in cozying up in the warm comfort of your home.
There's no time like fall to explore the ways your home can create a cozy, snuggly atmosphere. From fireplaces to fabrics, lighting to living room layouts, there are countless ways to make your abode more comfy as we slip into fall!
Fireplaces — Just imagine it: a crackling, popping fire across from you as you curl up on the couch to read a book or catch a movie with the family. Fireplaces instantly add warmth and a stunning focal point for any space, and with Wayne, the options are virtually endless. Whether you want to make a grand statement with a traditional stone fireplace, prefer a more subtle modern look, or want to customize it to evoke a rustic feel, we can create a fireplace that fits your aesthetic.
Cozy Bedrooms — Plush carpets, beautifully dressed windows that let warm sunshine in, and cozy fabrics are just some of the ways to create a comforting bedroom space, whether it's for your own master space or a guest room. With Wayne, you can customize the space to include stunning crown molding, vaulted ceilings, feature walls, upgraded carpet, and much more, and then add your own spin with soft, textured pillows, throw blankets and rugs, warm lighting and more.
Sunrooms — The air might be cold, but the sun can keep things toasty and warm indoors, and there's no better place to enjoy it than in your own custom sunroom. A bright sunroom is the perfect spot for enjoying a cup of coffee on a crisp fall morning, for hosting a casual get together, or for enjoying some downtime fun and games with the family on a sunny, cool weekend.
Living Room — Like your bedroom spaces, there's a lot you can do to customize your living room area to make it perfectly cozy for fall and winter. As mentioned, a focal point fireplace can add a source of warmth and light – literally! – to your space. Plush, soft seating places (chaise lounge anyone?) with warmly hued pillows and throw blankets create a lovely atmosphere, perfect for a cup of tea and a good book.
Whatever your style, the Wayne team will work with you to create a cozy, comfortable home perfect for those chilly fall days!
Ready to build the perfect cozy nook for future falls and winters? Our team can make your dream a reality! Give us a call to talk through the possibilities.
About Wayne Homes
Wayne Homes is a custom homebuilder in Ohio, Pennsylvania, Indiana, Michigan, and West Virginia (see all Model Home Centers). We offer nearly 50 fully customizable floorplans and a team dedicated to providing the best experience in the home building industry. For more information, Ask Julie by Live Chat or call us at (866) 253-6807.