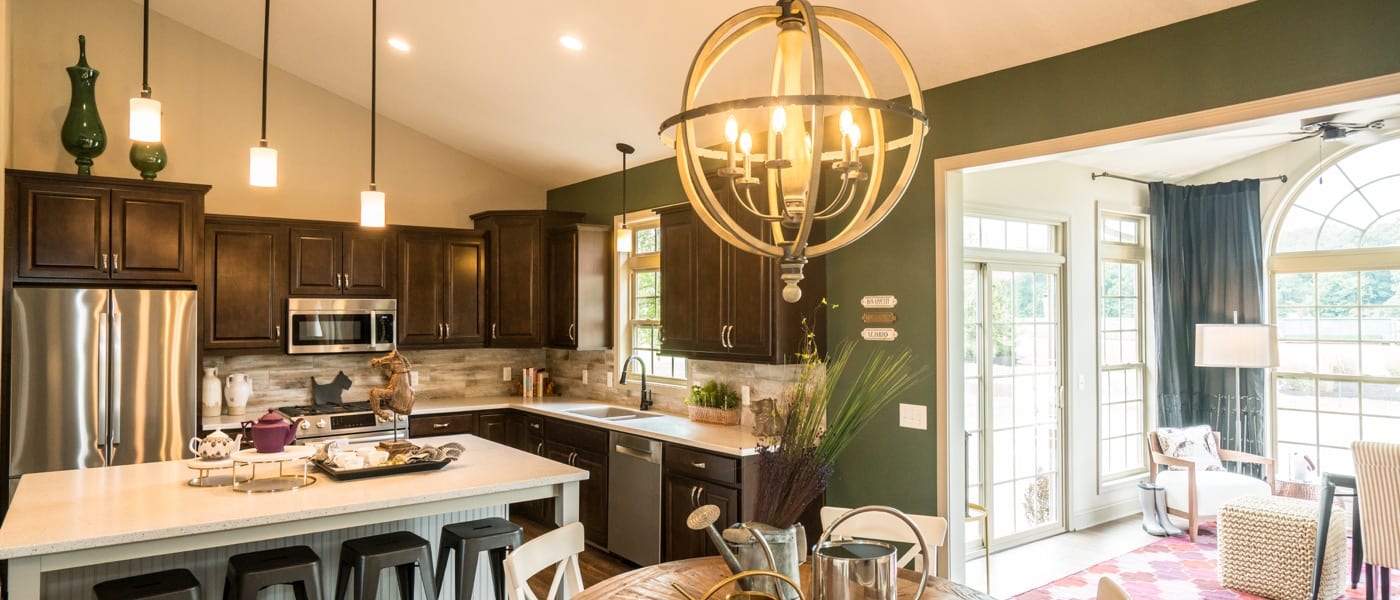 Illuminate 2019 with the Right Lighting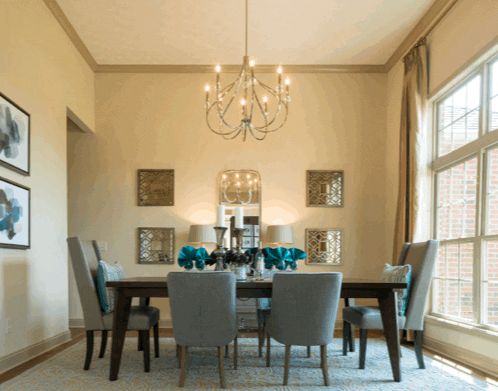 Have you ever gone to a party at a fabulous home and noticed how each room's lighting perfectly complements the space, creating mood and character? As New Year's Eve approaches, you may be considering hosting your own party to usher in 2019, but as you walk from room to room in your home, think about which lighting fixtures really work in the space. Consider these lighting updates now…or in the new year.
Statement Pieces
A statement light fixture can make a room. We're talking scale and style. A size that demands attention with eye-catching materials and style that stops guests in their tracks. Of course, great rooms and foyers are natural candidates for a statement light fixture, but they're not reserved just for grand, open spaces. The Cedar Hill Homestead at our Delaware Model Center features a beaded chandelier over the breakfast nook…an unconventional choice for a more relaxed, dine-in eating area. This unexpected choice makes a big impact in this space.
Accent a Themed Room
One interior design term you may hear a lot these days is "modern farmhouse". This style is popular because it pairs simple farmhouse style with the clean lines, new materials and fresh appeal of modern interior design. In the Brentwood Farmhouse at the Newark Model Center, a modern brass chandelier solidifies the modern farmhouse appeal of the great room. Paired with shiplap ceilings and exposed beams, the light fixture seals the look and sets the tone for the room. Don't forget to think about lighting and its impact on interior design. It can amplify a theme to really deliver the look and feel you are going for.
Variety for a Custom Look
You've heard it time and time again…variety is the spice of life. And, when it comes to lighting, the old adage really holds up. Gone are the days of selecting a lighting package where every fixture uses the same material or has the same finish. Now, when you mix it up, not only does it build the character of the home, but it also looks customized to you and your tastes. The Alexandria Legacy at the Delaware Model Center takes a mix-and-match approach that really pays off. With a variety of chandeliers and fixtures throughout the home, the Alexandria blends glam with rustic, traditional touches, resulting in a striking home that has that "wow" factor.
Are you ready for a home that's party-ready with all the right lighting? Let's dream up your perfect custom Wayne Home together. Get started today…we're waiting to hear from you.
About Wayne Homes
Wayne Homes is a custom homebuilder in Ohio, Pennsylvania, Indiana, Michigan, and West Virginia (see all Model Home Centers). We offer nearly 50 fully customizable floor plans and a team dedicated to providing the best experience in the home building industry. For more information, Ask Julie by Live Chat or call us at (866) 253-6807.