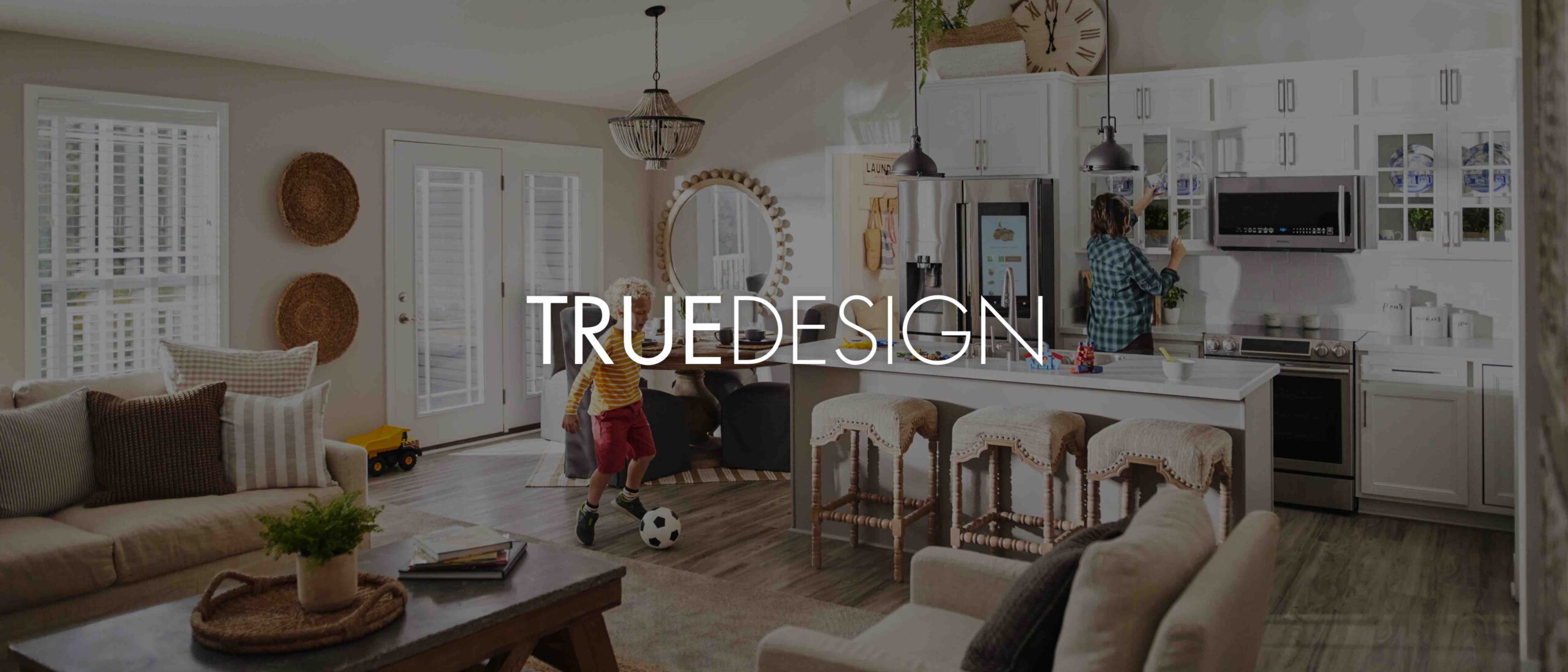 Introducing Wayne Homes True Design
If you've ever wondered where to begin with home design, True Design is here to help. Wayne Homes True Design makes it possible to customize your home in a way that matches both your home's architectural style and your personal taste. We've taken professional designers' and colorists' best advice, and created a portfolio of just-right combinations to deliver a style that's tailored to you.
Rather than starting with a blank canvas, Wayne Homes True Design gives you a convenient starting point from which you can customize and make the design even more "you". The palette of interior materials and colors that each of our True Design styles provides work beautifully together, leaving out the guesswork and allowing you to have one less thing to worry about.
True Design is available in four distinct styles: Farmhouse, Craftsman, Traditional, and Transitional. Let's take a closer look at each one.
Farmhouse True Design
Farmhouse interiors take elements from the past, such as a large apron front sink and shiplap, and make them modern. Blending old with new is what created the "modern farmhouse" look. Cooler-toned wood floors mix with classic farmhouse white kitchens. Modern brass light fixtures accent shiplap ceilings. It's a satisfying balance.
Flooring:
Soft, light flooring options are a great complement to white kitchens and walls.
Kitchen cabinets:
Contrasting white painted and stained cabinets are classically appealing.
Finishes:
Matte black finishes are a bold statement against white cabinets, walls, and ceilings.
Paint colors:
Fan favorites Agreeable Gray and Urbane Bronze deliver that same contrast seen throughout the home.
Want more?

---
Traditional True Design
If you've ever cracked open an issue of Traditional Home, you know that there's a lot to love about this style. First of all–it never goes out of style. And it feels both comfortable and elegant at the same time.
Wayne Homes' Traditional style is rooted in the familiar styles and materials of Middle America. At once classic and contemporary, our Traditional homes feature divided light windows, stately mantles, updated countertops, and beautifully crafted cabinets.
Flooring:
Varying neutral tones and textures create interest while maintaining a consistent palette.
Kitchen cabinets:
Classic Aristokraft Sinclair Birch Flagstone cabinets bring an elevated look to the kitchen.
Finishes:
White-washed wood, nickel, and glass finishes deliver high style to our Traditional look.
Paint colors:
Warm neutrals never go out of style and always make you feel at home.
Want more?

---
Craftsman True Design
Craftsman style is iconic. While the curb appeal of a Craftsman home is instantly recognizable with its welcoming front porch, tapered columns, and shaker shingles, the interior is all in the details.
Inspired by the Arts and Crafts movement, the idea is that the craftsmanship of your home should be highlighted, not hidden. Interior details that celebrate that idea include wainscoting, chair rails, paneled doors, coffered ceilings, and detailed door and window casings.
Craftsman fixtures, finishes, and paint colors are also warm and welcoming, lending that feel of "home sweet home." Natural textures and neutrals with warmer or brown undertones keep that feeling of coziness going.
Flooring:
Mid-tones and textures define the flooring options that create that feeling of home.
Kitchen cabinets:
Contrasting painted and stained cabinets deliver warmth while making a statement.
Finishes:
Bronze tones and structured fixtures complement the architecture.
Paint colors:
Varying tones of greige set the scene for a comfortable, classic Craftsman home.
Want more?

---
Transitional True Design
Transitional style is a bit of a trend right now, but it is rooted in traditional style brought into the modern day. Defined as somewhere in between traditional and contemporary, classic and modern, past and present, Transitional style exists.
Borrowing from both worlds, transitional blends clean lines, cool neutrals, and minimalism with just the right amount of warm woods, rich fabrics, and architectural details.
Flooring:
Options range from geometric patterned vinyl flooring to cool, marble-like ceramic tile.
Kitchen cabinets:
Light, bright white kitchens are a hallmark of Transitional style, with a contrasting island in a modern putty color.
Finishes:
In true Transitional style, the finishes are a mix of nickel and bronze.
Paint colors:
Varying tones of gray and beige create the perfect neutral backdrop.
Want more?

---
Like what you see? Learn more about the Wayne Homes True Design Program and get inspired to design your own Wayne home.
About Wayne Homes
Wayne Homes is a custom home builder in Ohio, Pennsylvania, Michigan, and West Virginia (see all Model Home Centers). We offer more than 50 fully customizable floorplans and a team dedicated to providing the best experience in the home building industry. For more information, Ask Julie by Live Chat or call us at (866) 253-6807.
Disclaimer: The details of this blog are accurate as of the publish date, but are subject to change.