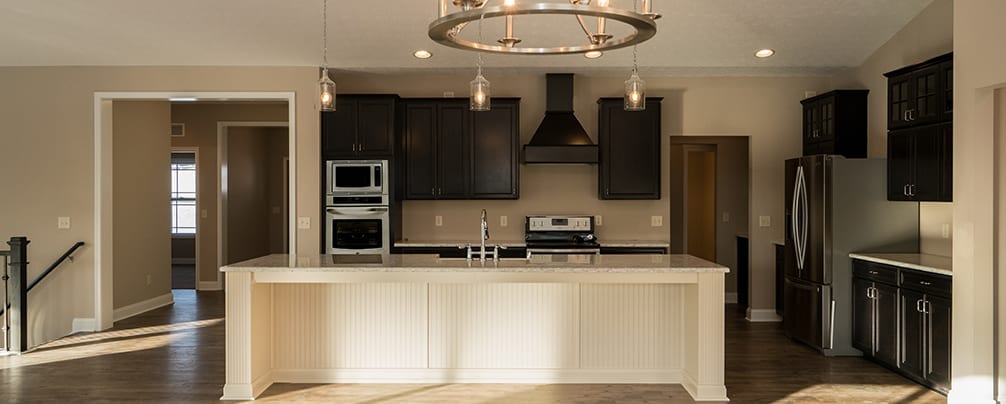 For many families, the kitchen is the true heart of the home. Yes, we may gather for games in the den or for dinner in the dining room, but from homework to arts and crafts, bake sale prep to lazy Sunday morning pancakes, the kitchen is where it's at!
Keeping up on the latest trends is part of our job here at Wayne Homes, so we wanted to share with you the latest trends in kitchen design. That way, the heart of your home can reflect the style that fits you and your family best!
Think outside the box. According to style experts, the major overarching theme when it comes to kitchen design in 2017 will be to think differently about your space's style. That means the rules you thought existed around things like matching cabinets, drawer pulls, colors, and the like are all ready to be broken. The only limit is your imagination!
Get creative with cabinetry. Gone are the days of completely matching cabinetry across your entire kitchen space. More and more, homeowners are opting to use different styles of cabinets in the same room, like having one type above the counters and another below, or a set of unique cabinets on an opposing wall.
Hide those appliances. Yes, stunning stainless steel appliances can really add a wow factor to your kitchen, but for those interested in a different look, we're seeing more and more use of 'hidden' appliances — as in, appliances concealed to look like cabinets or other features. It creates a much more seamless look, and probably will give your guests pause too!
The new kitchen countertop of choice is Quartz, or engineered stone. While similar to granite, quartz requires less maintenance and is much more durable. If quartz and granite countertops give you sticker shock there are many other options out there. From solid surface to the new styles of cultured marble and HD laminate showing much more texture and depth than ever before, giving it the appearance of a higher priced material.
Wood is making a comeback. Wood and other natural materials are in high demand for today's kitchen, especially shiplap, an extremely durable and simple wood paneling. Many like to paint their shiplap white for a sleek, clean look.
Automation is the wave of the future. From hand-sensing faucets to motion-detecting lights to devices that will help you keep track of how well done your steak is, kitchen tech is here to stay, and it's only going to become more popular as homeowners become more comfortable with it.
No matter how much time you spend in your kitchen, it's important that the style of the space reflect your personal needs and desires. What trends on this list really intrigue you, and what ones would you pass on? Check out our Flickr album for more inspiration!
Chat with a member of our team today about what slick trends make sense for your future kitchen!
About Wayne Homes
Wayne Homes is a custom homebuilder in Ohio, Pennsylvania, Indiana, Michigan, and West Virginia (see all Model Home Centers). We offer more than 40 fully customizable floorplans and a team dedicated to providing the best experience in the home building industry. For more information, Ask Julie by Live Chat or call us at (866) 253-6807.