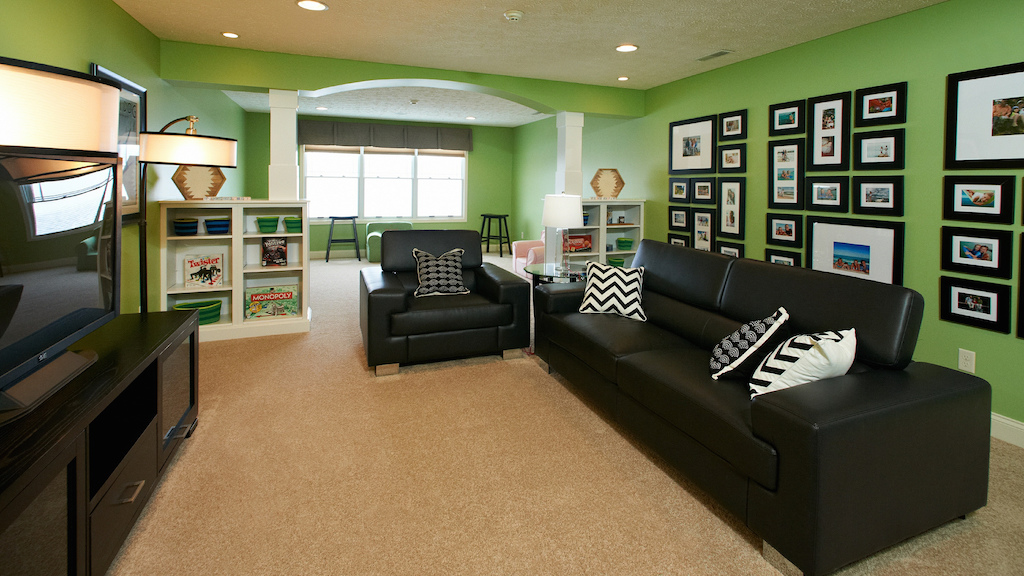 Your home is your safe haven, your sanctuary from the outside world. When you're feeling weary, coming home is a like a warm hug at the end of a long day. Choosing a custom home design from Wayne Homes and personalizing it is the first step to making your new house a home. The second involves adding a variety of unique features to make it your own — your personal touches are what make a dwelling your special retreat. Many of these projects you can do yourself. Frame your little angel's artwork or put photos of your favorite memories on display. Liven up any room with a splash of color. Organize your belongings to keep your home clean. Use the ideas below and Pinterest to turn your house into a home.
Frame your most precious memories.
Hang family pictures throughout your new house to remind everyone of the good times. Putting photos on display is one of the easiest ways to personalize any home. The best memories captured on film (or an SD card) of the yesteryears—your child's first birthday, a special romantic getaway, a family portrait—belong on the walls of your new custom home. Try a mix of colorful frames or do all black-and-white photos for an artistic spin on the traditional photo wall.
Display your kid's artwork.
Show your little ones you're proud of them for exploring their creativity by hanging their artwork in your home. Today you can put your kid's artwork on display in more places than the kitchen fridge. Hang a few easy-to-change frames on the walls in the hallway or in their playroom to exhibit their latest masterpieces.
Organize your space.
If you haven't already, start the family tradition of staying organized. Moving into your new Wayne Home is the perfect time to find a home for all your belongings. Install a painted pegboard in the garage or laundry room to hang your tools. Make sure your home office has filing cabinets or trays to catch stray papers. Check out these suggestions to organize your home.
Paint, stencil and decorate the walls.
Liven up any room with a little bit of color. Once the paint has dried, the empty wall space is like a blank canvas just waiting to be adorned. Stencil a polka dot border in your kid's room or mosaic tile the backsplash in the kitchen. Framed photos and artwork also add nice finishing touches.
Breathe new life into old furniture.
You spent a long time working on your custom home design, and not everything from your old home fits the look of the new one. If you've upgraded to a larger dining table, instead of tossing your smaller one, give it a fresh coat of paint and use it for an arts and crafts table in the kid's playroom. Reupholster, repaint and refinish old furniture to find new uses for it in your Wayne Home.
Showcase your personal collection.
Surely there is something that you or one of your family members has amassed a collection of over the years. Perhaps you've acquired a postcard from every vacation destination or your little girl has amassed a collection of unicorn figurines. Frame the postcards and put them on display in the living room. Clear a shelf in your daughter's room for her precious unicorns. If your collection is still growing, remember to save room for additions!
There's no reason to settle for any house when Wayne Homes provides exceptional custom home designs and a service-oriented building experience to all our customers. From the initial concept to completion, our team of personable, knowledgeable professionals is with you every step of the way. When you're ready to get started on building your dream home, visit Wayne Homes' nearest Model Center.
About Wayne Homes
Wayne Homes is a custom homebuilder in Ohio, Pennsylvania, Indiana, Michigan, and West Virginia (see all Model Home Centers). We offer more than 40 fully customizable floorplans and a team dedicated to providing the best experience in the home building industry. For more information, Ask Julie by Live Chat or call us at (866) 253-6807.