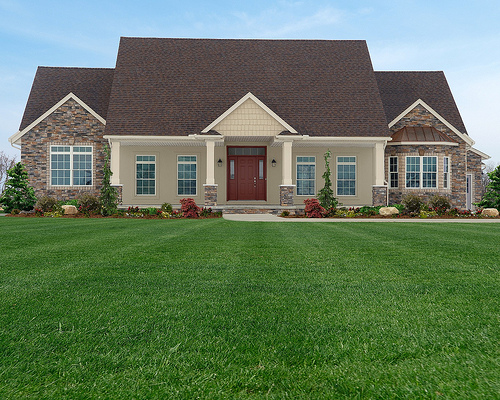 Meet 4 Employees Celebrating 25+ Years With Wayne Homes
At Wayne Homes, we've been building homes for more than 40 years. What's the secret to our longevity? Our people! In fact, some of our team members have spent more than a quarter of a century at Wayne Homes.
Meet four members of our team that recently celebrated their silver anniversary with Wayne Homes:
Dave Logsdon, CEO
Have you ever wondered why Wayne Homes is so committed to creating an exceptional experience for every customer? It's largely due to Dave Logsdon. When he started at Wayne Homes more than 27 years ago, the company was a production builder that offered very few options for customers. Today, there's almost nothing Wayne Homes won't build. That's something Dave is very proud of. "Sticks, bricks and prices can all be copied by competitors. Receiving a beautiful, hand-crafted home and a world-class customer experience is Wayne Homes' unique strength," says Dave.
Dave was an Executive Vice President in 1998 when Centex purchased the company, and as CEO he (along with COO Bill Post) took the company private again by repurchasing most of Wayne Homes assets back from Centex. After so many successful years with Wayne Homes, does he ever think of retiring?
"When I retire, I want to do everything I love to do; and always with the people I choose to do that with," says Dave. "Working every day alongside my Wayne Homes teammates fills every criteria of that definition. Simply put, they are the best partners, friends, and co-workers anyone could dream of!"
Maurie Jones, VP of Marketing
Although her plan was to become a child psychologist after graduating with a degree in psychology, Vice President of Marketing Maurie Jones landed at Wayne Homes in September 1986 and never left. She started as a New Home Consultant in Bowling Green then was promoted to Sales Manager and later Director of Sales and Marketing. Jones says that she loves seeing how the company has changed over the last 27 years. "We've evolved from a builder that was focused on price and volume to one that is focused on custom homes and providing an outstanding customer experience," says Jones.
Julie Martinson, Executive Assistant to VP of Marketing
Ask Julie just about anything about the process of building a custom home and she's bound to know the answer. That's because in over 27 years with Wayne Homes she has held positions that include Receptionist, Estimating Assistant, Customer Care, and Marketing Assistant. As a talented jack-of-all trades, Julie brings all of her experience and expertise to her current role of Executive Assistant to the Vice President of Marketing. According to Julie, working for Wayne Homes is all about people. "We care about the experience we give to our customers. We care about making the process of building a house a fun experience, and not something to be afraid of or stressed out about."
Tom Benedict, VP of Purchasing
Another person celebrating 27 years with Wayne Homes is Tom Benedict. As an Estimating Department Manager and VP of Operations before moving into his current role as VP of Purchasing, Tom has provided leadership in some of the company's busiest departments. So what's the secret to still loving your job after 27 years? According to Tom, "It's the culture. All of us at Wayne Homes believe that our employees are our greatest asset.  This is shown by the way any employee can initiate change and the company listens. The culture creates a happy place to work.  People are more concerned with helping each other when needed instead of self-promotion. Something that happens at many other companies. The company also realizes that there needs to be a balance between your work life and personal life."
Do you want to join a company you will still love in 27 years? Then we invite you to explore a career with Wayne Homes. Visit our job opportunities page for more information about current job openings.
Looking for the strength of an experienced team to help you build the home of your dreams? It's easy to get started, and we're here to help. Simply Ask Julie via Live Chat or visit one of our Model Home Centers.

About Wayne Homes
Wayne Homes is a custom home builder in Ohio, Pennsylvania, Indiana, Michigan, and West Virginia (see all Model Home Centers). We offer more than 40 fully customizable floor plans and a team dedicated to providing the best experience in the home building industry. For more information, Ask Julie by Live Chat or call us at (866) 253-6807.