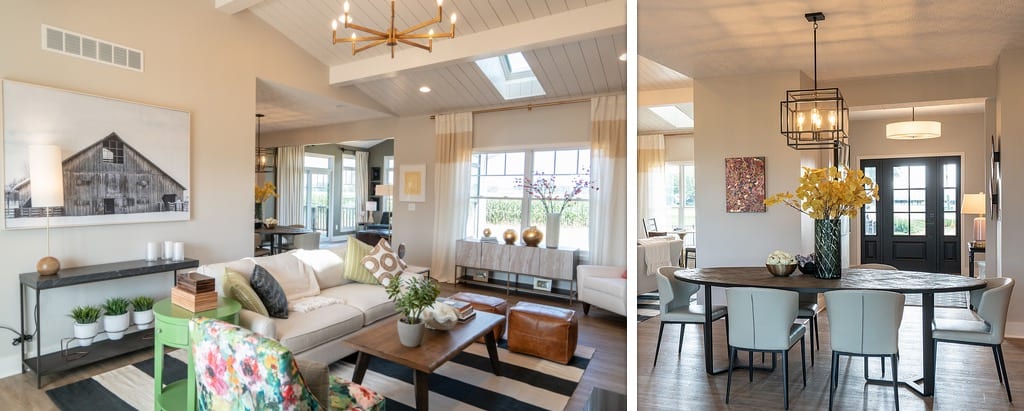 Style inspiration: Farmhouse interiors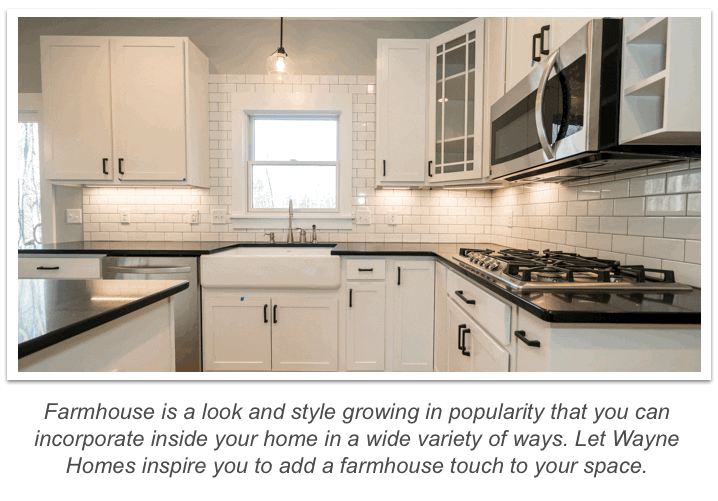 When you hear the words "farmhouse style," do you think of the exterior of a home? If so, you're not unlike most homebuyers, because typically, the term 'farmhouse' is used to describe an exterior style. That said, it doesn't have to be limited to your shutter styles, siding, or exterior paint colors! Farmhouse is a look and style that you can incorporate inside your home too, in a wide variety of ways, and today we're exploring some of those ways in the hopes it inspires you to add a farmhouse touch to your space.
For starters, there are tons of opportunities to incorporate a more farmhouse style look into your kitchen — here are just a few ideas to get your wheels turning!
Farmhouse sinks:
This large, unadorned, incredibly useful sinks are hugely popular, and for good reason. They create a farmhouse look while also being very functional and beautiful as well. They're extra deep and spacious compared to a typical sink, and bring a touch of style that's understated and very simple.
Kitchen island:
Using wood features, a butcher block top, or clean farmhouse paint colors with farmhouse fixtures on your island is a great way to bring this style into the space, provided the rest of your kitchen area reflects a similar look and feel.
Interested in giving your living area a rustic make-over? Read on for some ideas that we are sure you will love!
Lighting fixtures:
Rustic-style fixtures, a stark contrast to more modern, clean, contemporary looks, bring a touch of farmhouse to your living space, and rustic style bulbs take the look up a notch!
Shiplap walls:
HGTV has made shiplap a household name again, and for good reason. This affordable and distinctive material instantly creates a farmhouse feel in any space and is great as an accent to your living area. Just don't overdo it!
Beadboard:
This material is especially striking on ceilings and can add a level of visual interest you may not have considered. It's a great way to create a laid-back farmhouse vibe without going too crazy with it!
Rustic touches:
You can create a farmhouse look with simple, subtle additions to your decor. By choosing laid-back farmhouse furniture, paints in farmhouse hues like off-white and barn red, and rustic style fixtures and rugs, you can add a touch of farmhouse style to your living areas without breaking the bank.
If these ideas have your creative wheels turning, take a look at our Newark Brentwood model for a real-life example. And if you're in the neighborhood, stop by to see it for yourself! And of course, be sure to check out our Pinterest board, chock full of even more ideas and inspiration to explore.
How will you incorporate this look into your home? We can't wait to hear about it!
Whether you love farmhouse or not, we've got a style and a floorplan that'll fit you and your family perfectly! Give us a call today to talk about it.
About Wayne Homes
Wayne Homes is a custom homebuilder in Ohio, Pennsylvania, Indiana, Michigan, and West Virginia (see all Model Home Centers). We offer nearly 50 fully customizable floorplans and a team dedicated to providing the best experience in the home building industry. For more information, Ask Julie by Live Chat or call us at (866) 253-6807.