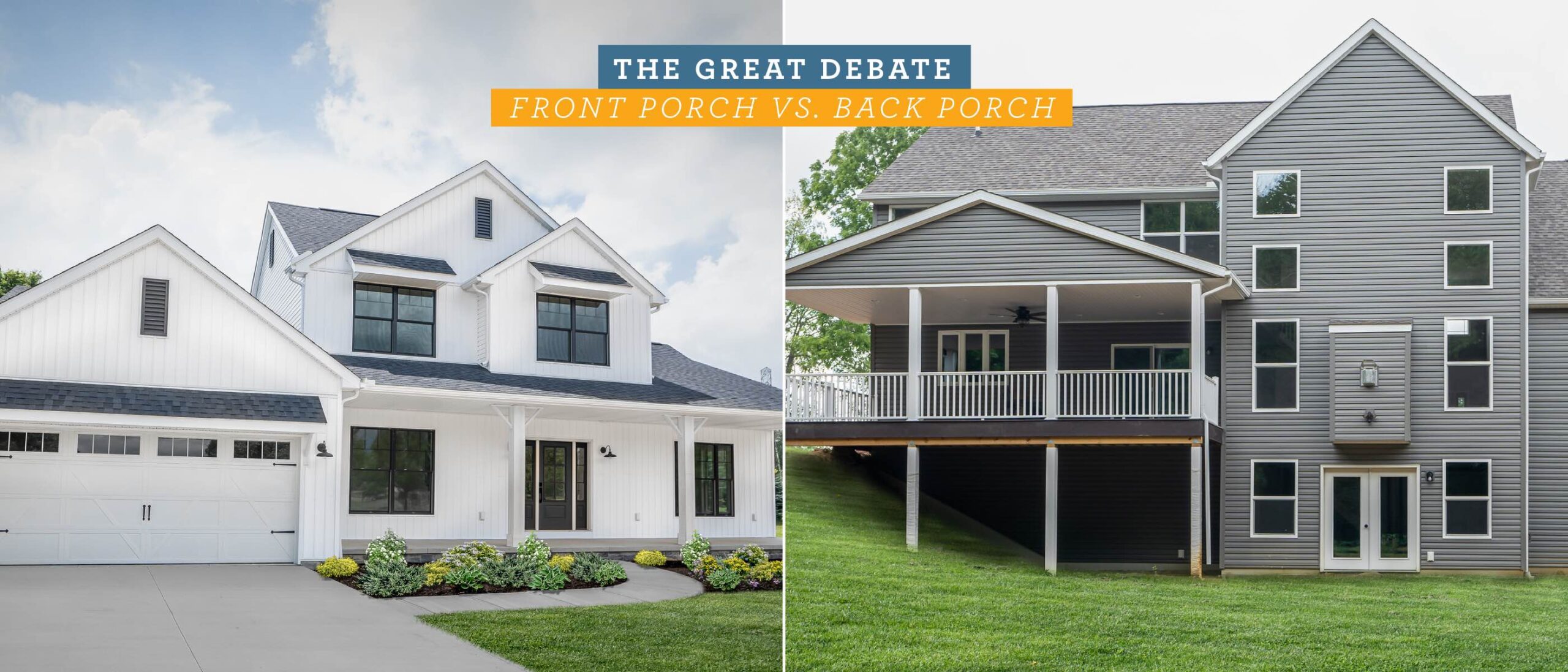 The Great Debate: Front or Back Porch?
Front porch or back porch? It's a Great Debate that has our followers divided. We took a poll on Facebook and Instagram, and the results were 149 in favor of front porches and 205 voted for back porches. Porch sitting is an all-American pastime, so it comes as no surprise that people have strong feelings on the matter. Read the pros and cons of both, and you decide!
Front Porch:

Adds curb appeal
Provides outdoor living space
Helps you connect with neighbors
Not private
Depending on home layout, space may be limited
Floor plans with great front porches: Somerville Family, Winchester Craftsman
Back Porch:

Extends living space to the outdoors
Can provide an al fresco dining experience
Has more privacy than a front porch
Can be more spacious than a front porch
Front or Back Porch?
If people-watching is your thing, then a front porch is a necessity. Front porches were one of the ways we kept in touch with neighbors when COVID-19 hit. A front porch allows you to wave and smile, connecting with neighbors and passersby. Front porches conjure up images of porch swings and pitchers of lemonade, while back porches inspire thoughts of barbecues, stargazing, and watching the kids safely playing in the backyard. You may find the pros of each make having both an appealing solution.
Location, Location, Location
The location of your porch matters. Consider proximity to the kitchen, especially if dining outdoors is your thing. A back porch typically provides easier access to the kitchen than the front porch. You can even create a pass-through window from your kitchen to the back porch, so you can easily get your summer meals out to your dining area.
If you're a plant lady (or plant gentleman), you should also take sunlight into consideration if you're planning on planting around the porch. There may be more shade cast onto your precious perennials than you anticipated.
Still conflicted? Here's the bottom line: Front porches have charm and curb appeal that's undeniable, while back porches may be more functional for spending time outdoors…which begs the question, why not try both? Wayne homeowners, the Correal family, said, "We LOVE our front porch! But our backyard space is where all of the memories are being made."
If you're ready to build a home that has the porch–or porches–of your dreams, contact us. We are looking forward to visualizing the possibilities with you.
---
About Wayne Homes
Wayne Homes is a custom homebuilder in Ohio, Pennsylvania, Michigan, and West Virginia (see all Model Home Centers). We offer over 50 fully customizable floor plans and a team dedicated to providing the best experience in the home building industry. For more information, Ask Julie by Live Chat or call us at (866) 253-6807.