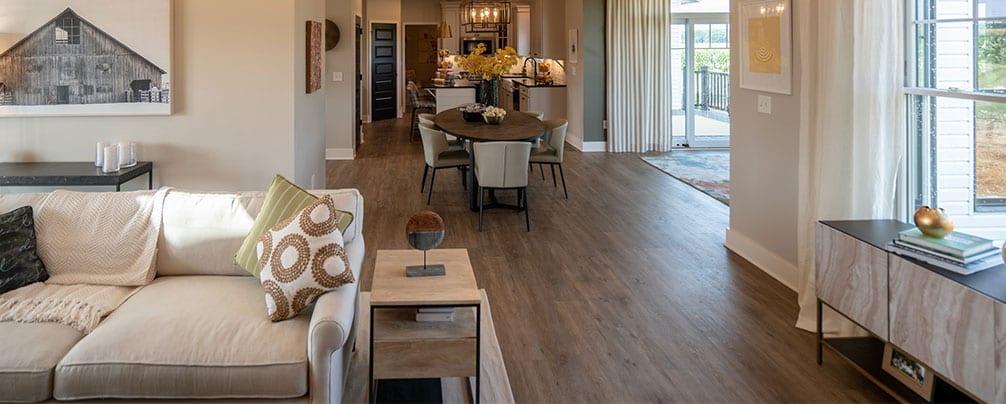 The Great Debate: Hardwood or Luxury Vinyl Flooring
Choices abound when it comes to building your dream home. Colors, cabinets, countertops, and everything in between; there's an often overwhelming amount of choice, which is why our team is specially equipped to help you navigate this maze of selections. One selection that can have a serious impact on the look and feel of your home? The flooring you prefer. Today, we're exploring the differences between hardwood flooring and LVF, or Luxury Vinyl Flooring, as we call it in the industry!
Let's start with luxury vinyl, which has grown in popularity over the last few years. This video is a great primer on the material, so check it out if you'd like a more in-depth overview! Luxury vinyl flooring is made of manufactured materials, not natural ones, which makes it more affordable than other natural, limited resource materials.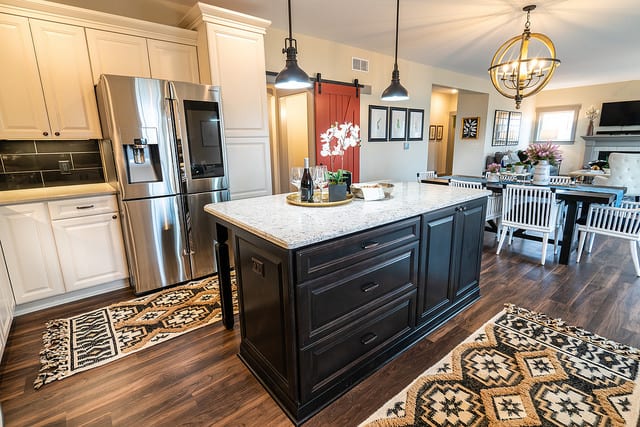 One of the great things about luxury vinyl is that it comes in a wide range of looks, so you can really hone in on the specific style that speaks to you. You can go with a hardwood look, and within that, focus on the particular grain and hue you like best. Or, you can choose a stone tile look, which might be more your style.
Another benefit of this type of flooring is that it is softer than natural materials and keeps a constant temperature throughout the seasons, which is nice and comfortable on bare feet. It's also incredibly durable and waterproof, so you can use it in any room, including your bathroom, utility room, and mudroom.
Hardwood, on the other hand, doesn't work as well in those spaces because as a natural material, it is porous and absorbs moisture more easily. It's also not ideal for spaces that have a high frequency of spills, like kitchens with small children.
On the upside, hardwood is a great insulator, making it a more energy efficient option. They also have a particular look that some people love, and bring a level of warmth and richness to your space. They require more maintenance and upkeep since they are natural, but they can also be repaired, sanded down, and refinished to look brand new. Here's a video that might help illuminate more about what makes hardwood such a desirable choice for some families.
We like helping the families we work with choose the flooring that makes the most sense for them and their lifestyle. You might love the look of a particular style but might find another material fits your family better — whatever you decide, we're here to make sure it turns out perfectly!
Curious about your flooring options for your future home? Get in touch with us today to talk about it!
About Wayne Homes
Wayne Homes is a custom homebuilder in Ohio, Pennsylvania, Indiana, Michigan, and West Virginia (see all Model Home Centers). We offer nearly 50 fully customizable floorplans and a team dedicated to providing the best experience in the home building industry. For more information, Ask Julie by Live Chat or call us at (866) 253-6807.