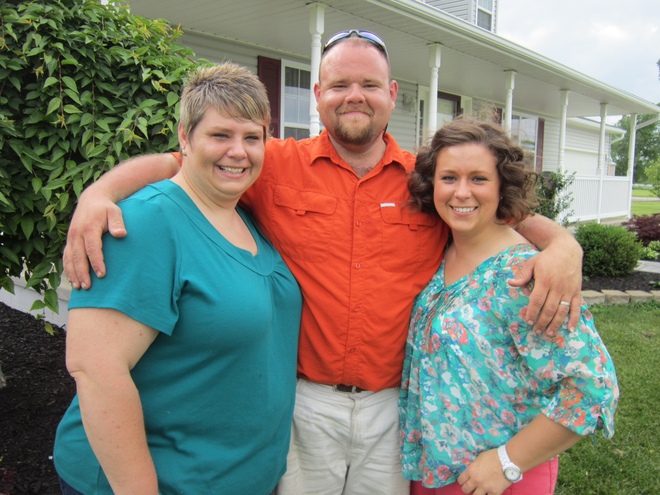 Wayne Home Testimonials: A Family of First Home Buyers
At Wayne Homes, we're very proud to say that 9 out of 10 customers would refer us to a family member or friend. But why simply take our word for it?
Meet Callie, Zack and Courtney Kihlken, three siblings who each made the decision to build their first home with Wayne Homes in Marblehead, OH. Although these siblings built their homes several years apart, and each selected a different floor plan, they all had one shared requirement: a location near Mom and Dad.
Here's their story:
Callie Kihlken
Home Built: 2006
Floor Plan: Somerville Family
Favorite features: wrap around porch, first floor master
Distance to Mom and Dad: less than a mile
When Callie decided to shop for her first home, she was discouraged by the options available. Says Callie, "I started searching for homes in the Marblehead area and could not find anything that I liked in my price point." Callie had an opportunity to buy some land at the time and, after researching the concept of designing her own home versus purchasing a used home, she decided to build with Wayne Homes. Callie preferred the quality, craftsmanship, and affordability of a stick-built home over a modular or prefab home.
Callie's first home purchase was a first for us as well. In 2006 she was the first customer at our newly opened Sandusky office!
See the Somerville floor plan >
Zack Kihlken
Home Built: 2010
Floor Plan: Washington Family
Favorite Features: open plan with plenty of space for 4 kids, big front porch for "front porch sittin'"
Distance to Mom and Dad: across the street
Sometimes family members rave about their Wayne Home, and sometimes the home just sells itself. Says Zack, "I lived with my sister Callie in her Wayne Home for almost two years. During that time period, I got to see what I liked about her home, what I would change and adjust, and what I would design differently. But one thing was for sure, I knew if I ever had the opportunity to purchase land and build a home it would be with Wayne Homes. Three years later, I built my Wayne Home."
Not that Zack got to see much of his home during the build: his busy job working on a tug boat in New York meant that he alternated being home for two weeks, then away for two weeks. Says little sister Courtney, "Every two weeks when he came home the house was leaps and bounds further than the last time."
See the Washington floor plan >
Courtney Kihlken
Home Built: scheduled to break ground in 2013
Floor Plan: Jamestown Family
Favorite Features: ability to customize the interior design
Distance to Mom and Dad: in their backyard
After watching big sister Callie and big brother Zack each design and build their house, Courtney was already an old pro when she decided earlier this year to build her own first home. Here's what she recently had to say about her decision to build with Wayne Homes:
"I was a freshman in college when my sister Callie built her home. My mom would send me weekly pictures to keep me updated with each phase of the construction. I was very impressed with the whole process. Then when my brother Zack built his own Wayne Home three years later, I was able to witness first-hand the entire process from design to completion. He would frequently ask my sister Callie for advice and the building of his home was a consistent discussion at family dinners. I was extremely impressed with the flexibility of design, as well as the Wayne Home's representatives and the quality of materials used. When I decided to build a home, I came to realize two things: I wanted to be close to my family and I wanted to build a Wayne Home. It felt natural to go with Wayne Home. Both Callie and Zack's experiences have helped me to design a home that I know I will enjoy for a lifetime," says Courtney.
When the time came to purchase land for her Wayne Home, Courtney didn't have to look far. Mom and Dad parceled off their lot to give her the lot behind their home.
See the Jamestown floor plan >
Find out for yourself why 9 out of 10 Wayne Homes customers would refer us to a family member or friend. Read more Wayne Homes testimonials on our website or Facebook page, or visit an Open House event of a home currently under construction by a Wayne Homes customer.
Ready to get started? Call us at (866) 253-6807 or Ask Julie by Live Chat on our website.
About Wayne Homes
Wayne Homes is a custom home builder in Ohio, Pennsylvania, Indiana, Michigan, and West Virginia (see all Model Home Centers). We offer more than 40 fully customizable floor plans and a team dedicated to providing the best experience in the home building industry. For more information, Ask Julie by Live Chat or call us at (866) 253-6807.