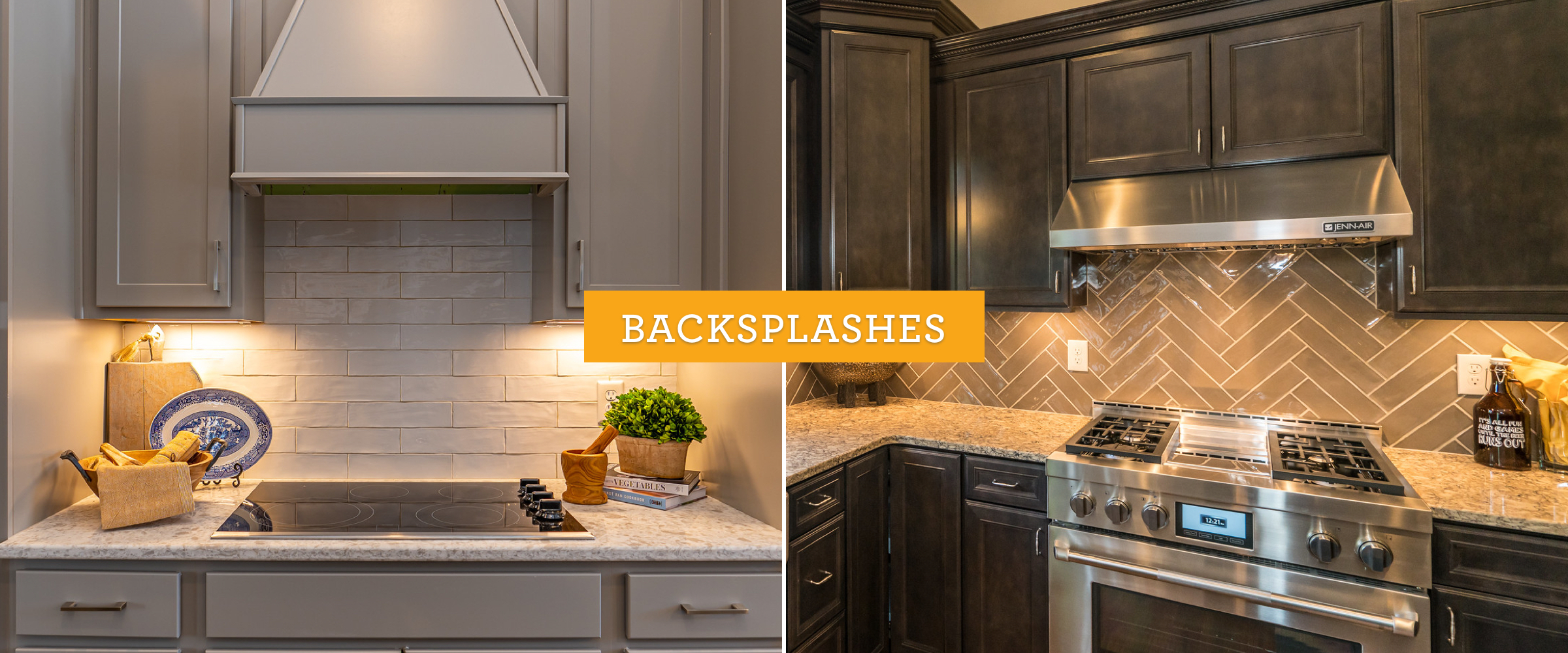 Wayne Homes Kitchen Backsplashes
Kitchen backsplashes became a "thing" because they are functional.
Tiled backsplashes protect your walls from water or other kitchen creations splashing onto them. Brilliant! However, the kitchen backsplashes of old were a little boring. Think 3″x3″ white square porcelain tile. It left a lot to be desired. That's when kitchen designers pushed for more beautiful and functional backsplash options. Different materials, colors, and finishes started making kitchen backsplashes less ho-hum and more fun!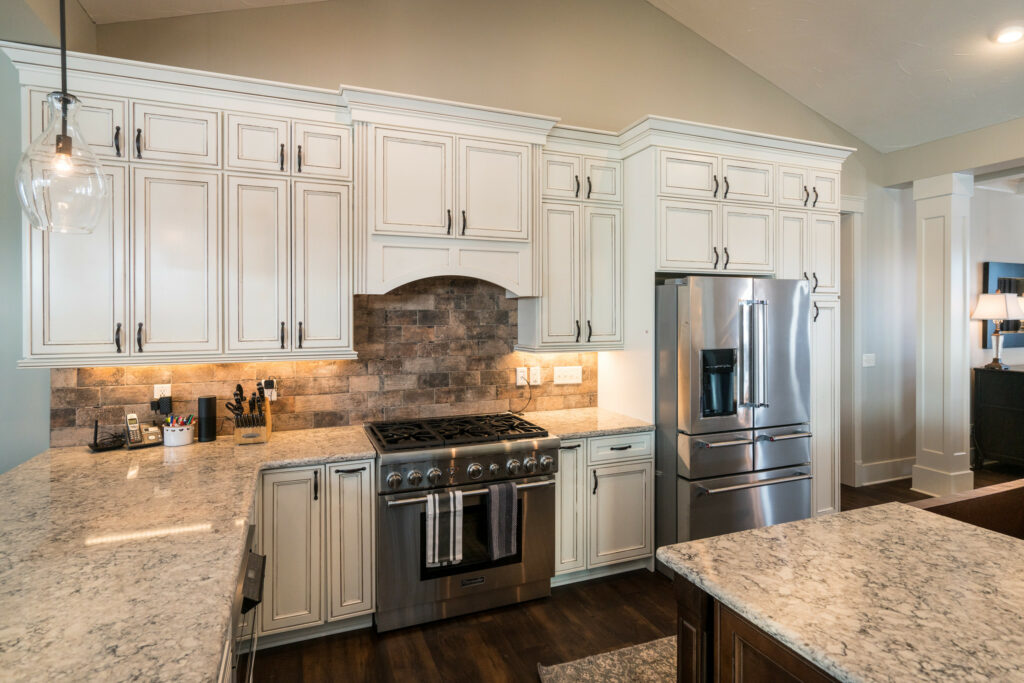 Did you know that at Wayne Homes we can source any tile you want and our talented technicians will install it into your new kitchen?
We offer a lovely line of options that are modern classics designed to stand the test of time, but we also have the flexibility for you to select a custom tile option. From bold patterns and fun shapes to moody hues and hand-painted colors, we encourage you to let your backsplash take center stage in your kitchen for a unique look you'll love.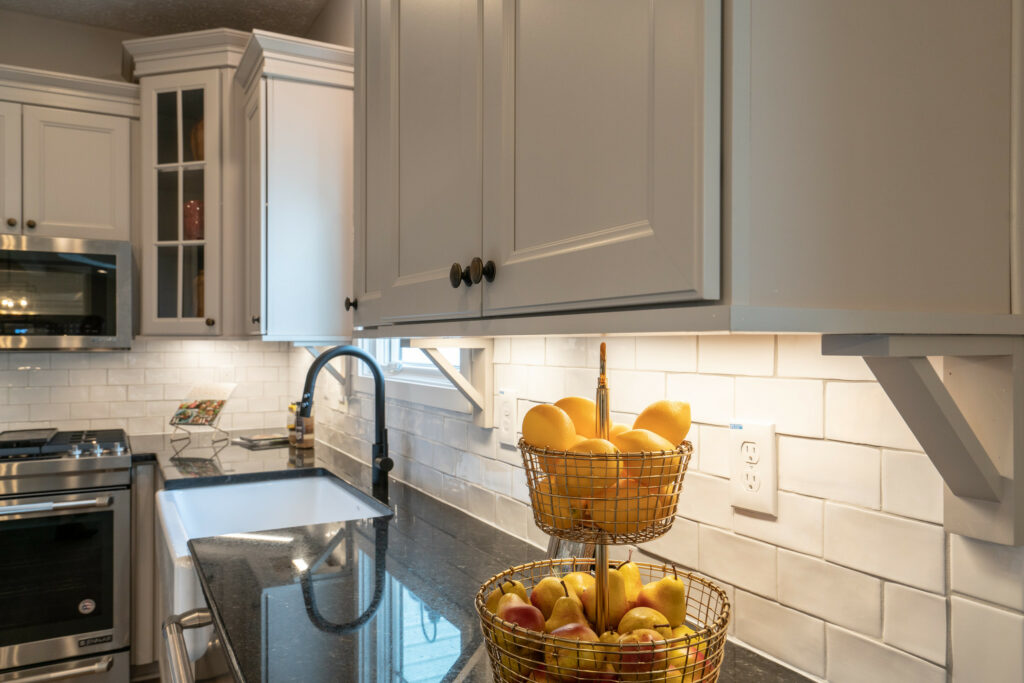 Here are a few things to remember when browsing for backsplash inspiration:
Consider Wear and Tear:

Will that hand-painted Moroccan tile you love so much be able to withstand the wear and tear of an active family that loves to cook? Think about which materials might best suit the functionality of your kitchen. How easily can you clean the tile, and what is the best way to seal it? Ceramic tile doesn't need this extra step, but natural tile does if you want to maintain its appearance.

In Stock or Special Order?

Something to remember when selecting backsplash materials is that Wayne Homes has vetted tried-and-true tile selections that are readily available and will not hold up your construction timeline. Anything that is a special order or back-ordered can add unwanted longer lead times.

See It In Real Life:

A tile backsplash can look very different from a single tile, which is why we invite you to see different backsplash materials firsthand. Wayne Homes has Design Centers that you can visit to see different styles of backsplashes in real life, which can help you make your final decision. We also encourage you to bring photos from Pinterest and other sources with you to the Design Center to help aid in your decision-making, too.

Mix Materials But Match Colors:

Your countertop color will often lead the way in choosing your backsplash material, and that is exactly how it should be. When the backsplash meets the countertop, you don't want them to clash. Be sure you are either matching or complementing the countertops through a contrasting shade that has the same undertones as your counter selection.
Take a look at our Wayne Homes Kitchen Backsplashes Photo Gallery to see which backsplash speaks to you.
Are you into classic subway tile, or are you thinking a bold-colored herringbone pattern might be right for you? Either way, this is the best place to get started making your backsplash decision.
Browse the Wayne Homes Kitchen Backsplashes Photo Gallery
Do you see a backsplash you like? Let us know! We can give you all the details you need.
---
About Wayne Homes
Wayne Homes is a custom homebuilder in Ohio, Pennsylvania, Michigan, and West Virginia (see all Model Home Centers). We offer more than 50 fully customizable floorplans and a team dedicated to providing the best experience in the home building industry. For more information, Ask Julie by Live Chat or call us at (866) 253-6807.
Disclaimer: The details of this blog are accurate as of the publish date, but are subject to change.