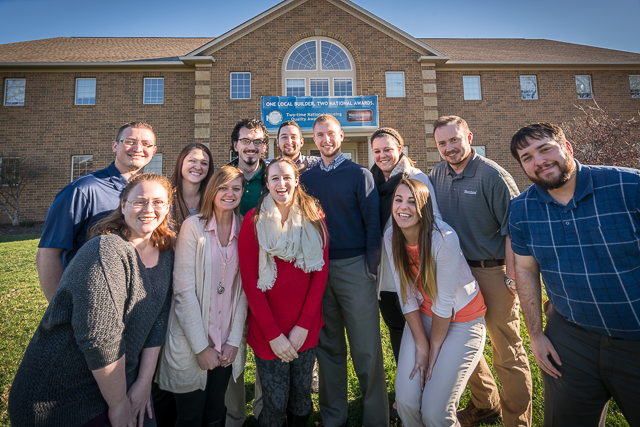 Meet the Wayne Team: Our CAD Department
In the past, we've shared some insight into the inner workings that keep the Wayne Homes team functioning and moving forward day by day. You met our dedicated customer care team in an earlier edition of our Meet the Team series, and saw how their focus on excellence and providing a quality customer experience drives their work.
Now, let's meet another team that is so critical to our success, the CAD department. CAD stands for computer-aided drafting, and is how designers and engineers create the plans that eventually lead to the creation of a real live house! These visionary people often have backgrounds in engineering and design, and apply their visual creativity to helping make our customers' dreams come true. In using computers, they are able to determine what is physically possible in a design, and also solve challenges, like creating spacious layouts within a limited footprint.
Whitney Keyser, a CAD coordinator on our team, joined as a CAD drafter, moving up in the ranks over her seven years with the company until she reached her current position. She credits her time with Wayne as the reason she considers herself an expert in the residential construction industry.
Folks in our CAD department often cite the ability to be creative and to visualize their work in real life as part of the reason they love their jobs. "Helping someone visualize a new idea or construction style is great," Whitney told us. "I love that I can share my construction knowledge with the entire department."
Sebastian Hudachek, CAD manager, agreed. Helping people is his favorite part of his job, he said, whether it's a customer, a New Home Consultant, a Field Manager, a fellow designer or anyone else in the Wayne family.
The entire department, Sebastian said, works extremely well together, making coming into work every day a pleasure. "I love my department," he said. "We have all grown pretty close over the past couple years and I really enjoy working with them. I really enjoy the one-on-one time I get with each of them in leadership meetings."
Whitney agreed. The team's frequent team-building activities and social events create a friendly atmosphere and helps maintain the attitude that no question is bad, there is never one way to do something, and everyone has an equal voice, she said. The team is also very focused on leading by example, not on titles or hierarchy.
The CAD department also recognizes that it's important to have hobbies and interests outside the building industry! Whitney, for example, is an avid traveler, who counts Belize as one of her favorite destinations. Whitney is also a big fan of DIY projects, and loves to get crafty during her downtime. Sebastian said golf is his favorite social pastime, and credits his great grandfather, an architect who helped design many of the commercial buildings seen in Cleveland, as his inspiration for getting into this field.
We know a lot of companies refer to their team members as family, but at Wayne, it's the real deal. We ensure our teams, including the CAD department, have the space to learn, grow, and develop a meaningful culture that adds value to their lives.
Curious about how one of our expert CAD designers would create a custom home for you? Get in touch to talk about it!
About Wayne Homes
Wayne Homes is a custom homebuilder in Ohio, Pennsylvania, Indiana, Michigan, and West Virginia (see all Model Home Centers). We offer more than 40 fully customizable floorplans and a team dedicated to providing the best experience in the home building industry. For more information, Ask Julie by Live Chat or call us at (866) 253-6807.