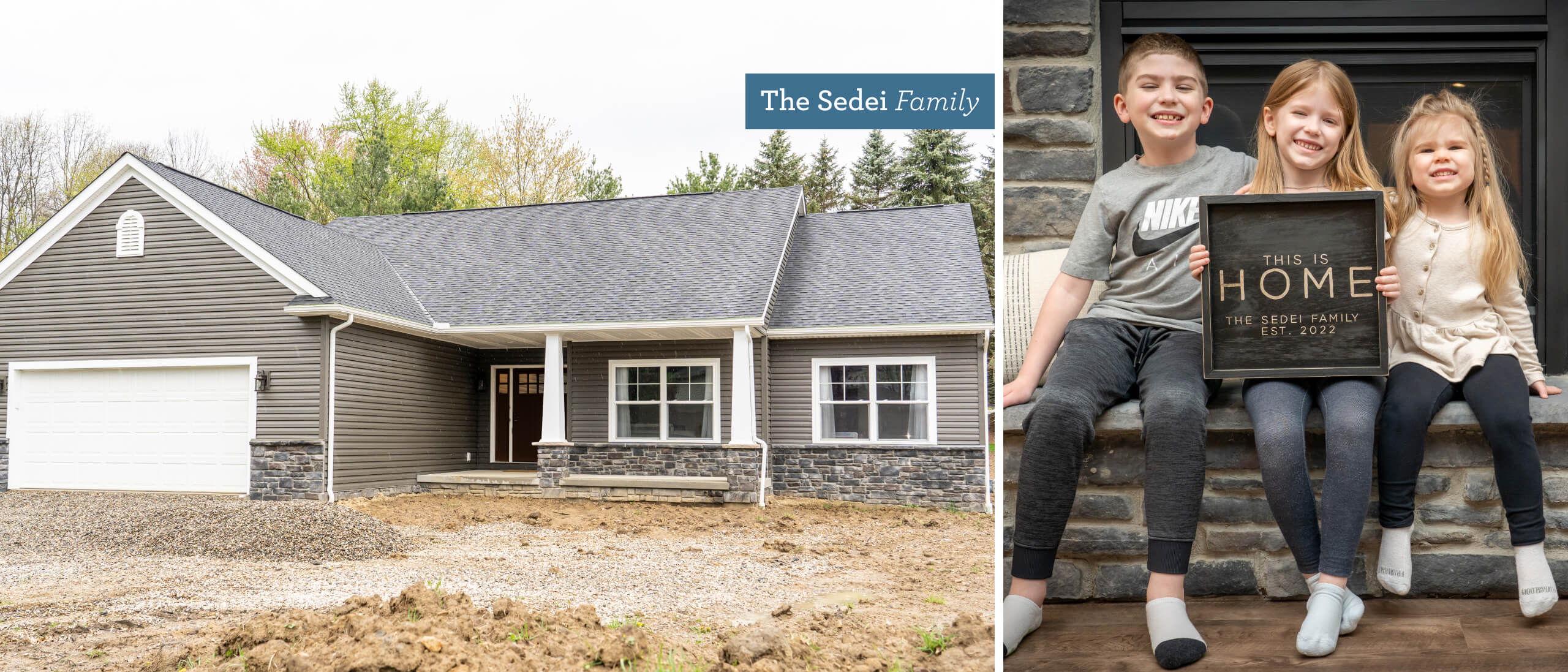 Wayne Homes Testimonial Follow-Up: The Sedeis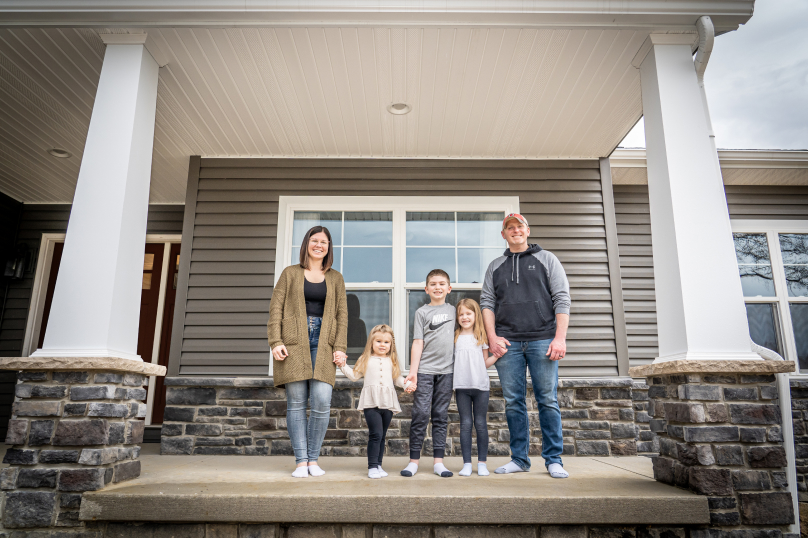 You may remember the Sedei family from back in February when we featured their Wayne Homes testimonial. We thought it might be the right time to get back in touch to see how life is in their new home after moving in. Let's take a closer look to see how their dream home is suiting them in this Wayne Homes testimonial follow-up.
The Sedei family's Instagram account is @Home.Sweet.Stafford.
It follows Steve and Ashley Sedei and their kids, Dawson, Reese and Joey as they navigated the build process and now we're ready to share their move-in and current life at home.
As a recap, the Sedeis built their custom Gettysburg, with our Portage Model Home Sales Center. Their home is actually a customized version of the now-retired Stafford floor plan, hence their Instagram account name. The Gettysburg has a very similar layout, but is just slightly smaller.
View this post on Instagram
Here are some of our favorite posts of the Sedei family at home:

The Sedei family talked with us to reflect on the process of building and moving into the Wayne home. Here's what they had to say in their Wayne Homes testimonial:
Could you give a summary of the move-in process, what it was like to finally get your keys, etc.?
Ashley: It was just really exciting. The home stretch, those last several weeks, was pretty grueling. And then to finally meet for the final walk-through and to get the coveted blue Wayne Homes keychain…it was just a feeling of accomplishment and feeling so relieved. The moving-in process and settling in has been quite a process.

Steve: A process.

Ashley: But, understandably so. You're moving. And our living conditions were not normal while we were building so we had things in multiple locations. So getting them all here and prioritizing what needed to be done first and then – thank God for the basement because nobody has to see what is still undone.
Looking back, are you glad you built a house?
Steve: Yeah. The process gets to you after a while. It really does. As it does with anything, especially something like this. But I don't think we're in a position we can really compare to other people's because we had such a different living situation during the build.

Ashley: We had other stressors.

Steve: We had limited space. It made it extra special when we finally got to move in because we didn't have our own place for over a year.

Ashley: All of the kids' stuff was in storage. So to finally break out their toys it was like Christmas all over again.

Steve: I'll tell you…that's what I'm most proud of. I'm telling you they sacrificed A LOT for over a year and never whined, never fussed. I mean, for a child who is used to having his own things or her own things, and you move into a house and you have none of it…toys, clothes. Not even having a closet. Stuff you forget about. We asked a lot of those kids for that year, we really did. They are little rock stars. We just kept telling them it would be worth it. And I think it was.

Ashley: Speaking to the different experiences, I think our relationship with our Wayne Homes Field Manager made ALL the difference in the world.

Steve: He was very upfront, he was very honest, and he never overpromised.

Ashley: He was always super responsive.

Steve: Even now, after…when really he doesn't have to have anything to do with us…he still…

Ashley: He makes time.
What has become one of your favorite things about your new house?
Ashley: My own space.

Steve: The whole thing as a whole has been a favorite. I mean, you sit down and you start this whole process and putting things down on paper and trying to imagine what this is going to look like, what that is going to look like…and it's all extremely overwhelming. But then it's done and you're looking at it and you're so proud because YOU did this. Together.

Ashley: I can't even tell you how many times a week we just look at each other and say – "is this really ours?"

Steve: We're just really happy. We're really happy here.

Ashley: I'm happy here. The kids – after school every day – say "I really love our house. I'm just happy here." Like for Dawson's birthday coming up, we were going to take him to the trampoline park. And he's like – "No, I want to stay at home. It's the first birthday party at our house. And this is my favorite place to be. This is where we're going to be." So it's really cool.
How do you guys feel when you come home?
Steve: It feels like home.

Ashley: It really does.

Steve: I've moved a lot. Since we've been together we've moved a lot. I mean, our last house was extremely nice. For anybody else, it might have been a very nice home. But it wasn't home for us. Now when you come home at the end of the night, you know you're home.

Ashley: This is where we belong. This is where we're meant to be. This is where we're supposed to be with our kids and raising our family.

Steve: You just know.
Is there anything else you'd add to your Wayne Homes testimonial? Advice to people who are trying to keep their eye on the prize as they're coming close to the end of the process?
Steve: One thing to keep in mind is that it will come. It's frustrating. It drives you crazy. But it will come. And it will be worth it. You can tell people until you're blue in the face to try and relax and try to enjoy it. But when you have all of these different things being tossed at you, sometimes it's not enjoyable.

Ashley: Especially when all you want is to be in your home.

Steve: But you have to have a little patience. Just like all of us get up and go to work every day, all of these people coming in here every day are doing the exact same thing. We get frustrated at our jobs. They get frustrated at theirs. They are people just like we are. I'm eternally grateful to everyone that came in this house and put their hands on this house and did what they had to do. Because without them, it wasn't possible.

Ashley: They literally brought our dreams to life. Thinking of the relationship you have with your field manager and all of the people who have a hand in creating your home, I think it's just important to remember that they are people too.
Are there a couple more projects on your list that you're looking forward to in the near future?
Steve: The next projects are a driveway and landscaping. We've been going through that now getting estimates. Of course, next will be the yard. Those are big financial obligations.

Ashley: We're just living…but we're happy. Just like this whole process, it makes you appreciate it even more when you cross the finish line.
Thank you Steve and Ashley for sharing your Wayne Homes testimonial with us! We love keeping up with our homeowners and seeing how life evolves with your Wayne home.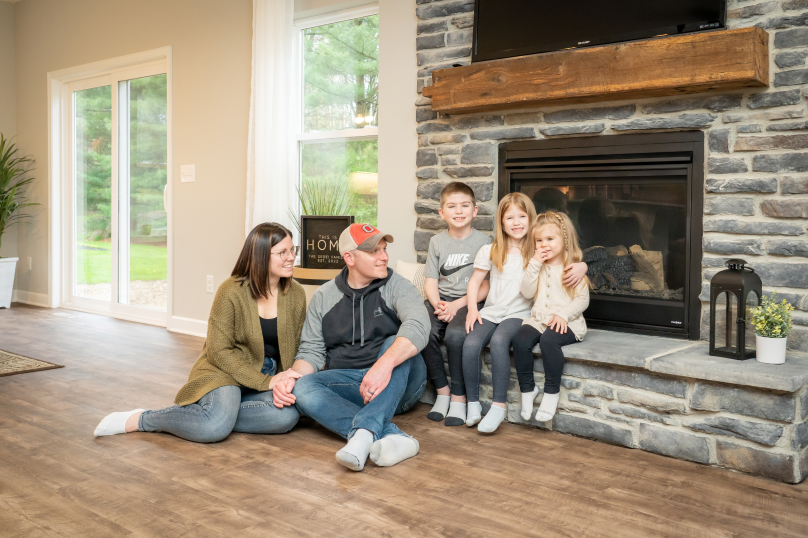 Would you like to build a new home with Wayne? Give us a call! We can give you all the information you need to make the right choice for your family.
---
About Wayne Homes
Wayne Homes is a custom homebuilder in Ohio, Pennsylvania, Michigan, and West Virginia (see all Model Home Centers). We offer over 50 fully customizable floorplans and a team dedicated to providing the best experience in the home building industry. For more information, Ask Julie by Live Chat or call us at (866) 253-6807.
The details of this blog are accurate as of the publish date, but are subject to change.
View this post on Instagram