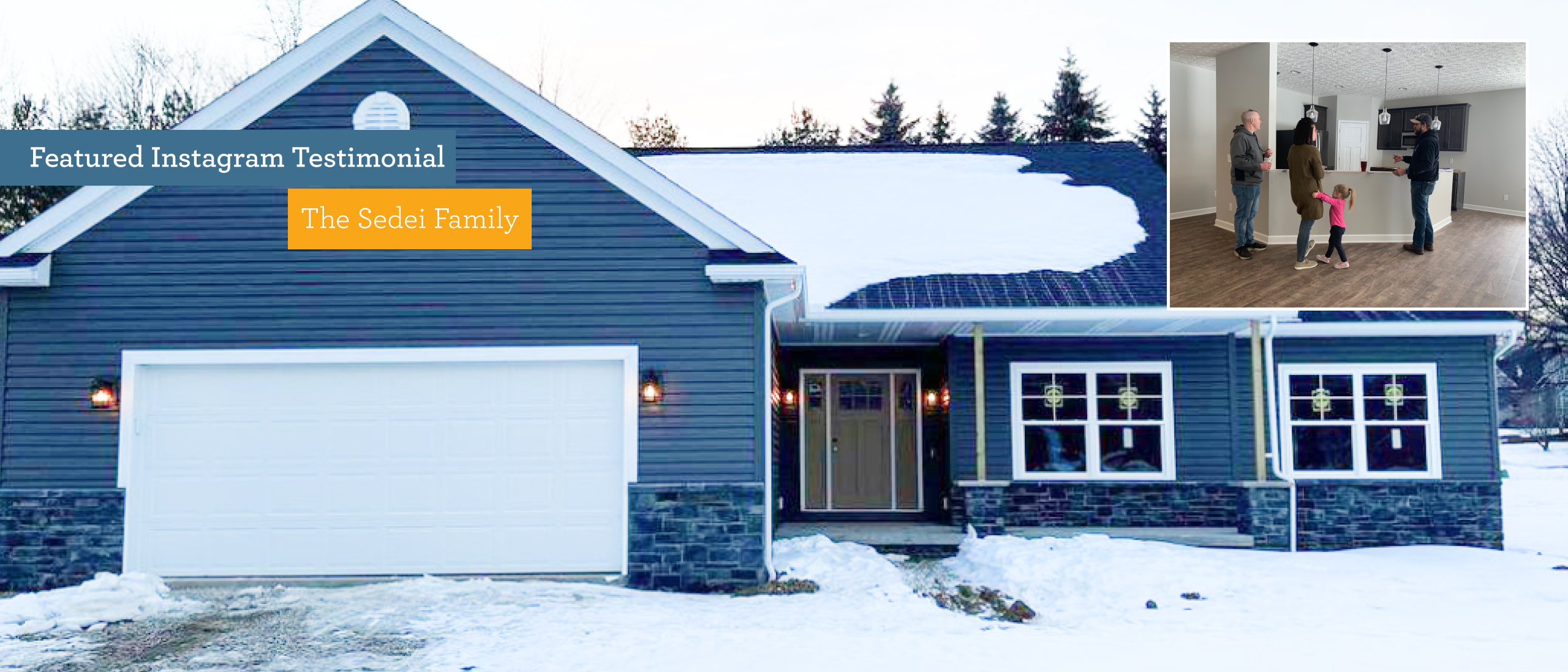 Featured Instagram Testimonial: The Sedei Family
Hearing from our homeowners is what truly makes our day.
We know that when you build a new house with Wayne Homes, we're not just building four walls and a roof, we're building memories…a foundation for what's to come. We've always loved following our Wayne Homes families on Instagram, and sharing their stories with you so you can better understand the construction process. But now, we're taking it a step further. Not only will we feature a family that is building with us, but we will also follow up with them after their home is finished to see what life is like in their Wayne home.
This month, we are featuring the Sedei family.
They worked with the Portage Model Home Sales Center to build their Stafford Family with Craftsman elements. Steve and Ashley Sedei have three children, but they actually downsized from their 2900 square foot two-story home to their ranch-style Stafford. "We've got three young kids right now, but they're not going to be small forever," Ashley said. "We wanted to think long-term with this home, so we went with a ranch and downsized. It is the most practical choice for us down the road. This is our forever home."
The Sedeis have known about Wayne Homes since 2007. According to Ashley, "We actually looked at Wayne Homes when I was in college. At the time, we didn't have land and we didn't seriously pursue land. So, it's come full circle." Although the Sedei family did look at one other builder, they said Wayne Homes had their hearts.
"The welcome we got walking into Wayne from the team didn't even compare to the other builder. Everyone was very nice and told us to let them know how they could help." That meant a lot to the Sedei family, so Wayne Homes it was!
View this post on Instagram
Although the Stafford floor plan has since been discontinued, there are other similar floor plans that offer the same features as this ranch floor plan does. Initially, it was the Gettysburg that caught the Sedeis' attention. "Being able to see it with the model home being there…we just loved it." Our Model Home Sales Centers definitely make it easy to see the possibilities. However, once Steve and Ashley began their meeting with New Home Consultant Lori, they started discussing how they loved the Gettysburg, but wished it was just a little bit bigger. Then, Lori showed them the Stafford, which was a great solution and combination of features. They were sold. "We loved everything about the Gettysburg…except for the size," Steve said. "We took a lot of elements from that Gettysburg model home and incorporated the things we loved the most into our Stafford."
As the Sedei family noted earlier, a big part of why they chose Wayne was the people.
One standout team member for them and their build was Ray, their Field Manager. "Ray has been incredible. On dig day, he came up to us and said that he would make everything as seamless, smooth, and fast as possible, and he has done just that," Ashley said. They enjoyed the experience so much that they created a special hashtag, #HipHipHooRay.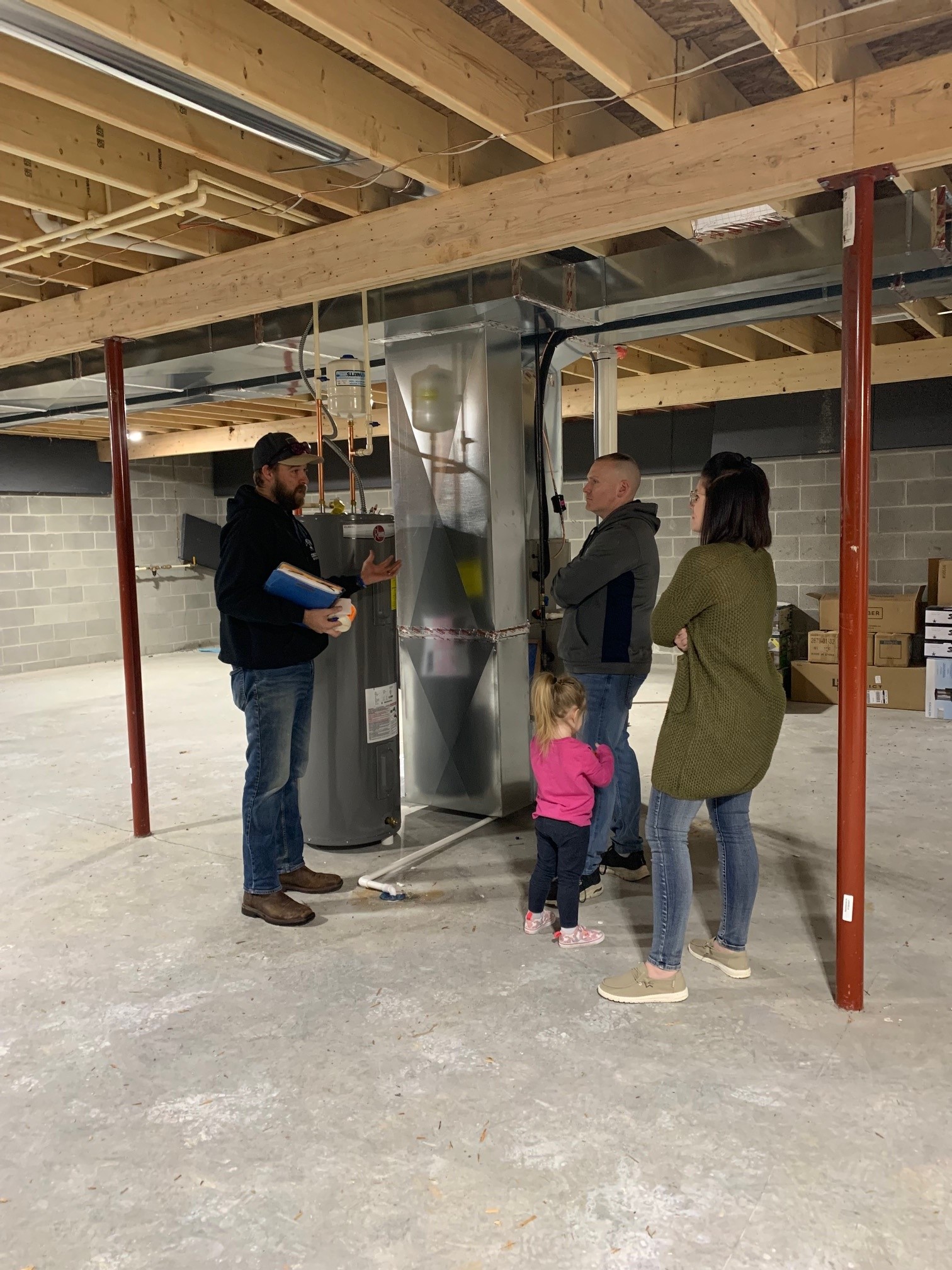 Something the Sedeis have found throughout the construction process is a great community on Instagram. "It's been really nice to have someone to go through the process with," Ashley said. Ashley and Steve were able to connect with other Wayne homeowners to share stories and to feel like they were in it together.
One parting piece of advice Steve and Ashley would give to prospective homeowners would be to have patience and to stay positive. "Relationships are key. Give yourself grace, but also give grace to those who are putting forth the effort to build your home. There are a lot of things that happen that are out of their control." We couldn't agree more. Respect and patience are a two-way street at Wayne Homes, and we appreciate all of our gracious homeowners.
Stay tuned for our follow-up with the Sedei family to see what life is like in their Stafford after they move in. We can't wait to check in with this sweet family and see how they're doing in their forever home.
Are you ready to get started on your homebuilding journey with Wayne? Call us! We are looking forward to hearing from you.
---
About Wayne Homes
Wayne Homes is a custom homebuilder in Ohio, Pennsylvania, Michigan, and West Virginia (see all Model Home Centers). We offer over 50 fully customizable floorplans and a team dedicated to providing the best experience in the home building industry. For more information, Ask Julie by Live Chat or call us at (866) 253-6807.
The details of this blog are accurate as of the publish date, but are subject to change.