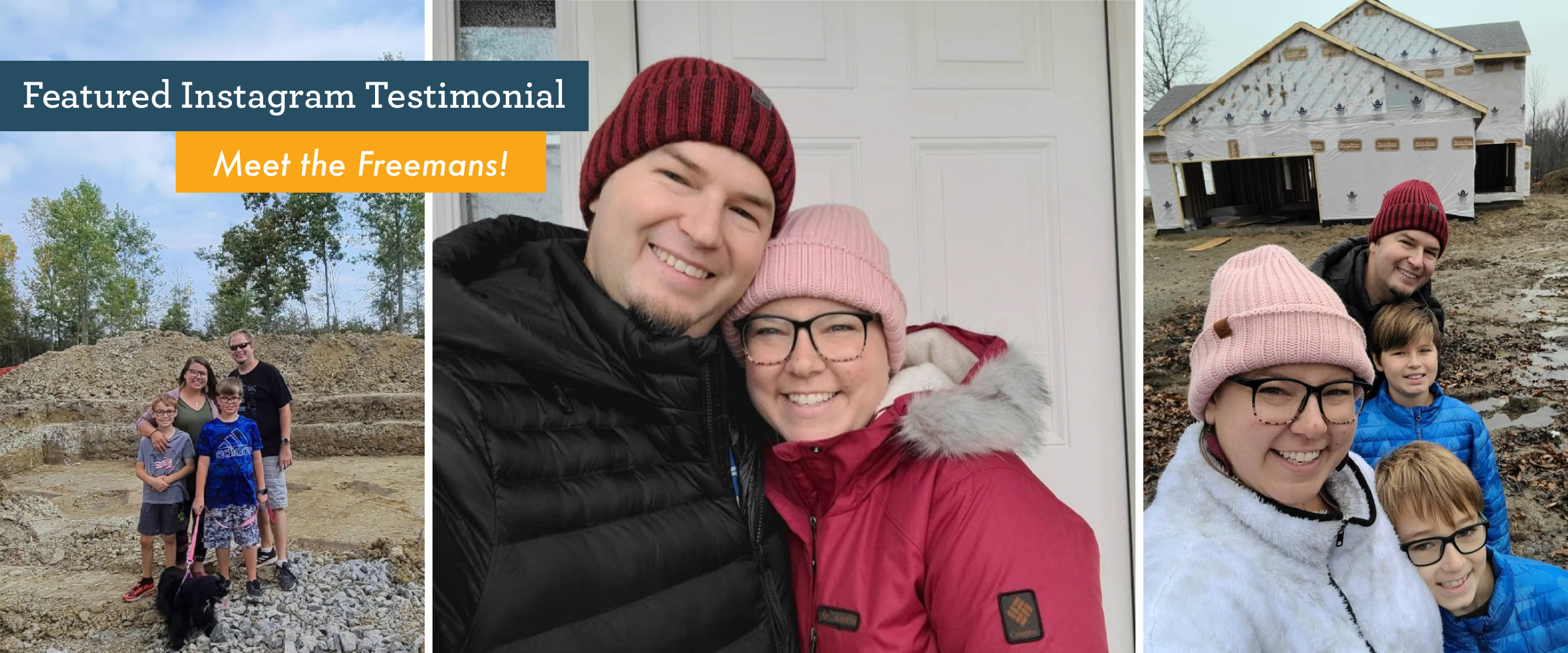 Featured Instagram Testimonial: Meet the Freemans
We are thrilled to share the Freemans' Wayne Homes testimonial. Ashlee and Jeff Freeman decided to say sayonara to suburban life and bought 2 acres in the country. We are delighted they chose Wayne Homes as their builder to bring their vision for their forever home to life. They began construction on their Columbia Tradition in September 2021. Let's get to know them and their story a bit better.
The Freemans have two sons (ages 10 and 12) who will love running around their 2 acres in the country. The Freemans wanted to create a home the four of them could enjoy as the boys grow up and for years to come.
Ashlee documents their construction journey on Instagram on their corner of the Internet @thefreemansforeverhome. From their dig day on September 30, 2021 to closing day on June 13, 2022, you can follow their process from beginning to end.
Julie Hurtt was their New Home Consultant
Julie Hoffman was their Design Consultant
Dave Richmond (newly named Delaware Construction Manager) served as their Field Manager
Here are some of the highlights from the Freemans' Wayne Homes testimonial – from an empty lot to a whole lot to love:
Dig day: Ashlee said she knew they had an A-team working on their lot right away. "They dug our entire 1,500+ square foot basement with a 2-foot walk-around in just over 6 hours!"
The Freemans said in their Wayne Homes testimonial that the reason they chose Wayne Homes was because of their initial meeting with Julie Hurtt from the Delaware office. "That pretty much locked us in. When you can go to someone and tell them what your dream is and she responds with, 'Well, we're going to make it a reality.' Why would you go anywhere else?!" We are beyond glad that the Freemans chose us and that we were able to make their dream home come true.
Do you have a dream home you'd like to make a reality? Bring us your vision, and we can make it so. Contact us today!
---
About Wayne Homes
Wayne Homes is a custom homebuilder in Ohio, Pennsylvania, Michigan, and West Virginia (see all Model Home Centers). We offer more than 50 fully customizable floorplans and a team dedicated to providing the best experience in the home building industry. For more information, Ask Julie by Live Chat or call us at (866) 253-6807.
Disclaimer: The details of this blog are accurate as of the publish date, but are subject to change.