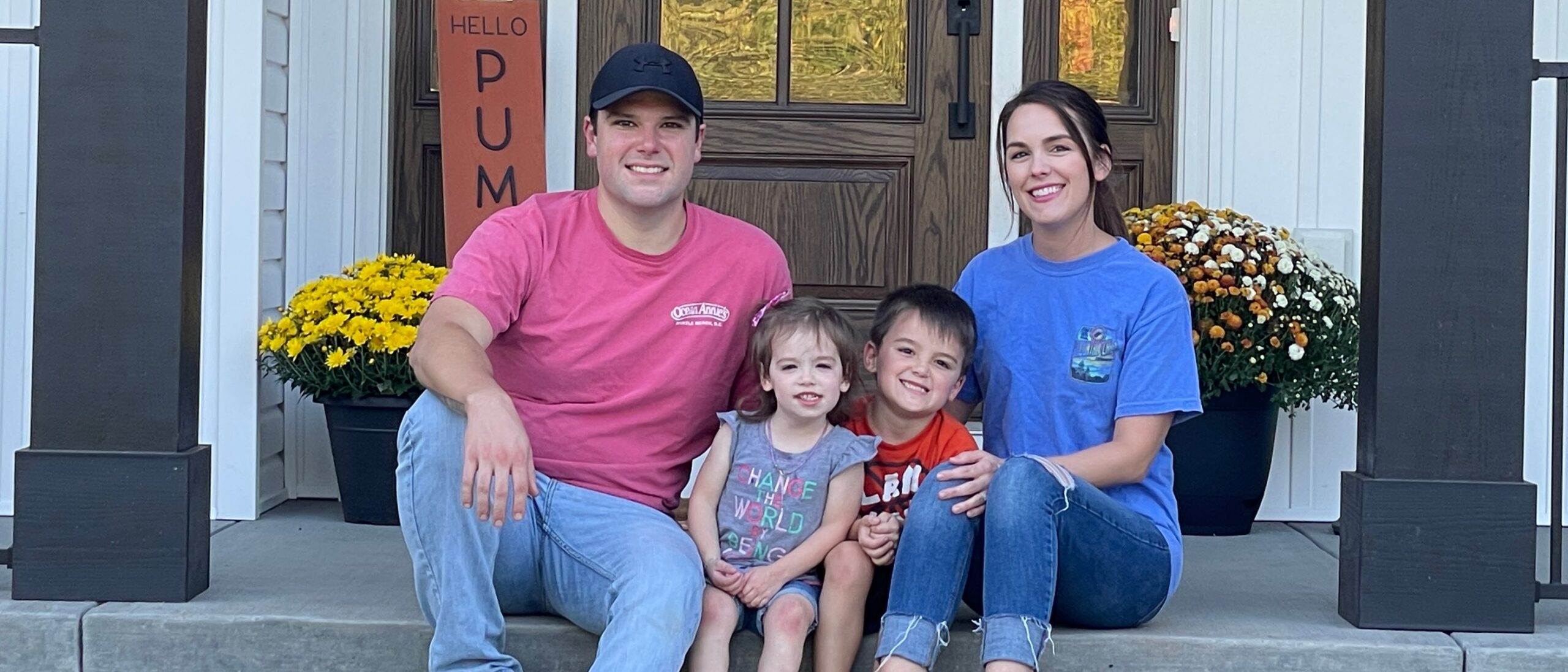 Featured Raving Fan: Kaitlyn and Michael Harris
The best way to learn about the Wayne Homes build process is to hear about it from a family who has walked in shoes very similar to yours.
Kaitlyn and Michael Harris built their Montgomery Farmhouse in Marietta, OH with our Newark and Belmont Model Centers. Sue Crow was their New Home Consultant and Jeanetta Dye was their Design Consultant, both are from the Newark Model Center. Eric Mumaw was their Field Manager, and he is with our Belmont construction team.
They recently moved into their beautiful new home from Wayne Homes…let's check-in and see what their experience was like building with Wayne.
Why did you choose Wayne Homes as your builder?
We chose Wayne Homes to be our builder because we wanted to be able to customize our home to fit our needs and budget. Wayne Homes was able to make that happen.
What's your favorite feature or room?
Our favorite feature of our home is definitely the large open-concept living room and kitchen.
What would you tell a friend about Wayne Homes?
When my husband and I were first talking about building a home, I was hesitant. I expected it to be a confusing and stressful process, but I was completely wrong. Wayne Homes walked us step-by-step through everything and made building easy and fun.
Who at Wayne Homes makes a difference?
We loved working with Eric Mumaw, Jeanetta Dye, and Sue Crow from the Wayne Homes team.
What was the best part of building your Wayne home?
We loved getting to visit the building site every day and watching our dreams come to fruition. Such an exciting stage!
How would you describe your style? Warm and traditional? Cool and contemporary? Funky and eclectic? Rustic Farmhouse? Craftsman Lodge? Something else?
Our home style is definitely modern farmhouse.
What would you add to your home if money were no object?
If money were no object, we would add a three-car garage and a sunroom.
When asked how the process went, Kaitlyn and Michael said this:
"The experience we had with Wayne Homes was as close to perfect as one can expect. Just like any other construction, things will be delayed from time to time, and the year 2020 only added to those complications. But our field manager, Eric, went absolutely above and beyond to roll with the punches to make sure the job was done the right way, and on time."
Field Manager Eric made sure to pay attention to the little things, so that the big picture was exactly what the Harris family wanted. "Eric has an attention to detail and work ethic that I admire. He answered every phone call, and every text ASAP. If he didn't know the answer to one of our MANY questions, he made it a priority to get the answer."
We know that details matter! In the end, Kaitlyn and Michael had the home they'd always dreamed of. "We are proud to tell everyone that our house is a Wayne home because we have seen firsthand the quality that the name represents."
Thank you for sharing your story with us, Kaitlyn and Michael! We are so glad you love your Wayne home. Read more Wayne Homes reviews, and get excited…you may be our next Raving Fan!
Would you like to see how Wayne can simplify the build process for you?
Let us know your wish list and your budget, and we'll make the magic happen! Contact us today.
---
About Wayne Homes
Wayne Homes is a custom homebuilder in Ohio, Pennsylvania, Michigan, and West Virginia (see all Model Home Centers). We offer more than 50 fully customizable floorplans and a team dedicated to providing the best experience in the home building industry. For more information, Ask Julie by Live Chat or call us at (866) 253-6807.
Disclaimer: The details of this blog are accurate as of the publish date, but are subject to change.