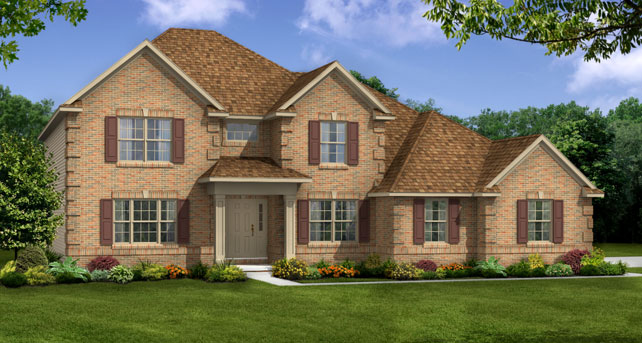 Meet the Team: Delaware Model Center
Teamwork is paramount to our customers' happiness. We are proud to share a team that excels in this area: the Delaware Sales Team. This group of experts goes out of their way to support one another and provide excellent customer service to their clients each and every day. Attention to detail and enthusiasm for the process are two hallmarks that define outstanding customer experiences at Wayne Homes, and this team embraces both.
Hilary – Sales Manager; Passionate About Home Design
A passion for home design forged a path to Wayne Homes for Hilary 11 years ago. She started at Wayne Homes as a New Home Consultant, and then moved on to being a Lot Specialist and Customer Consultant before leading the Delaware Sales Team. "I love that because we are a custom builder, each home is different based on what our homeowners select, even if they all choose the same floorplan." Working with her team at the Delaware Model Center also brings Hilary great joy. "We celebrate each others' successes on a daily basis! We're always trying to breed positivity with each other." That is the secret to this team's success—exceptional customer service begins with their colleagues, and their clients certainly benefit from this team's camaraderie.
Julie – New Home Consultant; Focused on Customers
The custom homebuilding process requires acute attention to detail and customer service. Julie provides both to her clients at the Delaware Model Center. "All my past positions have been customer driven," she says. That makes her a great fit at Wayne Homes because the entire process is customer centric. "Customer service, quality construction and the best price…at most homebuilders you have to sacrifice at least one of those, but at Wayne Homes you don't have to compromise." Julie says that working with the Delaware team combines all the things she loves. "Creativity, organization and helping people."
Amber – New Home Consultant; A Team Player
Coming from a large family, Amber knows what it takes to be a team player. This is one of the reasons she beams with pride when talking about Wayne Homes' accolades, such as the National Housing Quality Award, and being part of a staff that was voted most courteous and knowledgeable. "Everyone is so hardworking, friendly and thoughtful," Amber says. The Delaware team is a great example of this. "We are quick to step in anytime someone is overbooked or unavailable. I cannot ask for a better team to work with."
Sue – New Home Consultant; Making Memories
Sue knows that home is where the heart is, and that's part of why she loves working at Wayne Homes. "I love helping people create the home where memories are made!" As a new addition to the team, Sue is looking forward to seeing the whole process through with her clients. "It will be exciting to see the people I've been working with start the homebuilding process." Sue will be with them every step of the way, including her favorite part: dig day. "The day that they dig is the best part because that means the home will be ready in a matter of months." Sue loves seeing the enthusiasm of her clients, and she shares it 100%!
Visit the Delaware Team
If you're ready to partner with the experts to build the home of your dreams, the Delaware team is here to help you every step of the way. Let them put their expertise into action. When you're ready to build your new home in central Ohio, come and see us at the Delaware Model Center.
About Wayne Homes
Wayne Homes is a custom homebuilder in Ohio, Pennsylvania, Indiana, Michigan, and West Virginia (see all Model Home Centers). We offer 40 fully customizable floorplans and a team dedicated to providing the best experience in the home building industry. For more information, Ask Julie by Live Chat or call us at (866) 253-6807.