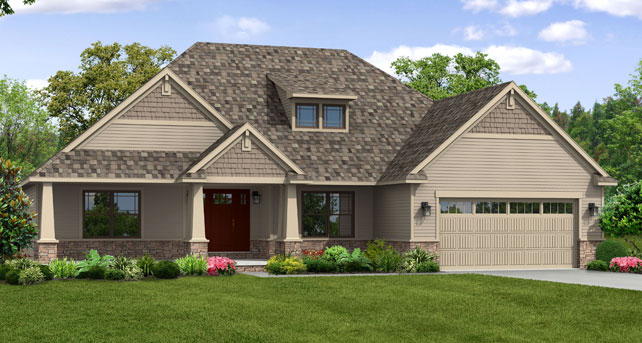 Meet the Team: Newark Model Center
When you truly love your job, it shows. Not only in how you carry yourself, but also in how you treat others. To keep customer service as our #1 priority at Wayne Homes, we know it's important to have a great work environment, so our teams can support you the best way possible. Every sales team is unique, and we love sharing details about our amazing team members, and how they can contribute to making your dream home with Wayne Homes a reality.
Erin – Sales Manager; Building Dreams Daily 
Erin started working at Wayne Homes in 2006. Although she switched careers for a few years, she came back to us because she just couldn't stay away! Erin said she missed the Wayne Homes culture and the company as a whole. Now leading the Newark Sales Team, Erin says there are many things she loves about her job. "I love that I can call my co-workers my family because that is how we treat each other. I also love working with customers to build their dream home and being there with them every step of the way." One of the most important days for homeowners is their dig day—another favorite part of Erin's job. "They've been dreaming about building their home for quite some time by that point, and their excitement is contagious!" Erin and her team at Newark work together to create an efficient, enthusiastic and supportive environment for each other and for their Wayne Homes clients.
Vicci – New Home Consultant; Real Estate Veteran
Vicci has been in the real estate industry for many years, starting as an assistant and working her way up to leading a team of Realtors. Her experience has spanned selling coastal properties (including a pier!), closing on a home the night before a hurricane and everything in between. Her passion for homes is evident in her work at the Newark Model Center. "I love assisting customers with redesign. It gives me such satisfaction to assist folks in creating their very own unique design and home." Guiding customers through the process with Wayne Homes is one of Vicci's favorite parts of her job. "With so much focused on the bottom line, it's nice to find a company that realizes customer satisfaction IS the bottom line." We agree!
Sandee – New Home Consultant; Creative at Heart
An artist at heart, Sandee studied painting and printmaking in college and received an Individual Artist Award from the State of Ohio in 2000. Sandee's work has been featured in art exhibits around the country, including the Columbus Museum of Art. Her creative mind and artful eye makes her excellent at recommending colors and adding special touches to her clients' homes. "I love seeing the homes when they come to life—even in pictures." Sandee admits that getting to that point is hard work, but the team at Newark makes it a seamless process. "Everyone here has the same simple goals that work incredibly well: build houses, create great experiences and keep getting better."
Tonya – New Home Consultant; Domestic Goddess
Tonya knows how to make a house a home. She loves interior design, gardening and spending time with family in her home. And just as those things are important to her, they are important to her Wayne Homes clients as well. Her passion for creating beautiful and livable homes shines through in all she does at the Newark Model Center. "My favorite part of the process is when the homeowners have their color appointment. That's when they can really see their new home coming together. It's making it their own." Tonya also knows a few custom tricks to make your home truly stunning. "Nine-foot ceilings open rooms completely up! The homes feels so much bigger, and you can add to your windows to invite in more light."
Visit the Newark Team
From creative touches to superior customer service, the Newark team is here to help you from dreaming of your new home to making it a reality, all at an affordable price. Let them put their expertise into action. When you're ready to build your new home in Newark, come and see us at the Newark Model Center.
About Wayne Homes
Wayne Homes is a custom homebuilder in Ohio, Pennsylvania, Indiana, Michigan, and West Virginia (see all Model Home Centers). We offer 40 fully customizable floorplans and a team dedicated to providing the best experience in the home building industry. For more information, Ask Julie by Live Chat or call us at (866) 253-6807.