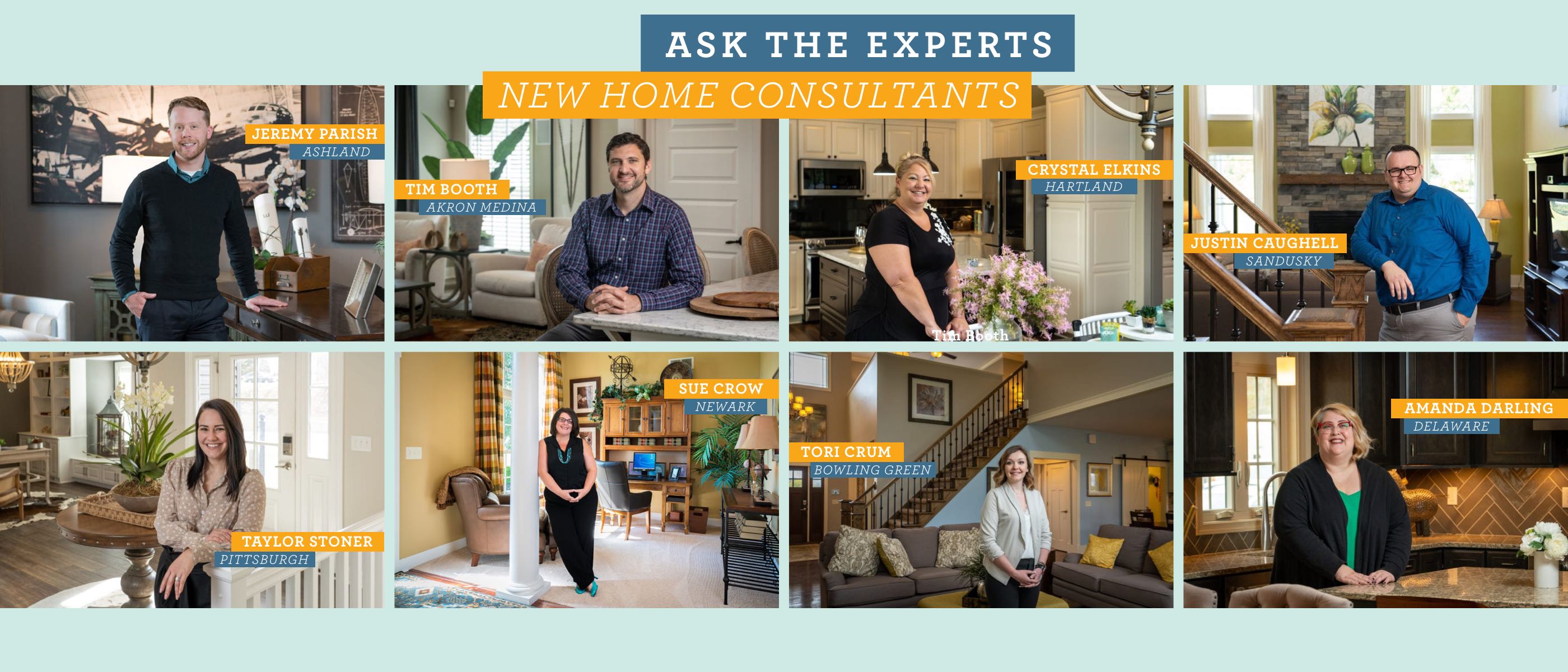 Q & A: Ask the New Home Consultant
Our New Home Consultants are your guide to your new Wayne home.
They take you step-by-step through the process, so they've seen a lot. They are full of knowledge, and that's why we asked our New Home Consultants to share their backgrounds, insights, and favorites, so you can learn from some of our best. Let's hear what they had to say!
Favorite Floor Plans
With more than 50 floor plans to choose from, it can be hard to narrow down which one is right for you.
Why not take inspiration directly from our New Home Consultants? Here are some of their favorites: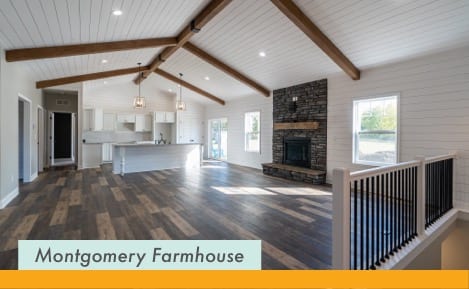 Jeremy Parish, from our Ashland office, has been with Wayne Homes for 6 and a half years. His favorite floor plan is the Montgomery "because of the endless ways to customize the home to suit different families and their needs!"
Tim Booth has been at our Akron Medina office for 2 years and his top pick is the Plymouth. It provides not only a kitchen with a large island (perfect for entertaining), but more importantly to Tim is that it has "the extra flex room and loft upstairs. These spaces would enable me to create some distance between myself and our noisy kids!"
Crystal Elkins, who's been at our Hartland office for 2 years, had a hard time picking just one, but her favorite ranch is the Alexandria. "I love that there are so many options with this one and so much you can do with the space." And her favorite two-story? She couldn't pick just one here either! "It'd have to be either the Charleston or the Columbia. I love the open concept on both."
Justin Caughell, from our Sandusky office and an employee for 3 years, chose one of our newest Lake Collection plans – specifically, the new Chesapeake Waterfront. As he says, "It makes such great use of space. I am a kitchen person. The Chesapeake has an amazing kitchen layout, and the pantry just pushes it over the top."
Taylor Stoner joined the team 3 years ago in Pittsburgh and she absolutely adores the Auburn II, because is perfect for families. "It's a very good use of space, especially with adding the office in front of the great room. There is also the option to do the 4th bedroom or use the space as a loft/play space for kids. There is also the 2-story great room and foyer, which makes the home so much more open and elegant, but still very family-friendly."
Interior Decor and More
From farmhouse to modern, there are so many interior styles to choose from. What are our NHC's favorite design styles?
They range from transitional to very modern, but every NHC can help you navigate your personal interior style with the help of our talented design team.
Sue Crow, from our Newark office and a Wayne Homes team member since 2014, is your go-to gal for a more eclectic style. In her words, she is "boho, rustic, and craftsman." We have plenty of amazing Craftsman designs, so that works perfectly for her!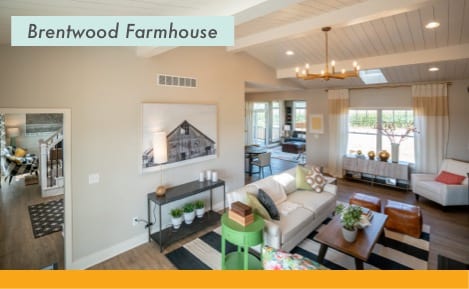 Tori Crum has been at our Bowling Green office since October 2020, and she also loves the Boho look, – but with a twist. "My interior style is a mix between a modern farmhouse and boho." With all of the beautiful farmhouse exterior options at Wayne, who can blame her?
Amanda Darling has been a New Home Consultant at our Delaware office since 2018, and she is drawn to a more rustic look, with industrial touches. She loves interior designs that incorporate "natural wood and wrought iron." She put that to good use in her new Franklin!
Top Ways to Customize Your Home
Being a custom, on-your-lot builder means that you can combine floor plans, take features from one home and apply them to the other…the possibilities are endless! See what our NHC's favorite customizations are.
Sue C: I love the Cedar Hill and Richmond II models with stacked kitchen cabinets and under cabinet lighting.
Jeremy P: I think our Columbia model is a great mix of traditional and modern. The clean crisp trim, paired with the rustic beams and iron rail and spindle is a great pairing.
Tim B: My favorite combination of features is our McAllister model with the covered porch area accessible from the breakfast area as well as the Owner's suite. This is perfect access to a perfect outdoor space.
Crystal E: One of my "go-to's will always be converting the formal dining space in either the Montgomery or Alexandria to a large owners' entry/laundry room. I think it's a great use of that space and a lot of homeowners are omitting those formal dining spaces.
Justin C: I love the cozy feel of the great room in our Kinston model. The contrast of darker trim with lighter walls, the fireplace, and added picture windows, gives the space a bright and airy feeling, while still being cozy.
Taylor S: I love our included Flagstone cabinet color with the included white laminate countertop (that looks like quartz might I add!) and a subway tile backsplash! I just re-did my kitchen in my own home with these features and I'm obsessed. The white countertop and backsplash really help the darker cabinets pop!
Tori C: I'm a sucker for our painted cabinets. Both the white and gray options speak to me in just about every way. Our Sandusky Providence II model was my inspiration for our home with the white cabinets and the taupe subway backsplash!
Take a tour of the Sandusky Providence II that inspired Tori below!
You've Got Questions, We've Got Answers!
Our NHC's have seen and heard it all, and that's why they're the best resource for any question you may have.
Here are some of the most frequently asked questions and how our NHC's answer them. You can put this information to work when you build your new home!
Tim B: I always hear the question, "How big can I make the garage?!" This is mostly asked by guys. I simply calculate the maximum garage size that will fit on the lot versus property setbacks. Then, I watch the couple compromise.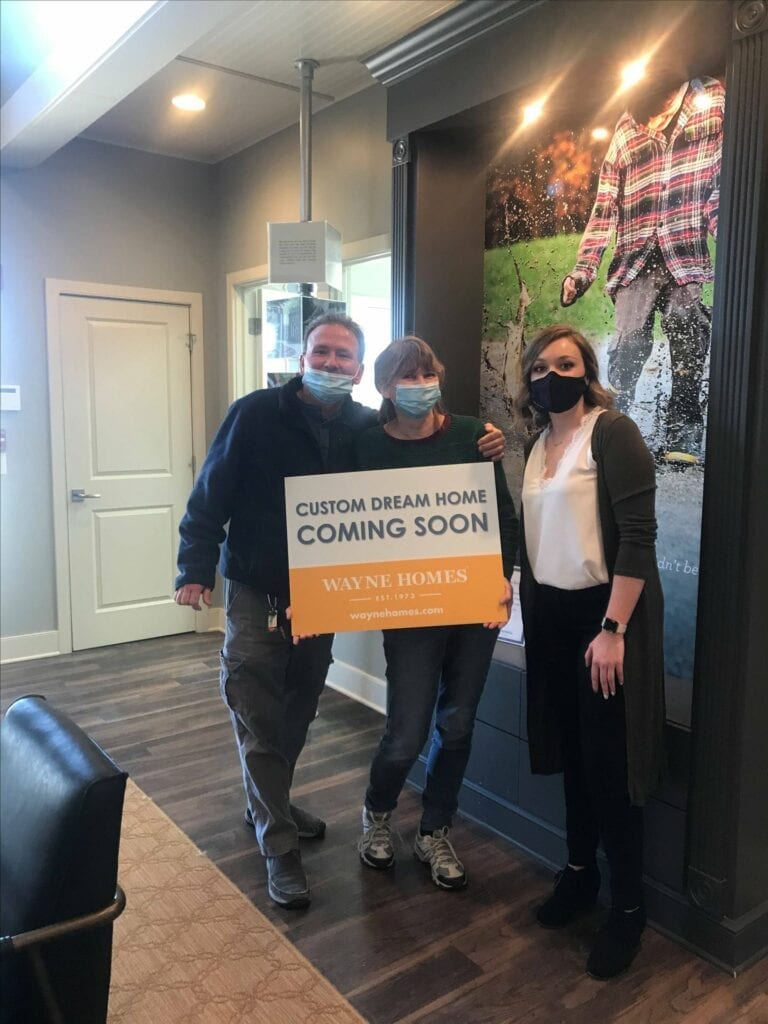 Jeremy P: "Is there anything else I should consider in the kitchen besides cabinet color and countertops?" I will usually dive into how they use their kitchen. Do they heat things up in the microwave type or are they big-time cooks? From there, I talk about layout, specialized cabinets, etc. all in an effort to make sure they have a space for all their favorite kitchen gadgets.
Amanda D: The most common question I encounter is, "What will this look like?" Many clients, in making changes to their homes, need to "see" their options to understand their selections. We have many tools at Wayne Homes to help us answer this question, such as an interactive design center, online visual tools, and simulators, as well as videos and pictures of our homes.
Tori C: It's not often that I am asked the same design questions since every family is unique in its own way. However, I do have some families assume that, when picking out their included cabinet stain or flooring (for example), they can only pick one for the entire home. This is NOT the case. Included options can vary from room to room, so you can add your personal touch throughout your home.
Creative Customizations
Some of the customizations our teams work on are great examples of how unique and flexible our floor plans are.
We can make any Wayne home totally customized for your needs. See some of our New Home Consultant's most memorable customizations below.
Jeremy P: For me, it was helping a family design a custom bathroom to accommodate a family member who uses a wheelchair. It was a great feeling to know how these changes would make daily life easier for that person versus the home they were coming from.
Justin C: I had the pleasure of working on a lake home recently. One important consideration with lake homes is how to find the best way to maximize the views. Feature windows are huge in being able to accomplish this. I worked with this homeowner to help create the perfect wall of windows for them to be able to really take advantage of the spectacular views.
Amanda D: I helped a family turn the Columbia into a multigeneration home with a first-floor owner space for dad. This option allowed him to have access to the family without limiting his need for privacy as well. They were so excited to be together and loved the outcome.
Seeing It All Come Together
The favorite part of all our NHC's jobs is seeing it all come together when working on new homes with our homeowners. Homeowners become family when you work with Wayne, and we feel overjoyed when we show them what's possible with their budget, customize their home to perfectly fit their needs, and exceed all their expectations. Taylor Stoner says, "My favorite part of my job is seeing people's dream homes come to fruition, especially when they think that building a home can't be done in an affordable way! So many people come in and say, "I just want to see if this will fit in my budget, I don't think it will, but it's worth a shot", and I love to see their reaction when they realize this is something they can do for their families!"
Thank you to our wonderful New Home Consultants for sharing their expertise! As you can see, our NHC team is here to make your dreams come true.
If you're ready to see what's possible, give us a shout! Our team can't wait to put their expert knowledge to work for you.
---
About Wayne Homes
Wayne Homes is a custom homebuilder in Ohio, Pennsylvania, Michigan, and West Virginia (see all Model Home Centers). We offer more than 50 fully customizable floorplans and a team dedicated to providing the best experience in the home building industry. For more information, Ask Julie by Live Chat or call us at (866) 253-6807.
Disclaimer: The details of this blog are accurate as of the publish date, but are subject to change.