Custom Home Builder Wayne Homes announces the results of the 29th annual Akron Rotary Chili Open Golf Classic.
Uniontown, OH – The 29th annual Akron Rotary Chili Open Golf Classic presented by Wayne Homes was held on Saturday, February 2 at Hale Farm and Village in Bath, OH. This year, the Akron Rotary Chili Open Golf Classic raised over $280,000 and will be able to send more than 1,900 children and young adults to camp this summer.
The Chili Open is an annual event that raises funds to send children and adults with developmental disabilities to summer camp. No child or adult is turned away because of their inability to pay and in 2018 the Akron Rotary Foundation provided over $ 240,000 in direct financial assistance.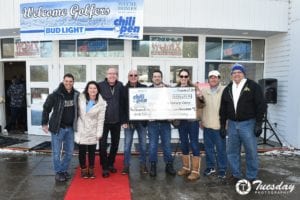 "We are thrilled to be the title sponsor for the Chili Open and we are proud of our decades-long relationship with the Akron Rotary Foundation," George Murphy, President and CEO of Wayne Homes, said. "The work that the Rotary Camp does in the community is one that really resonates with our employees and we look forward to many more decades supporting the Rotary Camp and the Akron Rotary Foundation."
Over 550 supporters, including 55 Wayne Homes employees and their families, attended the Chili Open. The day consisted of arctic golf, all-you-can-eat Whitey's chili, silent auctions, door prizes, raffle tickets, and more.
"We are extremely grateful to Wayne Homes and all of our sponsors, donors, and volunteers who have helped make a difference in the lives of our campers through this year's Chili Open," Dan Reynolds, Executive Director of Camping Services at Akron Rotary Camp, said. "Because of their generosity, we are able to provide meaningful opportunities to nearly 1900 campers and their families regardless of their ability to pay."
For more information about Wayne Homes and becoming part of the Wayne Homes team, see current job opportunities.
About Wayne Homes
Wayne Homes is a custom home builder in Ohio, Pennsylvania, Indiana, Michigan, and West Virginia (see all Model Home Centers). We offer nearly 50 fully customizable floor plans and a team dedicated to providing the best experience in the home building industry. For more information, Ask Julie, our online sales team, by live chat or call us at (866) 253-6807.